New engines have to offer high performance, be robust and clean. A Swedish car manufacturer has opted to use an intake manifold and a cooler unit with inlet and outlet shells from MANN+HUMMEL for its 4 cylinder diesel engines.
The requirements for modern combustion engines are high and the legislator is relentless when it comes to the reduction of harmful substances. The engineers at MANN+HUMMEL are therefore constantly working on solutions which simultaneously ensure driving pleasure and protect the environment. One of these developments is an intake module with an integrated indirect charge air cooler. In comparison to direct charge air cooling, the indirect cooling ensures a more constant cooling performance and reduces CO2 emissions by up to three percent. In addition, the solution saves space, reduces weight, requires less material and is resistant to high charge air pressure and temperature requirements.
The Swedish car manufacturer was impressed by the concept and decided to use the intake module in its 4-cylinder diesel engines. In this solution, the self-containing cooler is embedded between the inlet and outlet shells and not completely overmolded with plastic as in previous designs. This saves material and reduces the weight of the component. In order to ensure a strong connection, the cooler and the shells are crimped together. This is the first time MANN+HUMMEL has used this joining technology. This improved design with its innovative production process has lowered the number of components and therefore further reduced manufacturing costs. The new system also fulfills the Euro 6 exhaust emission standard.
Innovative production technology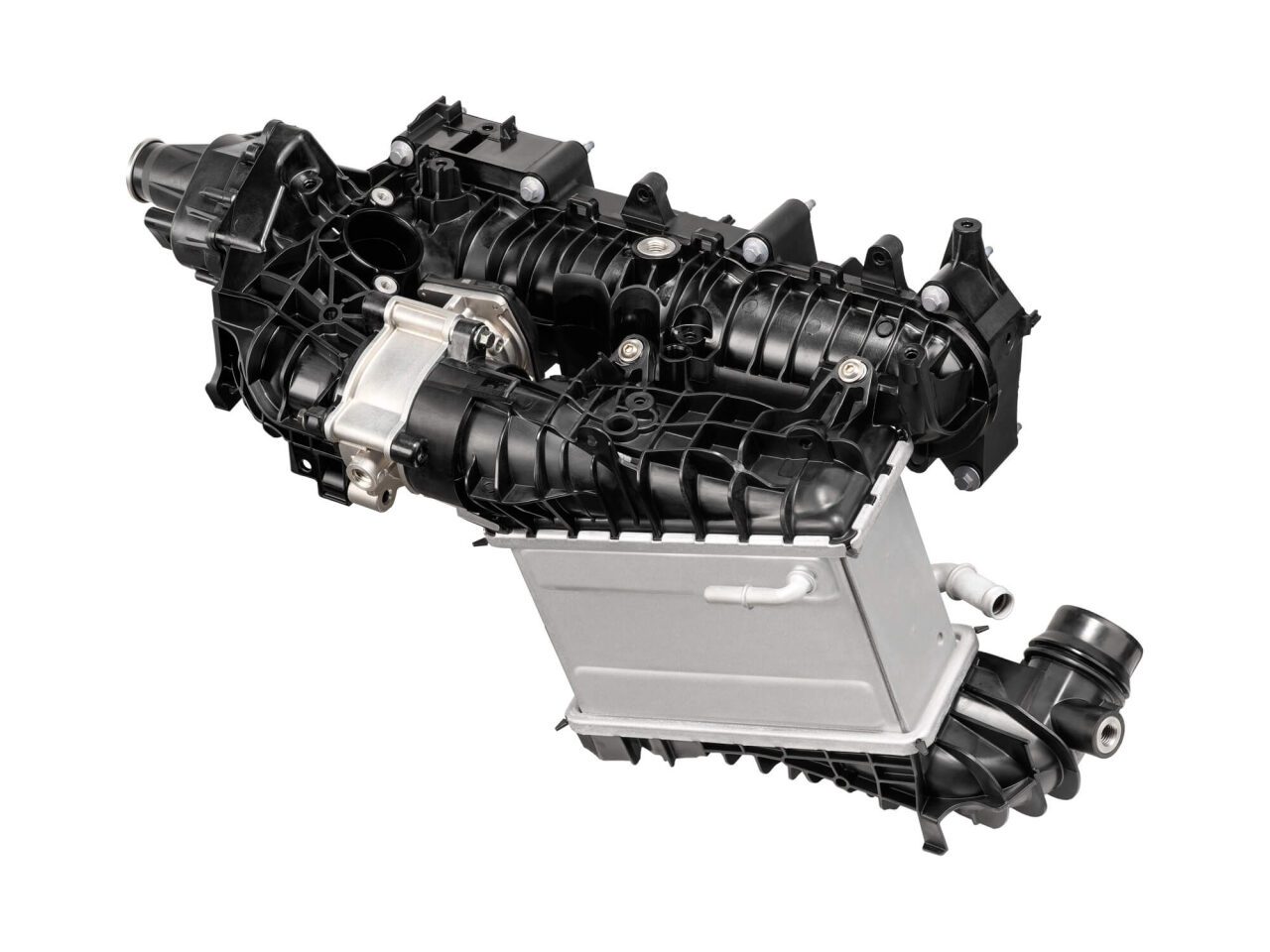 Intake module from MANN+HUMMEL
A flange on the outlet shell connects the intercooler to the throttle valve. This enables movement compensation between the components. The inlet and outlet shells are respectively manufactured as one piece using multi-cavity moulds. The plastic shells consist of a particularly strong polyamide with 50 percent glass fiber (PA6.6 GF50) and are suitable for high temperatures found in the hot intake air. Pronounced ribbing enables the parts to withstand high pressures.
In addition to the charge air cooler with inlet and outlet shells, the switchable intake manifold is also a component of the intake module. The upper shell of the intake manifold is also manufactured as one piece using innovative production technology. This removes the need for a critical welded connection. In addition, the process allows the ideal positioning of the exhaust gas recirculation discharge point.
The actuating lever is produced in a metal casting process. A plasma welding process ensures that the lever is connected to the switching flap shaft with a low amount of deformation. This enables a consistent metal connection so that the system meets the requirements for the OBD II standard (on-board diagnosis). Stepless electrically controlled swirl flaps in the active intake manifold ensure an effective, low‑emission combustion process under all load conditions and thereby ensure what is desired: low-emission driving pleasure.