Cabin air filter for clean country air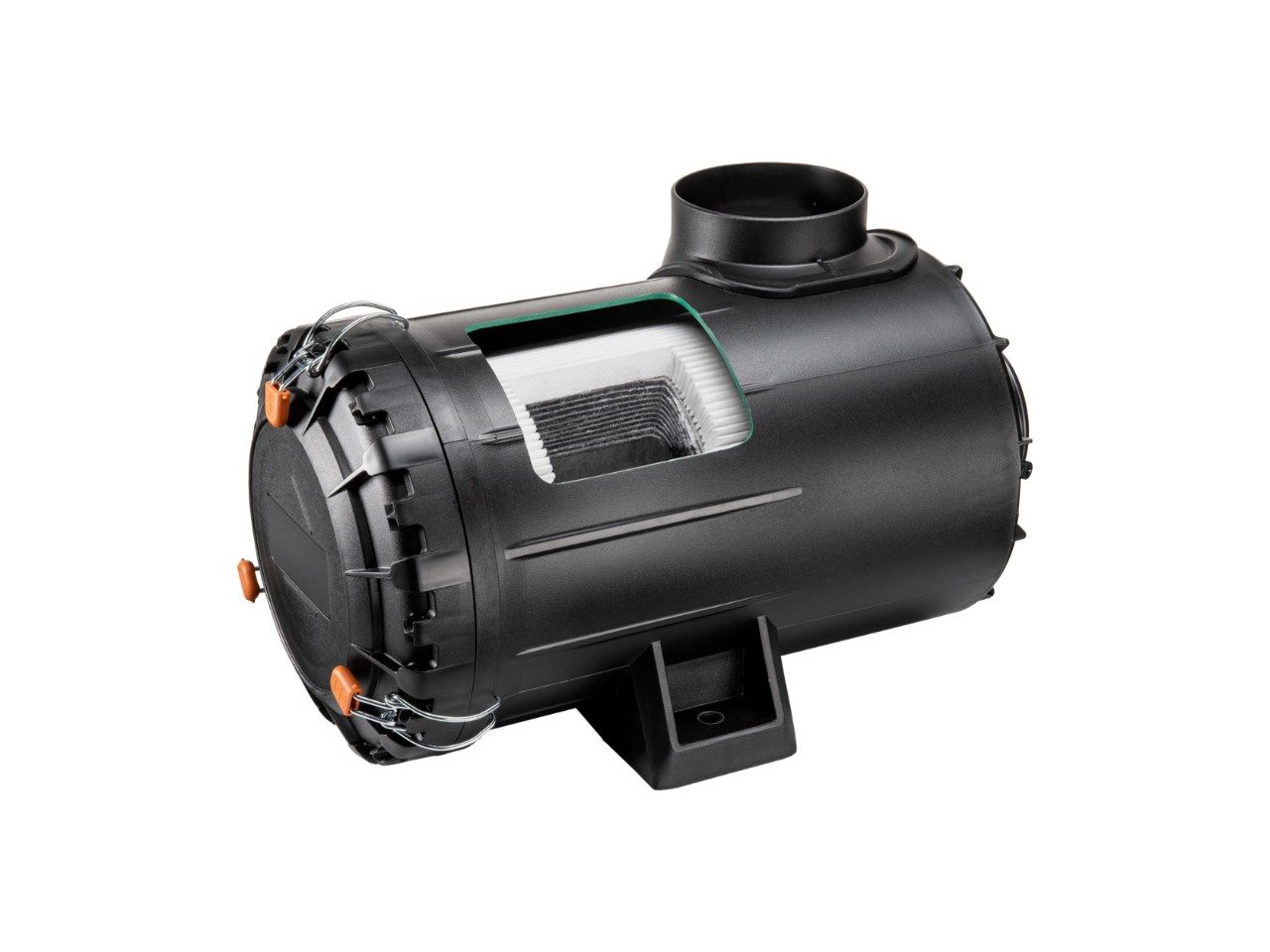 Cabin air filter ENTARON CA
The drivers of agricultural tractors and sprayers are frequently exposed to harmful substances in the air. The new ENTARON CA category 4 cabin air filter reliably protects vehicle occupants with an activated carbon layer. The first series application is the field sprayer of an US-American manufacturer for agricultural machines.
When operators of self-propelled field sprayers go up and down fields, they can rely on a high application speed and quality spraying of the chemicals. Also, when it comes to safety, operators are well provided for in the comfortable driver cab. Equipped with the new ENTARON CA Category 4 cabin filter from MANN+HUMMEL, they are reliably protected from aerosols and gases. In addition, the excellent air quality inside the cabin means that the drivers can fully concentrate on their work.
Clearly defined standards
MANN+HUMMEL has been developing and producing highly efficient cabin air filters for agricultural vehicles and machines for decades. Dust and especially aerosols and harmful gases are not allowed to enter the cab. Protection for the driver is regulated by the European standard DIN EN 15695 with the aid of four protection class categories which clearly define the protection level for the driver's cab against harmful substances. The categories also stipulate the requirements for the filter elements and define testing standards. MANN+HUMMEL has an appropriate filtration solution for each category.
According to the standard, cabs in category 1 do not require a filter. Category 2 offers reliable protection against dust. Filter elements with cellulose or non-woven media meet this requirement. Category 3 filters have to separate dust and also aerosols. For the filter elements in this category MANN+HUMMEL uses glass fiber media in addition to a layer of cellulose or non-woven material. Category 4, the highest protection class, prescribes additional protection against organic harmful gases.
Category (according to DIN EN15695)
Category 1
Category 2
Category 3
Category 4

Degree of protection


 

No protection against hazardous substances

Protection against dust


 

Protection against dust and aerosols


 

Protection against dust, aerosols and vapour

Particle separation


 

-

 

Separation of PTI fine ≥99.0% (acc. to ISO 14269-4)
Separation of PTI fine ≥99.0% (acc. to ISO 14269-4)
Separation of PTI fine ≥99.0% (acc. to ISO 14269-4)

Aerosol separation


 

-

 

-
Separation of DEHS / DOP ≥99.95% (acc. to EN 1822-2/-5)
Separation of DEHS / DOP ≥99.95% (acc. to EN 1822-2/-5)

Gas adsorption


 

-

 

-
-
Adsorption of 500 ppm C6H12: 10 ppm breakthrough ≥70 min (acc. to EN 12941)
MANN+HUMMEL
filter media and media combinations
A cabin filter is not a requirement
Cellulose / Non-woven
Cellulose / Non-woven, Glass fibre

Cellulose / Non-woven, Glass fibre, Activated carbon


 
Perfect combination for clean air
For the new category 4 cabin air filter MANN+HUMMEL combines three different filter media in the proven ENTARON HD housing. At a flow rate of 55 cubic meters per hour, cellulose, glass fiber and activated carbon filter media ensure the highest protection. The glass fiber bellow offers a separation efficiency of 99.95 percent for pesticides in the form of aerosols. The efficiency in comparison to gaseous pesticides is determined using a test gas where the filter has to withstand a high concentration over a longer period. MANN+HUMMEL achieves this high separation efficiency through the use of a round filter element instead of the usually used flat filter element. This allows the use of more activated carbon in the element. As a result, the ENTARON CA is approximately 30 percent smaller than other cabin air filters with a comparable filter performance. The compact design of the air cleaner means that it can be easily fitted to different positions on the vehicle. Integrated brackets on the filter housing enable mounting to the vehicle frame and thus ensure easy access during servicing. These numerous advantages convinced an US-American manufacturer of agricultural machines to use the category 4 cabin air filter from MANN+HUMMEL. Flexibility and customization are important features for all filtration solutions from MANN+HUMMEL. Accordingly, the filter can easily be adapted for use in other applications to meet the respective customer requirements.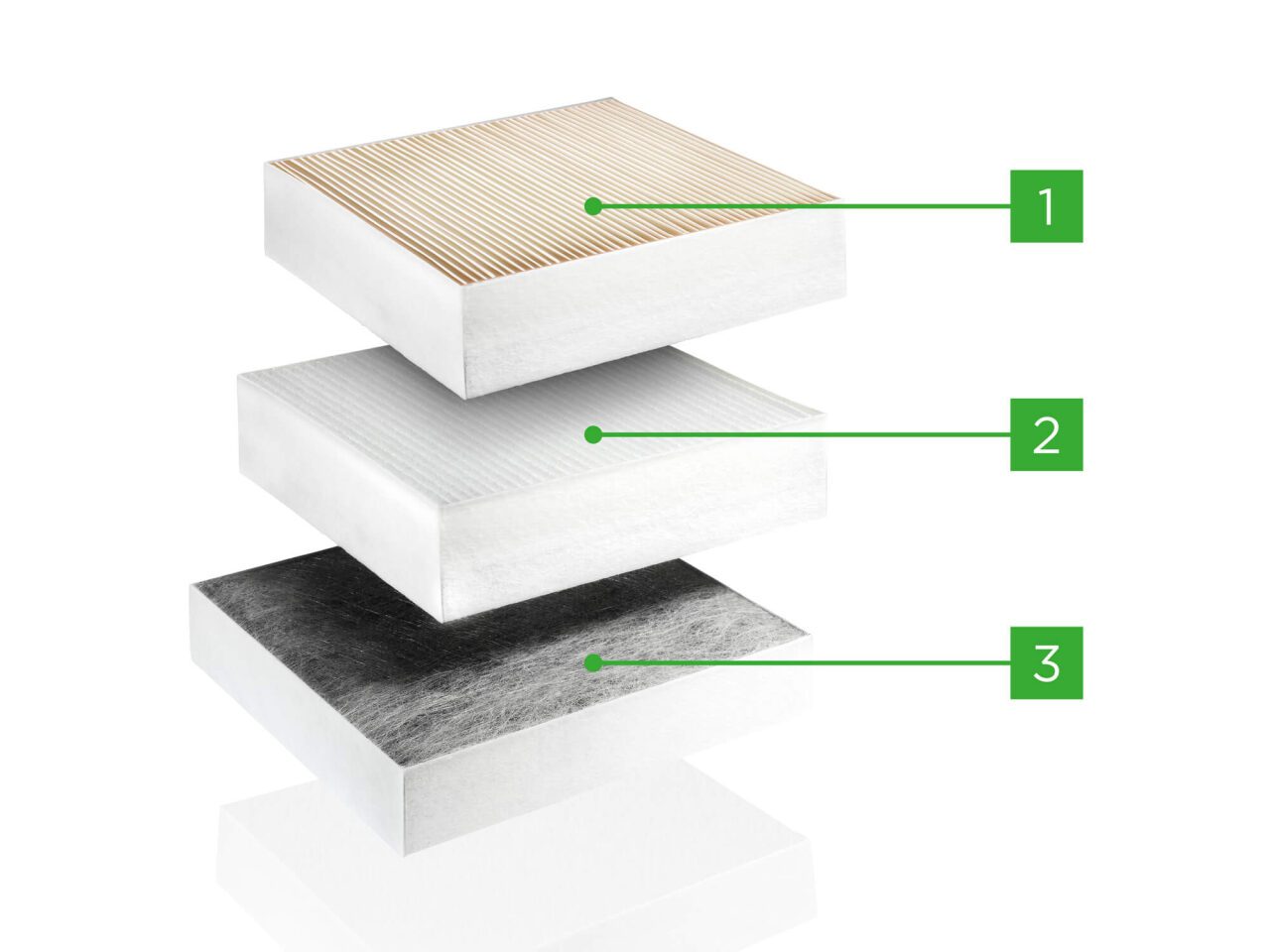 Structure of a category 4 cabin air filter element
1 Cellulose or non-woven media
2 Glas fiber media
3 Activated carbon media