MANN+HUMMEL filtration software: Filter monitoring for higher performance and lower costs
In times of growing digitalization and especially where downtime can cause high costs, automated processes are the key to success. Today, many operations are not manageable without the help of algorithms. That's why we at MANN+HUMMEL have developed a smart solution for filter monitoring. This guarantees maximum filter performance and makes filter maintenance more efficient and effective for fleet operators of agricultural and construction machines, heavy engines and commercial vehicles – in a fully automated, precise and absolutely reliable way. The result? Less downtime and lower costs. Which means higher performance and greater success.
The Digital Filter Suite: Filter monitoring with algorithms and sensors
We combine cloud- and edge-computing based algorithms in the form of a groundbreaking filter software and precision-fit sensor technology - and insert them into existing OEM telematics systems.
This is how we make predictive maintenance simpler, faster and future-proof.
Whether in construction vehicles, industrial motors or in agricultural machinery, our Digital Filter Suite is a key component in telematics systems and can be integrated with ease. It allows global players, medium-sized companies and smaller businesses to monitor air and fluid filters but also air and fluid quality effortlessly - everywhere and at any time. Thanks to our state-of-the-art filtration software solutions and the use of intelligent filter sensors, MANN+HUMMEL ensures your operations run smoothly and cost-effectively.
Our Digital Suite is available for various industrial, transportation and automotive filters from MANN+HUMMEL.
How our Digital Filter Suite simplifies filter monitoring
When talking about filter performance and filter maintenance in the OEM context, it's all about effective machine and fleet monitoring. It's about protecting people. And it's also about cost control and long-term solutions that are easy to integrate. In short, it's about very complex challenges for OEMs in many industries. Whether for agriculture or automotive, construction or industrial plants, our Digital Filter Suite can help.
How the interaction of sensors and filter software works
We use sensors in filter systems or additional components only where it makes sense. This reduces unnecessary data noise. These carefully deployed sensors measure the filter status in real time and monitor the performance of various filters. The data collected is uploaded from vehicles or machines equipped with our Smart Filtration Solutions to the respective OEM's Cloud, where it's anonymized and passed on to the MANN+HUMMEL Cloud. Our filter algorithms then analyze the transmitted data and generate precise information for smart predictive maintenance. These insights are sent back to the OEM, who can make them available to customers, fleet operators and users via app or in the telematics system.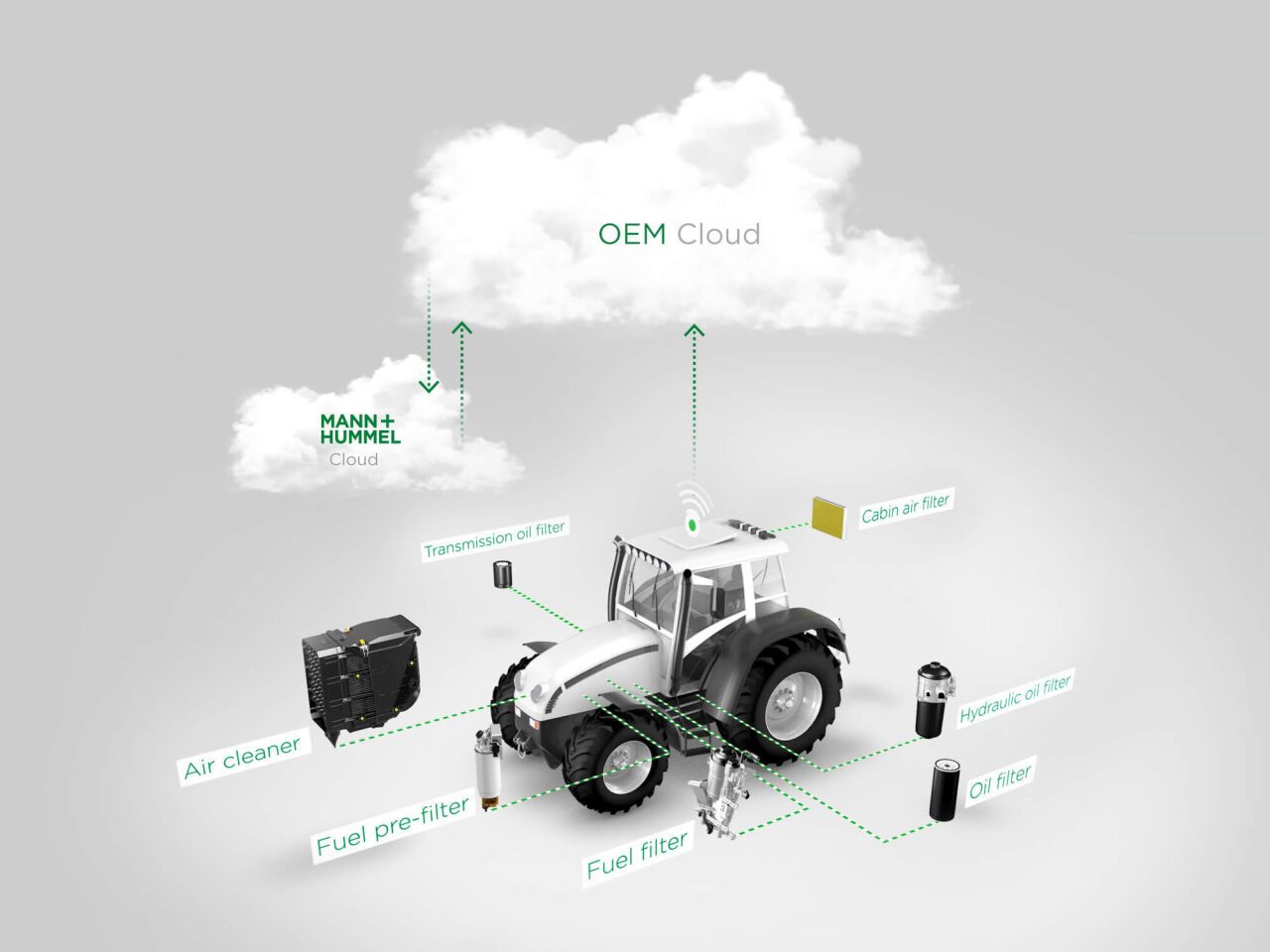 The MANN+HUMMEL digital filter suite: filtration software for best filter performance monitoring
The benefits of our Smart Filtration Solutions at a glance
Networking hardware and software offers technical buyers, engineers and technical project managers many advantages that they can pass on to their customers and users. Operation behavior and use case information, over or under specialized filtration, insight on warranty claims, to name just a few.
Cutting costs through filter monitoring
Filter monitoring of machines, fleets and individual vehicles reduces unnecessary maintenance costs because of dynamically calculated service intervals. Powerful tools such as our RUL algorithm (Remaining Useful Life) for filter life prediction monitor equipment operation and environmental conditions to continuously calculate the maximum time that a filter can safely and effectively protect a system without compromising performance.
Thanks to automated algorithms and sensor-assisted monitoring of air, fluid and filter quality, customers can prevent machine downtimes and avoid vehicle damage or engine failures that would have gone unnoticed without our Digital Filter Suite.
Monitoring filter status and fleet performance in real time enables accurate industrial predictive maintenance like never before.
In addition: Our Digital Filter Suite not only extends filter life and reduces service costs, it can also suggest exactly which OEM products are optimal spare parts for your filtration systems. This in turn saves costs and ensures the industrial performance of machines, systems and components in the industry and in various applications.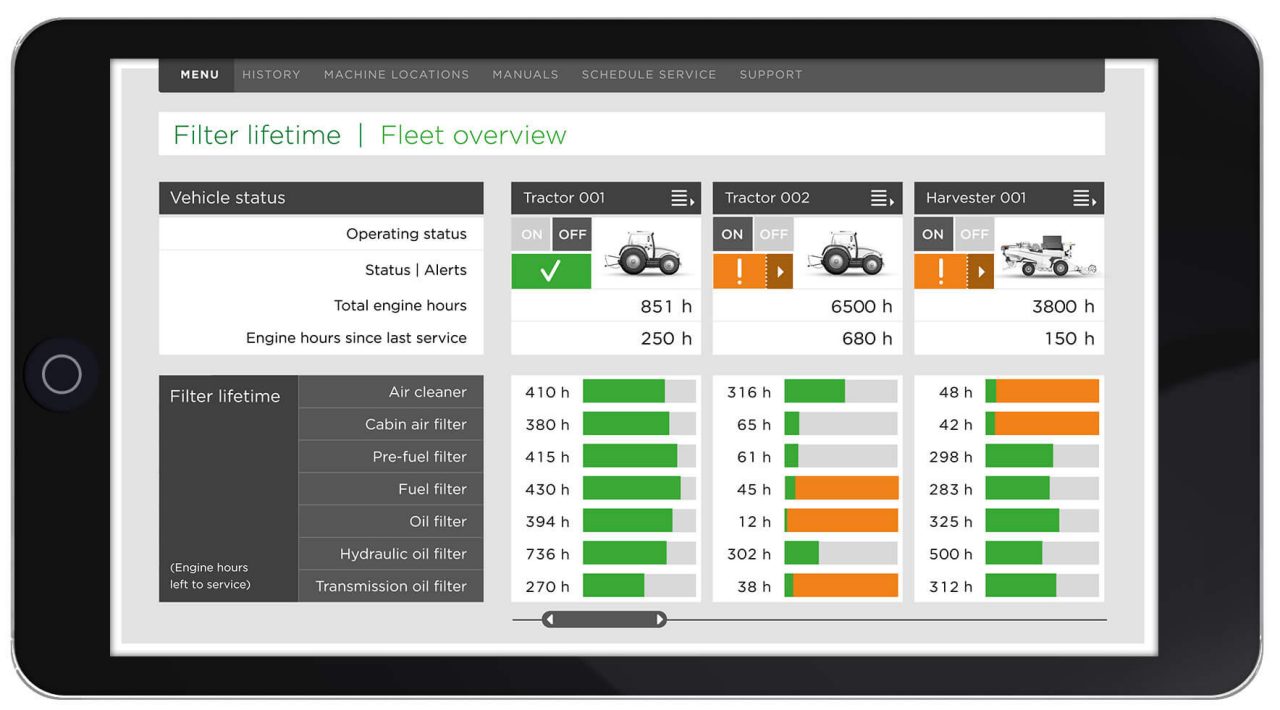 Filter performance software dashboard showing filter status
Smart filtration thanks to smart monitoring
Whether it's operational status, system alerts, engine operating hours, estimated service dates and more, our Digital Filter Suite instantly displays details about any vehicle or machine on demand. Real-time analytics help identify actions to optimize machine and filter efficiency which improves industrial performance overall. For example, digital filter monitoring can ensure optimal differential pressure measurement in heavily used ventilation systems.
Our Digital Filter Suite also enables real-time monitoring of air quality in vehicle cabins and machine environments. So you can best protect your employees.
All vehicle, machine and filter data is stored centrally and securely in the cloud. For fast access to all data, more flexibility and intelligent filtration solutions that are constantly learning.
Are you interested in a Smart Filtration Solution? Then get in touch. And welcome the future of filtration with the Digital Filter Suite from MANN+HUMMEL.