Battery, hydrogen, hybrids: innovative e-mobility filters for alternative drive systems
We need sustainable mobility for a clean future and a planet worth living on. At MANN+HUMMEL we are always on the side of a sustainable future. From cars and commercial vehicles to construction and agricultural machinery and stationary equipment in industry, we develop innovative filter solutions for battery-electric drive systems, hydrogen, fuel cells technology, e-axles, hybrid transmissions and more.
Our filtration expertise since 1941 makes us a reliable partner worldwide for pioneering filtration in original equipment quality - for customers who are already thinking about tomorrow, today. 
MANN+HUMMEL filtration solutions for the future of sustainable e-mobility
Whether battery and fuel cell vehicles or hybrid drive systems, we offer protection for e-mobility - and actively help to improve indoor and outdoor air quality.
At MANN+HUMMEL our filtration expertise extends fuel cell and high-voltage battery systems' service life and improves their performance. We develop original equipment for vehicles that drive clean and machines that run smoothly. Our filters provide comprehensive protection to achieve cleaner e-mobility.
The advantages of our filters for alternative drive systems at a glance:
High separation performance with low maintenance requirements 
Increase in the performance of alternative drive systems 
Reduction of maintenance and downtime
Extension of the service life of drive systems 
Pressure loss optimized designs
Cost and energy primed for economical and sustainable filtration
Customized and standardized solutions
From components to systems: Everything from a single source
Are you interested in individual filter elements, components or entire filtration system solutions for e-mobility, for higher fuel cell efficiency and more? Get in touch or visit our online store.
Our filter elements for electric drive systems
Filtration solutions for battery systems
Electromobility is at the heart of current discussions about tackling air pollution caused by cars. E-cars and other electric vehicles play a key role in urban sustainable mobility. Electrified drive systems lower the vehicle's CO2 emissions and reduce air pollution from pollutants.
The battery system must be reliably protected in the process, which poses many challenges for filter elements and filter systems:
Proper thermal management during battery charging and operation is important for service life and performance
Large pressure differences between the environment and the battery interior must be avoided to prevent leaks or even damage to the battery housing
Contamination in the cooling circuit can lead to pressure loss and overheating
Our filtration portfolio meets all these challenges - and more. Efficient filters ensure consistently high-performance high-voltage battery systems. With our products and solutions, we want to promote alternative, low-emission drive systems such as e-mobility. We use our know-how, innovative spirit and curiosity to develop optimal filtration for electric cars and other e-vehicles.
The inflow from liquid-cooled batteries can contain harmful particles that may clog cooling channels. That's why we've developed coolant particle filters for e-cars and other electric vehicles that separate dirt from cooling channels before it can become hazardous to the system.
An electric car is good for the environment. But the environment is sometimes not so good for the electric car: air-cooled battery systems are constantly exposed to harmful particles in the ambient air. Our cooling air particle filters protect the fan and the battery and can be used as supply air filters in open and closed high-voltage battery systems.
There's no e-mobility without reliably efficient high-voltage batteries. Water and dust must be kept away from the heart of the electrified drive systems - but without hindering pressure compensation in the battery system. Pressure compensation elements from MANN+HUMMEL reliably ensure pressure equalization. In addition to customer-specific solutions, you can rely on our modular VentPlus modular kit: It offers maximum flexibility combined with the advantages of standard solutions.
We have developed a cooling air module for 48 volt batteries that has high functional integrity and optimal use of installation space. It can be easily integrated in the passenger compartment and linked to HVAC systems. It also has a low sound level and is perfectly scalable. Blower, filter, air duct, housing and more from a single source. This solution is ideal, especially for battery packs and application areas that require flexible solutions.
Are you interested in filtration solutions for e-mobility? Contact us today or visit our online store.

Our filtration products for fuel cell drive systems
We are the go-to-supplier for high-performance filtration in the field of fuel cell drive systems. Why? It's simple: Our customized solutions define the quality standards for an entire industry and a sustainable future where clean mobility is possible. Thanks to our system competence for fuel cell drive systems, we always have our finger on the pulse. And sometimes, we are even one step ahead.
Cathode air cleaners by MANN+HUMMEL protect the fuel cell stack from pollutants and gasses in the air that could otherwise poison the catalyst, block channels or destroy membranes.
A broad band silencer from MANN+HUMMEL reduces inlet noise at the compressor and flow noise from the stack and humidifier. The result: Sustainable mobility you can hear.
Humidifiers from MANN+HUMMEL protect the membranes of the fuel cell stack from drying out. The flat membrane solution ensures low pressure loss in the process.
Water droplets in the air and a water wall film produced by the humidifier can block channels in the system and flood the fuel cell stack or damage the turbine of the e-compressor. Cathode water separators from MANN+HUMMEL effectively protect fuel cell systems from water. We rely on inertial separation with low pressure drop for energy-efficient moisture filtration.
The turbine is only protected if process water can be reliably separated from the stack. At the same time, the exhaust air must be optimally designed to avoid flow noise and pressure losses. Which is why our exhaust air systems include water separators, resonators and other components, as required.
Our coolant particle filters remove harmful particles from the cooling circuit, reliably protecting the stack and components. For optimum cooling and maximum performance over the entire service life.
Ion exchanger filters from MANN+HUMMEL ensure constant low conductivity and protect the fuel cell stack from short circuits.
For this purpose, we offer two product families, which have been optimized for the respective areas of application: IonFree is designed for use in automotive applications; OmniFlow is our solution for ion exchange filtration systems in industrial applications.

Our decades of experience come into play when developing the ventilating filter for stack housings. We work closely with stack suppliers and our OEMs (original equipment manufacturers) on the path to a serial production.
Are you looking for filtration solutions for fuel cell systems? Get in touch. Let's take the next step towards cleaner mobility.

Our filter portfolio for e-axles and hybrid transmissions
Our oil filter systems ensure maximum protection for all components. Our e-axle modules stand for flawless fluid management, effective fluid conveyance, temperature control and filtration - combined in just one component, at low differential pressures. The result: Trouble-free operation and maximum performance for the life of the electric vehicles.
Alternative drive systems are effectively and efficiently protected by oil filtration at the highest level. We apply the knowledge we've gained over decades working in combustion engine filtration to new solutions for drive systems enabling low-emission, environmentally friendly driving:
Extensive simulations, pressure loss optimization through know-how and state-of-the-art technologies, and masterful plastics processing allow us to integrate many functions in the smallest possible space. Compact design, innovations and premium quality: Our oil filter systems for electric axles and hybrid transmissions make us the best choice for clean alternative drive systems. Now and in the future.

Transmission oil filters for offroad and commercial vehicle applications must be prepared for any challenge and defy adverse conditions. Our filter portfolio is made for the applications that push machines and engines to their limits. With our suction- and pressure-side transmission oil filters for commercial vehicles, construction and agricultural machinery, and industrial engines, they hold their own.
Do you want to reduce downtime and minimize maintenance for your engines and machines? Choose oil filter systems for electric axles and hybrid transmissions from MANN+HUMMEL. Get in touch today - and rely on protection that meets all challenges.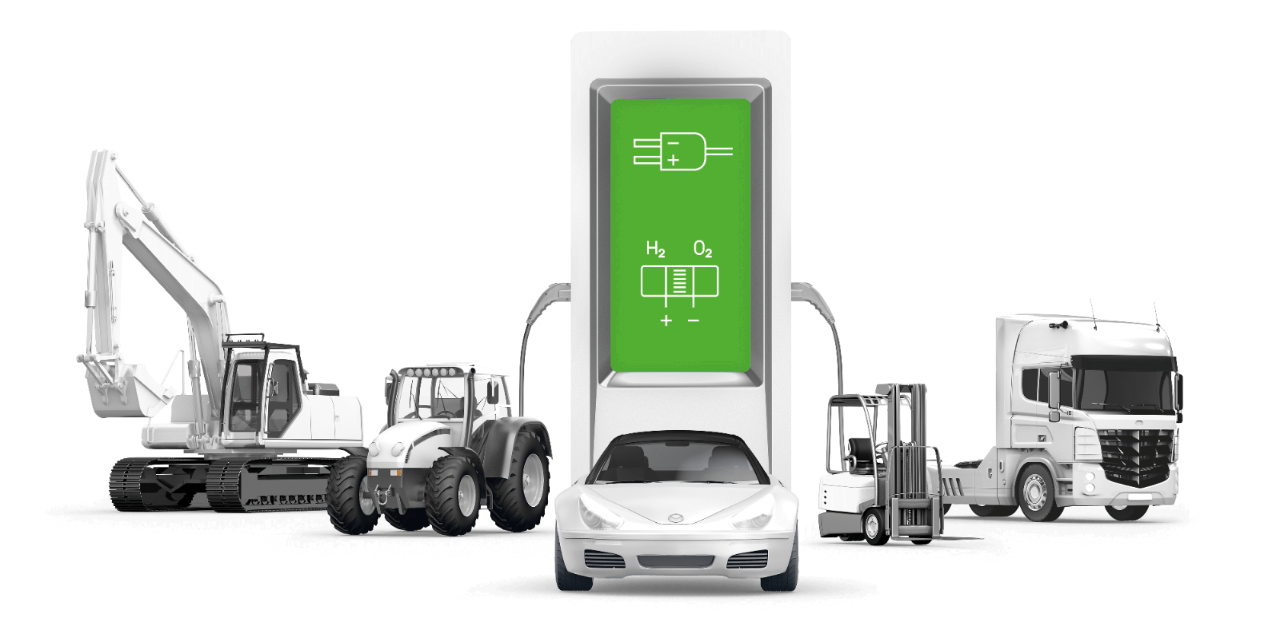 E-Mobility Shop
In our E-Mobility online shop you will find our standard components for battery and fuel cell applications which can be ordered quickly and easily.
Visit our E-Mobility online shop: