Oil mist collectors: Industrial oil mist filters for workshop environments
Clean solutions for people, machines and the environment
As a manufacturer of oil mist collectors, MANN+HUMMEL has stood for leadership in filtration for more than 80 years. Our mission is to separate the useful from the harmful. Our pioneering ScandMist and TriMist range of oil mist eliminators efficiently filter oil mist, oil smoke and emulsion mist. Our industrial air purifiers rely on a modular filter system and a three-stage filtration process directly at the pollutant source. So, our oil mist filters effectively and proactively ensure a safe workshop environment and clean air.
MANN+HUMMEL uses two technologies in oil mist separation:
Mechanical oil mist separation according to VDI 3677 (ScandMist)
Electrostatic oil mist separation according to VDI 3678 (TriMist)
Mechanical and electrostatic oil mist separation technology each use a different method of separation:
Mechanical oil mist separators use physical barriers, like fiber-based filters elements, to separate oil mist from the air. The barriers catch oil particles and allow clean air to pass through. Electrostatic oil mist separators, on the other hand, use an electrically charged field to separate the oil particles from air.
With mechanical separation, the filter element requires regular replacement to keep the machine running efficiently. Recommended replacement is dependent on the use, but once a year is common. Electrostatic oil mist separators also require maintenance by regularly cleaning the electrostatic elements to ensure they remain efficient.
Mechanical oil mist separators have a comparable separation efficiency to electrostatic separators. With mechanical separation, to achieve a separation efficiency of 99.95% at 0.3µm, a final HEPA* H13 stage is recommended in addition to the primary filter element. Electrostatic separators can achieve a collection efficiency of over 99% on PM1 by using electrical charges to separate smaller oil particles that might pass through mechanical barriers. 
Mechanical oil mist separators are not as compact as electrostatic separators. This makes the electrostatic separators an attractive option where space is limited. 
The benefits of our oil mist filters at a glance:
● Clean and safe workshop environment by eliminating oil mist, oil smoke and emulsion mist
● Premium, long-lasting, and high separation efficiency of 99.95%
● Install and forget: No cleaning and maintenance downtime with our oil mist collectors
● Service only once or twice a year
● Reduction of machine downtime
● Increased availability of production machines
● Provision of valuable production time
● Savings in operating costs due to energy-efficient EC motors in combination with a closed control loop
● Input signals for communication with the CNC machine (e.g. switch-on signal)
● Output signals for preventive maintenance
● Simple "plug and play" installation thanks to commercially available connectors
● Savings in recycling costs as a result of the reuse of derived coolants
● Savings in heating costs due to the supply of clean exhaust air to the work area
As a first step, we analyze your requirements. Then we conduct an inventory to measure the existing oil mist in the air and prepare a customized offer for you. The cost of an oil mist separator varies depending on the requirements. Next, we individually configure, install and commission the oil mist collectors. Our after sales service is available to you at any time and for all questions regarding our products.
Are you interested in effective solutions for industrial oil mist filtration in workshop environments? Then discover our oil mist collectors or get in touch with us here.
Oil mist is generated in various industrial environments. Especially in metalworking, the air quality can be significantly impaired during grinding, machining or hardening. In molding and joining processes with plastics, hazardous vapors are also generated by thermal stress or the use of solvents.  Likewise, the production of textiles brings with it the danger of oil mists and vapors. Our oil mist separators for machine tools provide protection wherever it is needed. So in an industrial context, using an oil mist filter from MANN+HUMMEL always means protecting people and the environment as well as increasing machine performance and productivity and optimizing downstream processes.
Thanks to the modularity of the filter configuration used, the extraction systems can be quickly and highly flexibly adapted to the customer's respective, individual task. A large product portfolio of pre-filtration stages that can be integrated in combination with optionally available activated carbon filters for the elimination of aromatics and odors guarantee the best possible filtration result.
Overview - mechanical oil mist filters (ScandMist)
Overview - electrostatic oil mist filters (TriMist)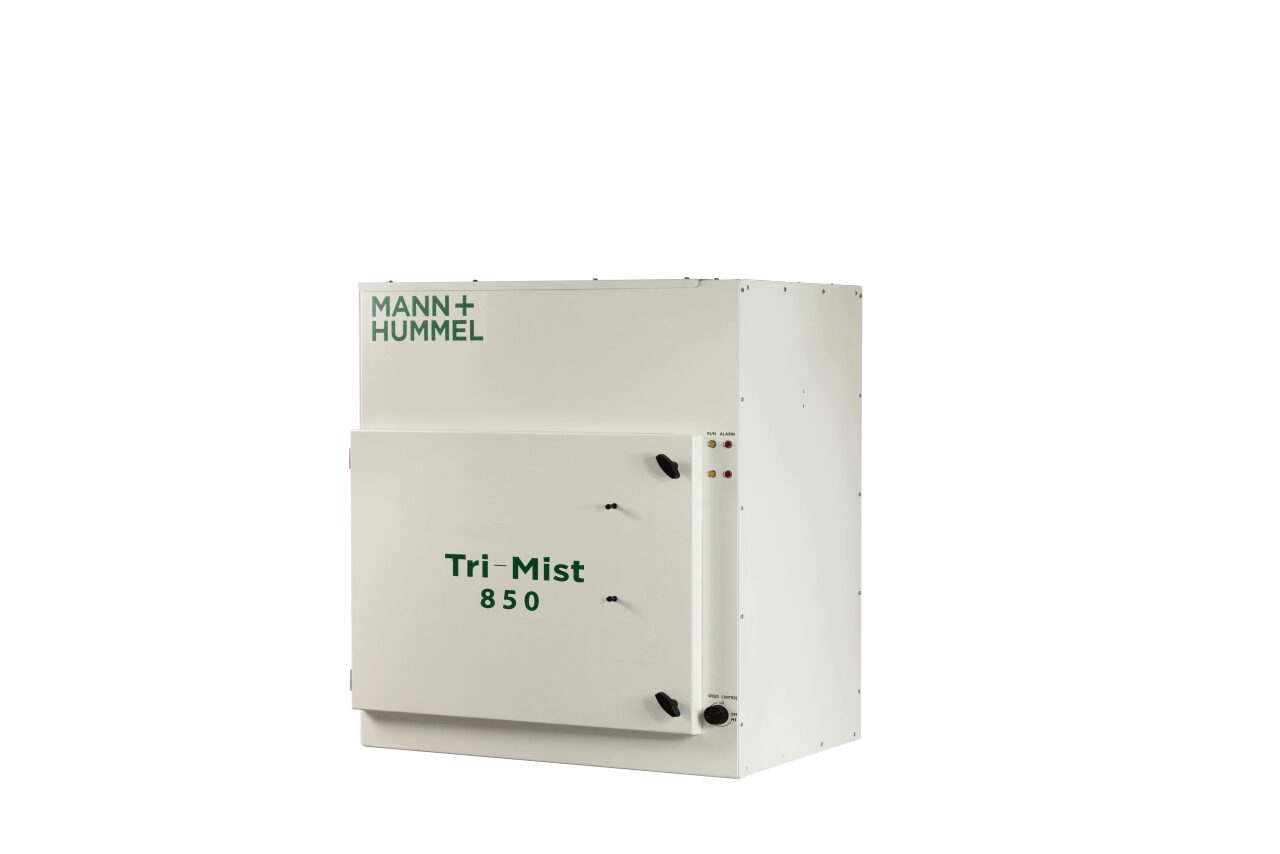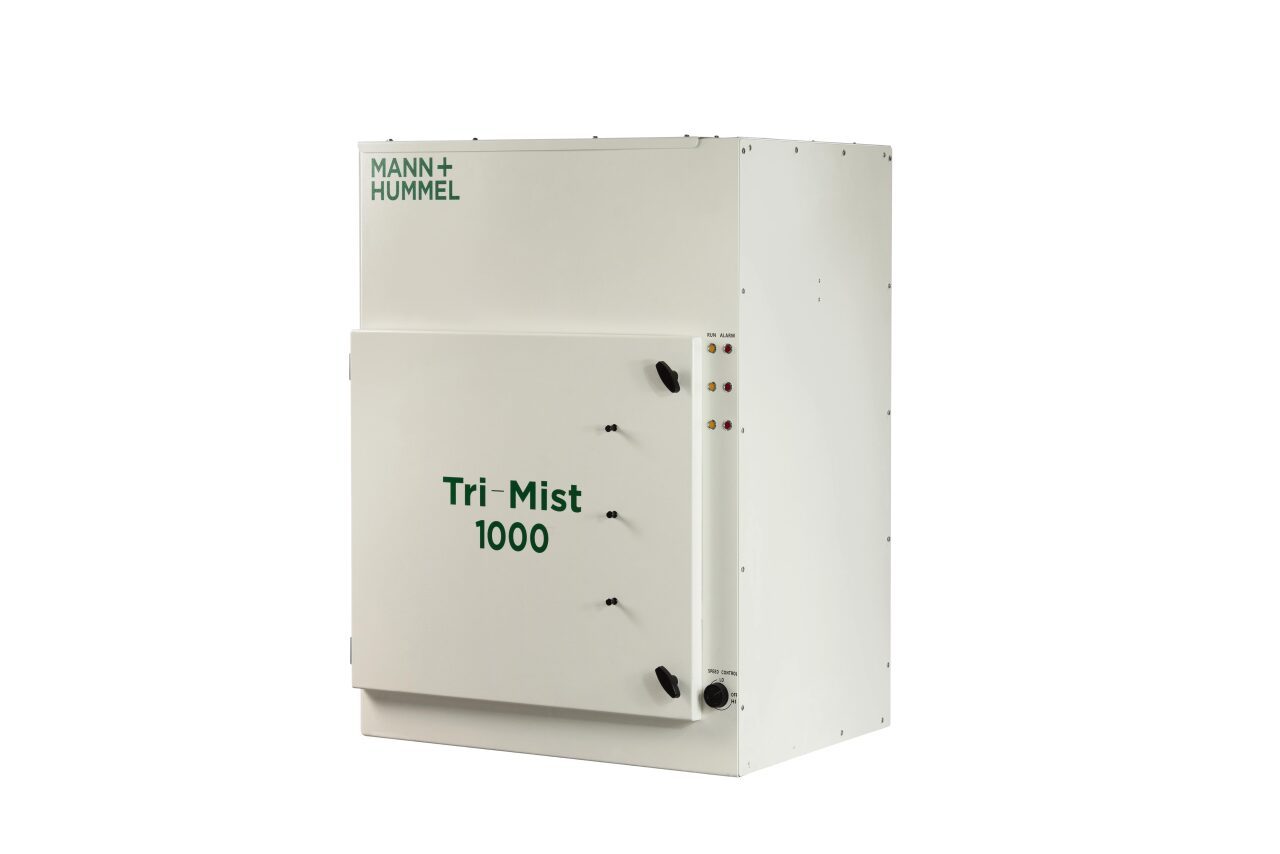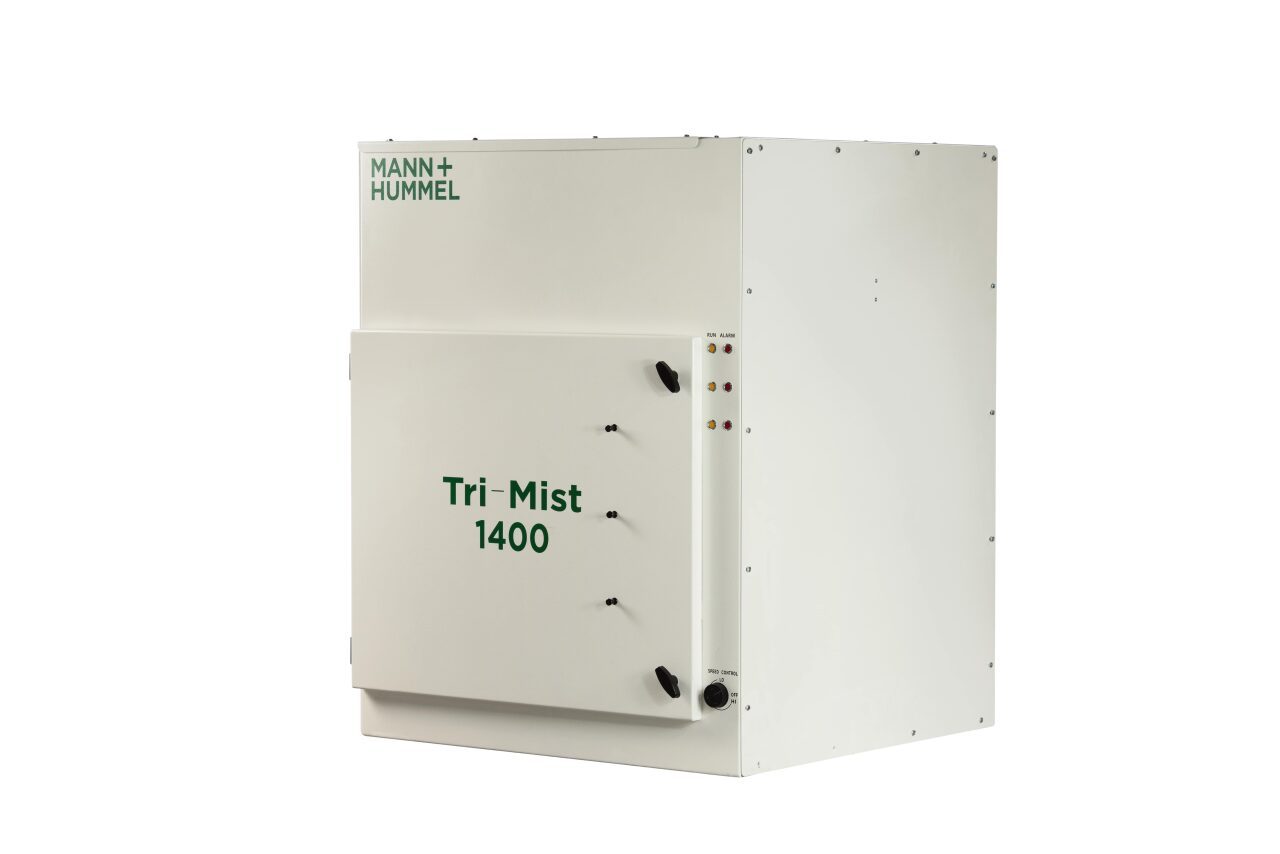 Oil mist collectors from MANN+HUMMEL are revolutionary
Classical centrifugal and oil mist separators still work relatively well for PM10 and PM2.5 particles, but reach their limits for PM1 particles in the sub-micron range. These tiny particles are difficult or impossible to separate from the air using electrostatic or centrifugal filtration methods. The result: PM1 particles very quickly clog sensitive HEPA filter media - leading to frequent and costly HEPA filter changes.
That's not the case with ScandMist from MANN+HUMMEL. Our oil mist filters are particularly effective against PM1 particles in the sub-micron range due to their three-stage filtration system. In the first two filter stages, we rely on coalescers. They collect and combine sub-micron particles into larger droplets, which then drain to the bottom of the machine or into a separate oil pan.
The advantage of this method is that the liquid obtained can be reused. The first two coalescer filter stages ensure high efficiency but also protect the third filter stage behind them (i.e., the HEPA filter), and so, increase the service life and performance of the oil mist filter system.
MANN+HUMMEL offers one of the most advanced and holistic oil mist extraction systems currently available. For safe workshop environments and efficient machines at all times.
Wherever materials are processed industrially, air pollution can occur in the form of oil mist, oil smoke or emulsion mist. Workers may be exposed to air pollution especially in metalworking, but also in plastics processing and textile manufacturing. The composition of this pollution varies considerably depending on the process, but basically consists of a complex mixture of toxic pollutants - including oil, water, additives, metal chips, bacteria and more.
Inhaling oil mist poses high health risks and should be avoided at all costs. The tiny droplets of oil mist in the air penetrate deep into the lungs and can cause permanent respiratory problems. Skin can also suffer when in contact with oil mist, resulting in conditions like oil acne and dermatitis.
Other problems relate to workplace safety. Oil particles in the air increase the risk of slipping. This creates the perfect environment for workplace accidents. In addition, oil mist can lead to fires and explosions if the aerosol concentration is particularly high.
Many machines today are electronically controlled. If they are permanently exposed to oil mist, this leads to contamination and, in the worst case, defects. This in turn means long maintenance and downtimes, and productivity drops.
The environment also suffers from the release of oil droplets into the air, because emulsions and oils are released uncontrollably into nature with the oil mist. An oil mist extraction system at the source is the most efficient solution to protect nature, people and machines.
Even the naked eye can detect when oil mist is formed. If this is particularly pronounced, oily residues on machines and in the workshop environment are also visible. Another natural detector for oil mist is the nose. If there is a heavy, typical smell of oil in the air, this is another indicator.
The limit value for oil mist in Germany is 0.5 to 10 mg/m³, depending on the coolant. To ensure that this is not exceeded, we recommend using an emulsion mist separator.
Our industrial oil mist collectors ScandMist and TriMist form a range of industrial air cleaners with a modular filtration system for oil mist extraction. Vapors, emissions and other harmful by-products are filtered out by the oil mist separator directly at the source using a three-stage filtration process. So, oil mist filtration takes place directly within the machine tools. The oil mist eliminator has a separation efficiency of 99.95%. The fan speed is automatically adjusted at all times - this means minimal energy consumption and therefore lower costs.