Round air cleaner for excellent flexibility
The compact ENTARON HD two-stage air cleaner is roughly one third smaller than comparable air cleaners with a similar separation efficiency and is therefore one of the smallest air cleaners in its class. In the long term MANN+HUMMEL will replace the proven Europiclon with this range. The ENTARON CD is designed as a single-stage alternative to the ENTARON HD and is therefore the preferred solution for stationary applications with a low to medium dust load (e.g. compressors and power generators). In comparison to the Europiclon the installation space can be significantly reduced retaining the same low flow resistance.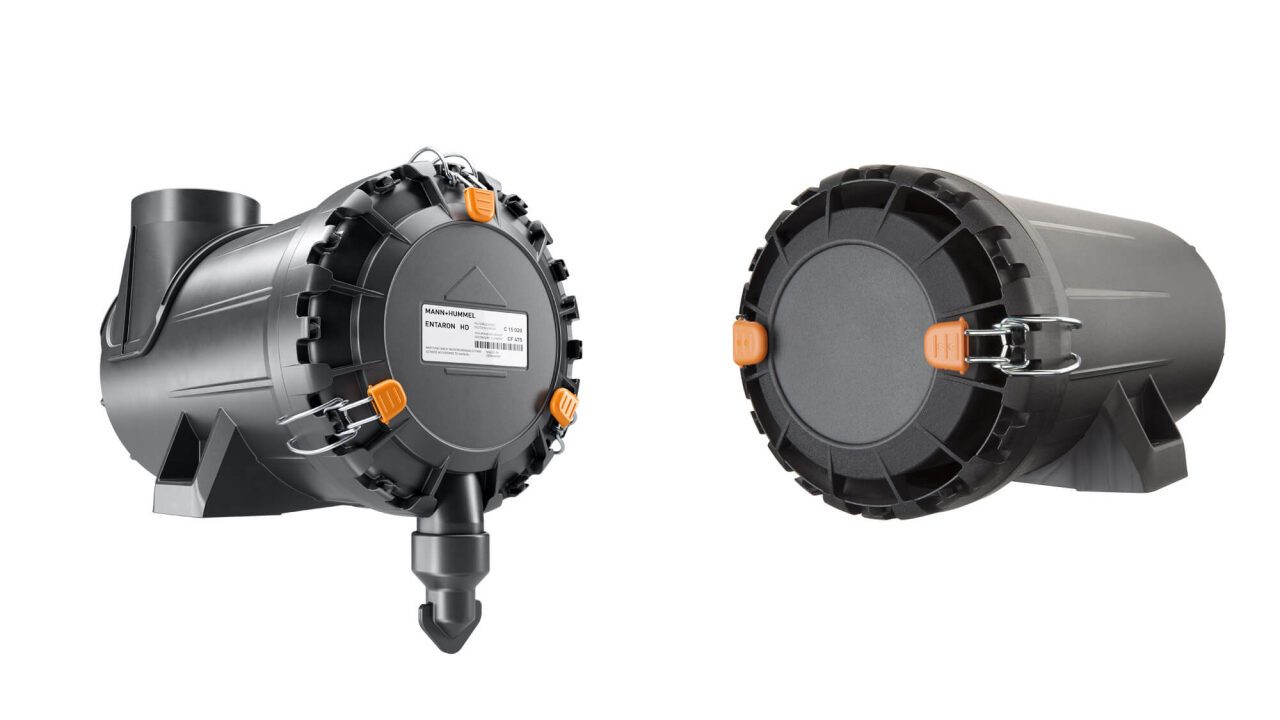 Technical features
ENTARON HD
ENTARON CD
Type of operation
Two-stage air cleaner
Single-stage air cleaner
Field of application
Mobile applications with high dust loads such as construction and agricultural machines and compressors
stationary applications in areas with a low dust load such as machines and engines, gensets and compressors
Volume flow range
2 to 13 m³/min
2 to 13 m³/min
Pre-separator
Tangential

-

Pre-separation efficiency with scavenging (10 %)
Up to 93 %

-

Pre-separation efficiency with dust discharge valve
> 86 %
-

 

Final separation efficiency
> 99.99 %
> 99.97 %
Dust discharge
Dust discharge valve (option: scavenging)
-
Secondary element

Option

-
Installation
Vertical and horizontal installation possible, depends on the position of the dust discharge valve
Vertical and horizontal installation possible
Service concept
Front servicing with comfort fasteners
Front servicing with comfort fasteners
Additional protection against water ingress
Standard
-
Easy installation and compact design – up to 30 percent (ENTARON HD) or 50 percent (ENTARON CD) smaller than air cleaners with a comparable filtration performance

Increased engine protection through increased initial and final separation efficiencies

New type of sealing concept for reliable operation

Environmentally-friendly and economical disposal through filter elements which are metal-free and fully incinerable

Tool-less servicing due to comfort fasteners
ENTARON HD 
Long service life

High pre-separation efficiency due to integrated tangential inflow (no external pre-separator required)

Easy operation with dust discharge valve
ENTARON HD 2.5
Heavy Duty ready

Best in class lab life
Flexible mounting due to 360° rotation of outlet and EasyLatch bracket allowing inlet configuration options every 15°
High strength outlet tube design for stability in severe stress applications
ENTARON CD
Low flow resistance reduces operating costs

Housing air cleaner with free intake (no air duct on the raw air side required)
The best choice for each application
The ENTARON HD and CD air cleaners enable a perfect solution for each application. The ENTARON HD two-stage air cleaner is particularly suitable for applications with high dust loads. The single-stage ENTARON CD with low flow resistance and reduced operating costs is suitable for low to medium dust loads. Another benefit of the ENTARON CD is the simplified installation of the air cleaner on the raw air side which does not require any ducts.
Both air cleaner versions offer a high separation efficiency and compact design. The housing concept consists of three plastic parts: A special welding process reliably joins the raw air inlet to the air cleaner body. The gasket inserted in the cover protects against water ingress and prevents the entry of hot intake air from the engine compartment to enable a reliable function. The innovative housing concept allows adaptation of the air cleaner to almost all installation situations as practically all orientations of the inlet duct relative to the integrated brackets are possible. The fixing of the air cleaner can be made using through-holes or threaded inserts. Additional flexibility is provided by the possibility to configure the raw air inlet in a mirror image position and also a selection of welded clean air connections comprising a 90 degree elbow which can be positioned (depending on model), a MAF connection and inch and metric connections.
Innovative evolution
The ENTARON HD achieves excellent separation efficiencies due to effective pre-separation through tangential air flow and optimum filtration with high-performance media. This is despite the fact that the air cleaner requires only small installation space. In comparison to air cleaners with a similar filtration performance the air cleaner is approximately 30 percent smaller and is therefore one of the most compact air cleaners in its class. This is made possible by its design and ingenious solutions such as the integrated and protected service connection which requires less installation space.
Perfect control
The right relation between the volume of air and fuel is crucial for an environmentally-friendly combustion process and economical engine operation. The ENTARON HD is well prepared for an MAF sensor. In order to ensure the best signal quality at all times, the secondary element is equipped with a key lock function which defines the installation position and therefore the right air flow.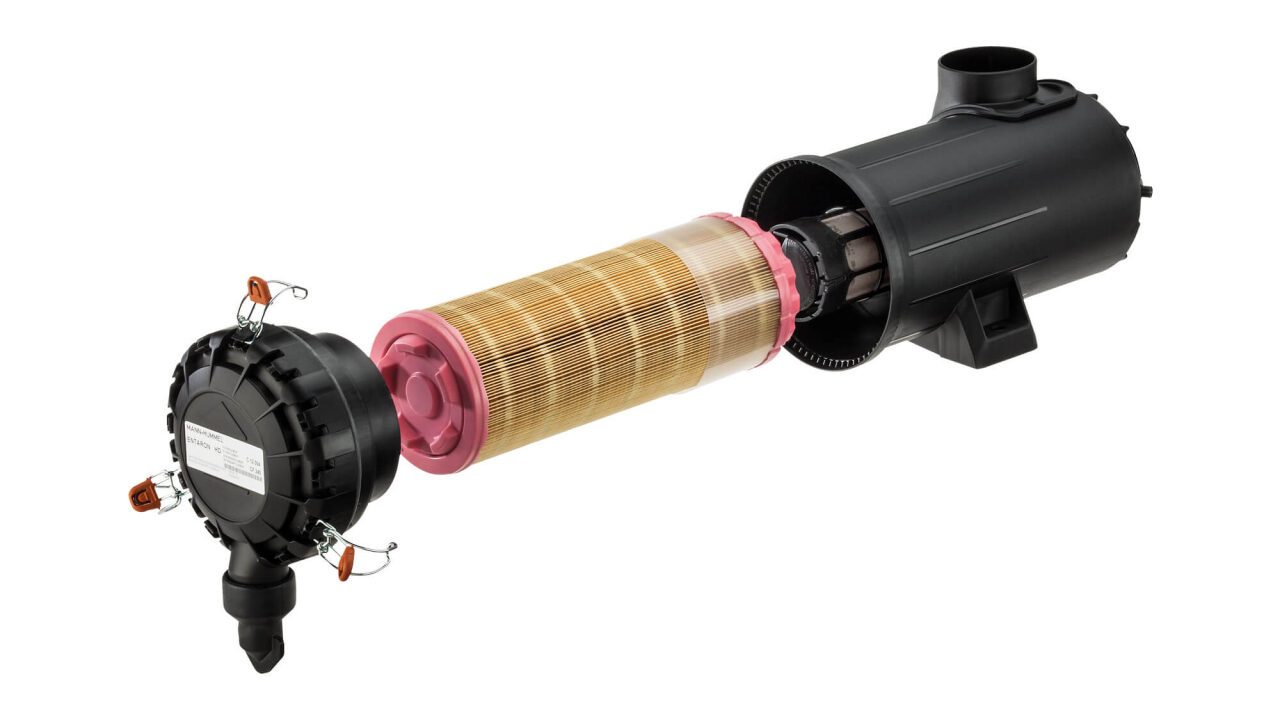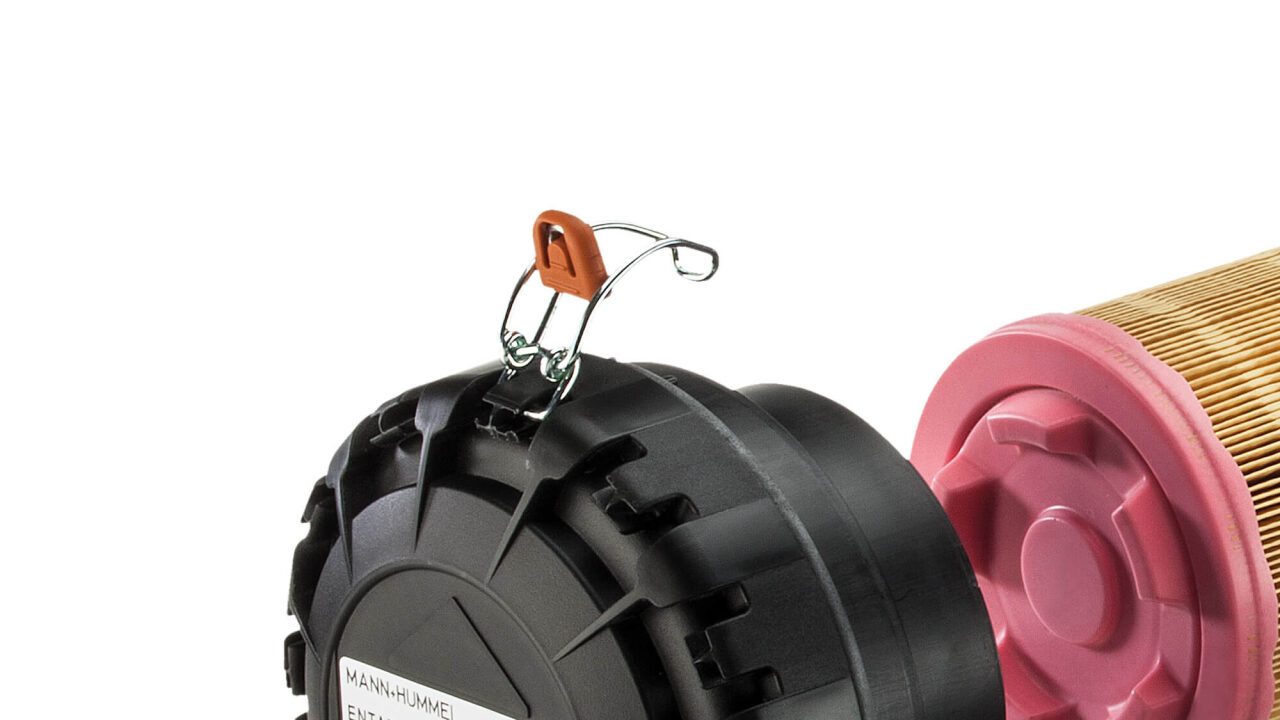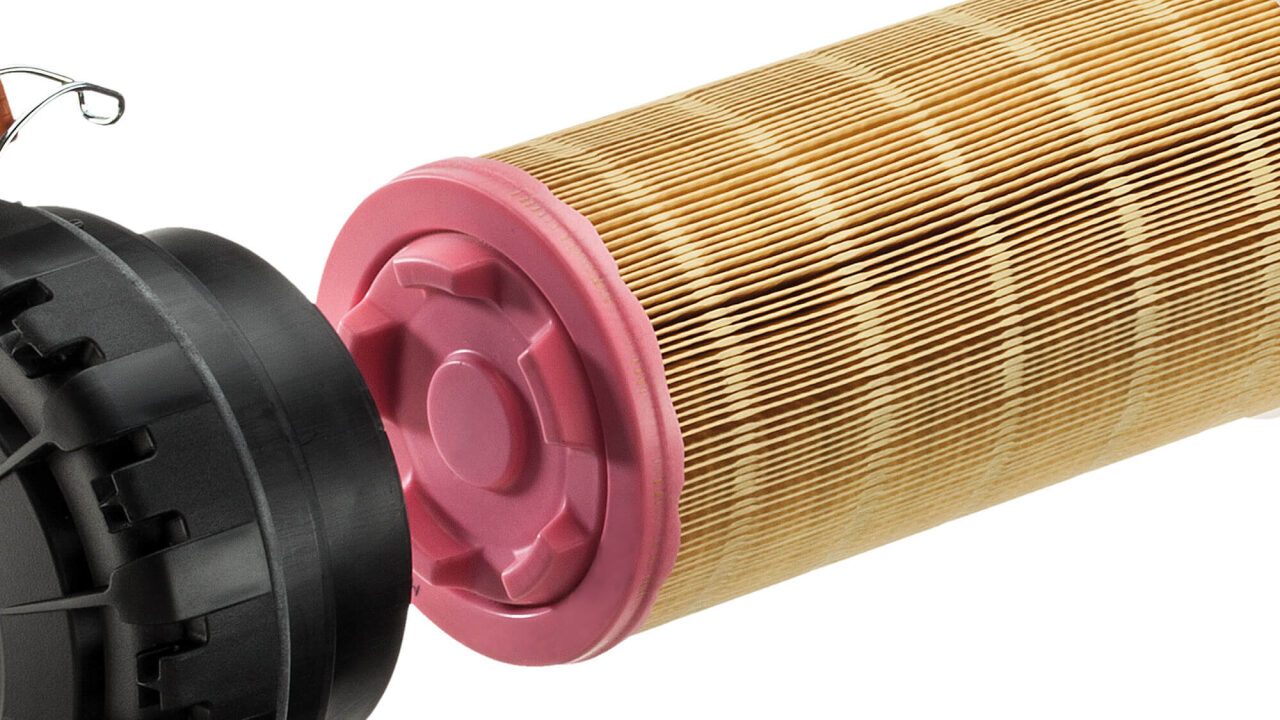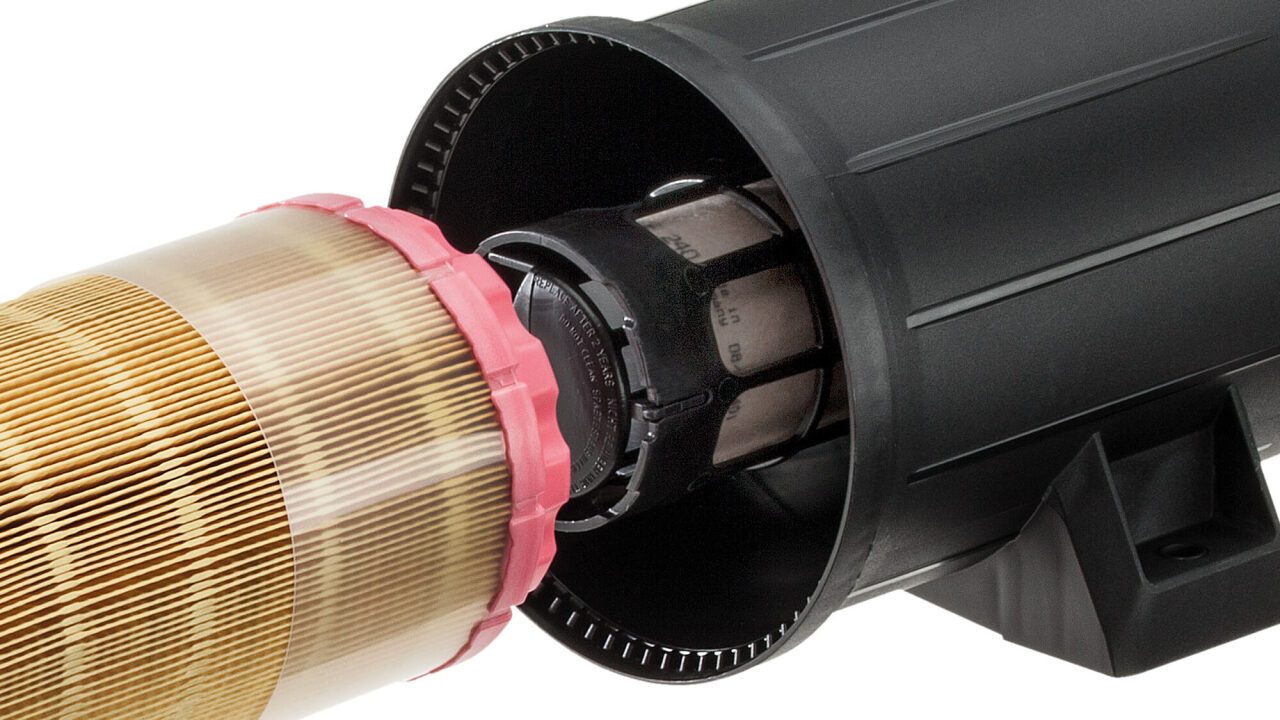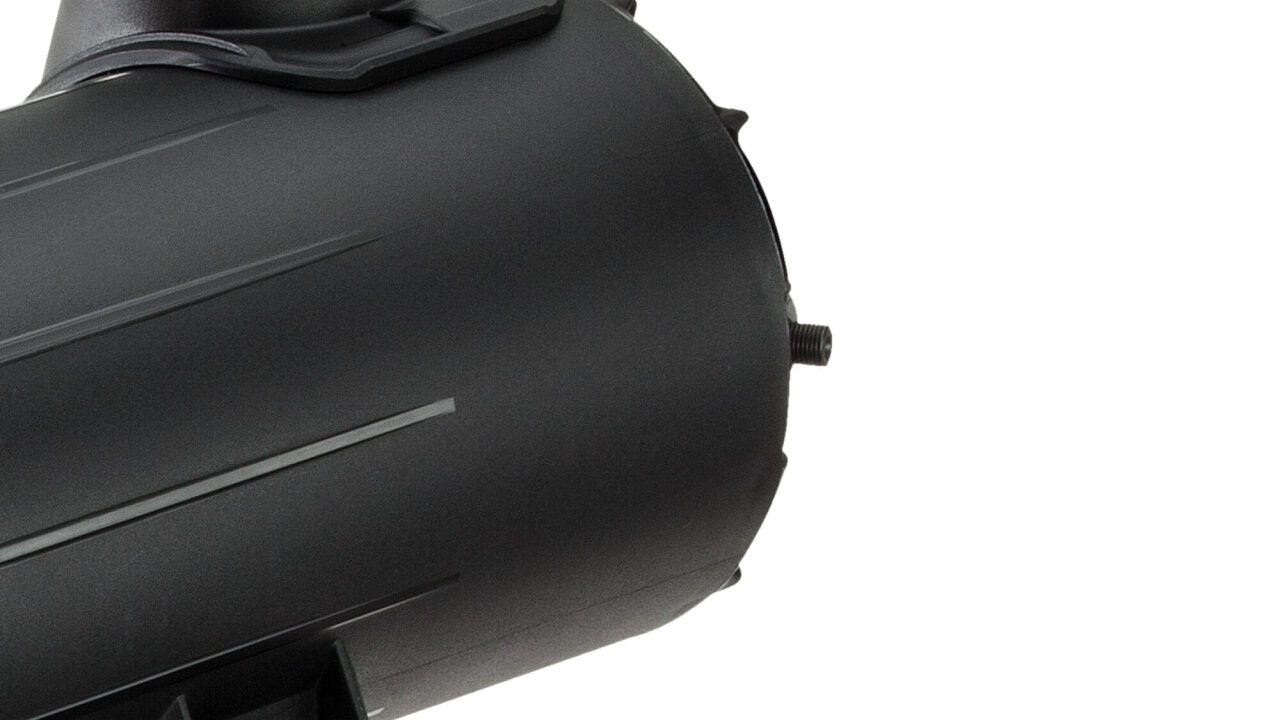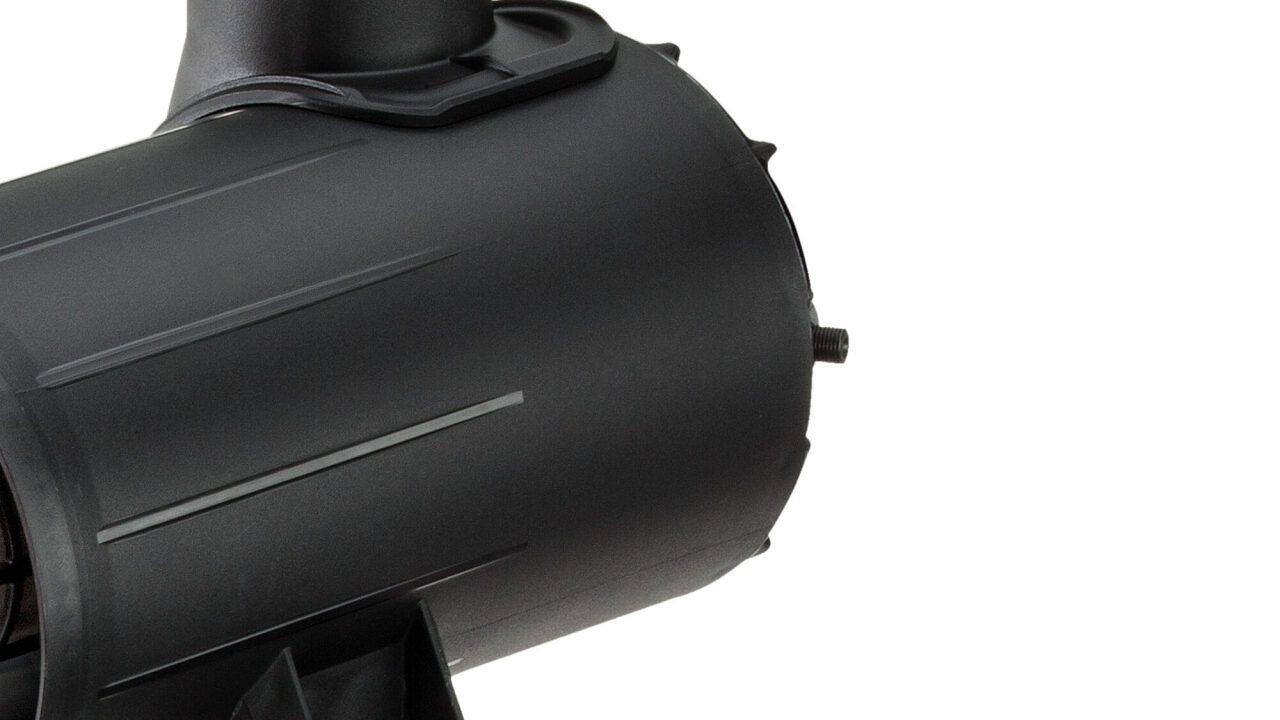 Housing
The three-part housing concept offers excellent flexibility for the positioning of the inlet angle relative to the integrated bracket and therefore simplifies use for OEM applications.
Comfort fasteners
During servicing the snap-in function of the comfort fasteners prevents pinching between the cover and housing. The distinctive color-coding of the fasteners enables a reliable service even when visibility is poor. In order to meet special installation conditions, the fasteners can be freely positioned on the cover according to the customer needs.
Main element
The innovative filter media offers a high separation performance simultaneously with an exceptionally long service life. The filter element is equipped with a new gasket system which ensures the reliable sealing of the element to the housing. The main and secondary elements are metal free and are fully incinerable with low-cost disposal.
Secondary element
The center tube of the ENTARON HD fixed to the housing protects the secondary element, defines the installation position and prevents unintentional removal or incorrect installation.
Service switch
The ENTARON HD/CD has a connection for a service indicator which is directly integrated in the housing. The connection is designed to use a minimum of installation space and is located in a protected position.
Prepared for MAF sensor technology
Due to the defined installation position of the secondary element and optional welded clean air outlet, the ENTARON HD is perfectly designed for a MAF sensor with excellent signal quality.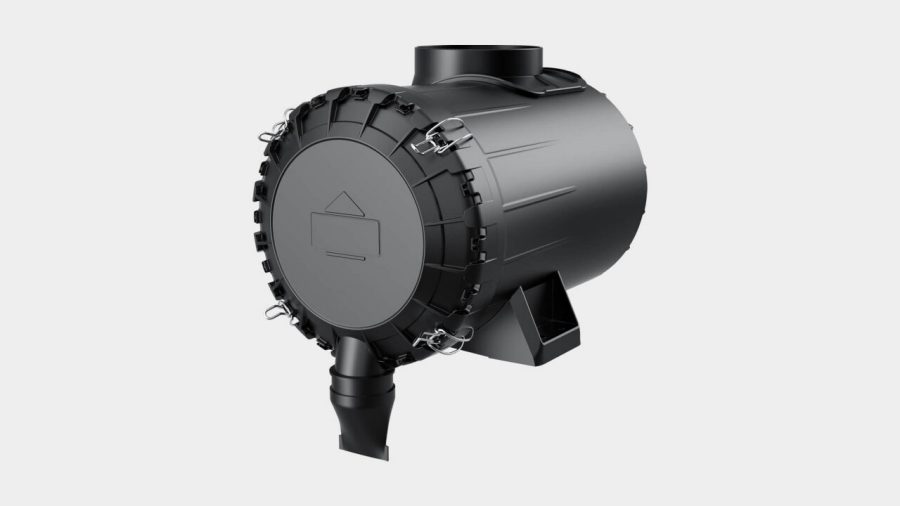 ENTARON HD - round air cleaner for excellent flexibility
MANN+HUMMEL further expands its successful air cleaner range for agricultural and construction machines with the ENTARON HD 13. This enables the two-stage air cleaners to now cover a nominal flow rate range from two to 13 cubic meters per minute.