The compact power pack
The IQORON VP range was developed especially for applications with medium to heavy dust loads. The compact and innovative two-stage air cleaner equipped with the new VarioPleat filter element is designed for applications with an output of 400 kW or more where installation space is tight. The unique concept enables a short air flow path to the engine. In comparison to similar solutions available on the market, the IQORON VP achieves up to 70 percent longer service life without scavenging.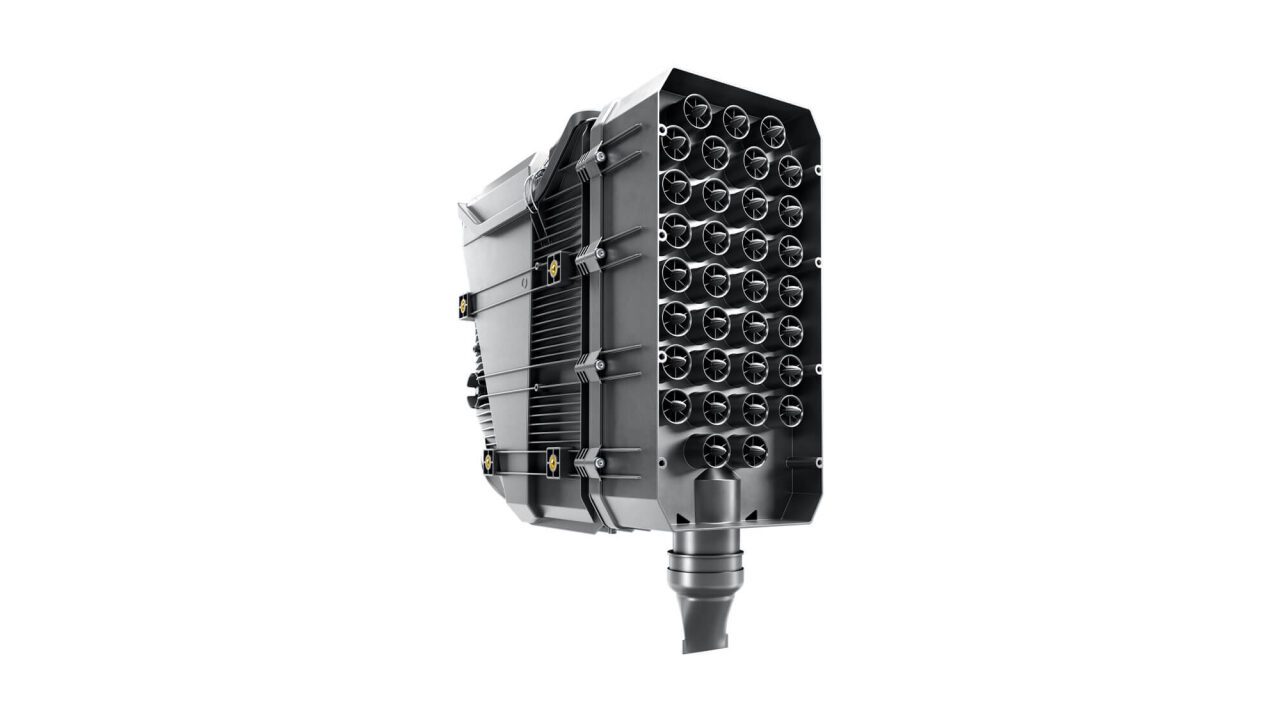 Technical features
IQORON VP
 
Type of operation
Two-stage air cleaner
 
Field of application
Mobile applications with very high dust loads such as construction machines, construction site trucks, harvesters, tractors, mobile cranes, mobile compressors etc.
 
Volume flow range
14 to 33 m³/min
 
Pre-separation efficiency with dust valve
85%
 
Pre-separation efficiency with scavenging (10 %)
> 90%

 

 
Final separation efficiency
> 99.99%
 
Dust discharge
Dust discharge valve (option: scavenging)
 
Installation
Vertical and horizontal installation possible
 
Service concept
Side access with comfort fasteners
 
Additional protection against water ingress
Cover gasket on request
 
Special variants
Available on request as single-stage air cleaner without cyclone block
 
Horizontal and vertical operation without loss in performance through improved multi-cyclone block
Simple and economical scavenging installation using low negative pressure at scavenge port
Up to 70 percent longer service life for operation with dust discharge valve possible
Shortened air flow routings to engine through 45 degree clean air connection (position adjustable)
High-performance VarioPleat filter element enables high power density
Improved separation performance
The performance of the IQORON VP is ideally suited for medium to heavy dust loads. Implementation of an updated multi-cyclone pre-separator allows the air cleaner an improvement in performance for non-scavenged applications. The IQORON VP can be installed with a dust discharge valve in horizontal and vertical installation positions without a decrease in performance. As an option, the IQORON VP is also available as a single-stage air cleaner (i.e. without multi-cyclone block pre-separator). In heavy dust environments similar to agricultural applications, the DualSpin XT pre-separator can be attached to the IQORON VP for improved handling of organic and fibrous dusts. When combined with scavenging this achieves excellent pre-separation efficiency. A special design of the guiding vanes considerably reduces pressure drop in the pre-separator. Generously dimensioned flow paths virtually exclude the possibility of air cleaner plugging.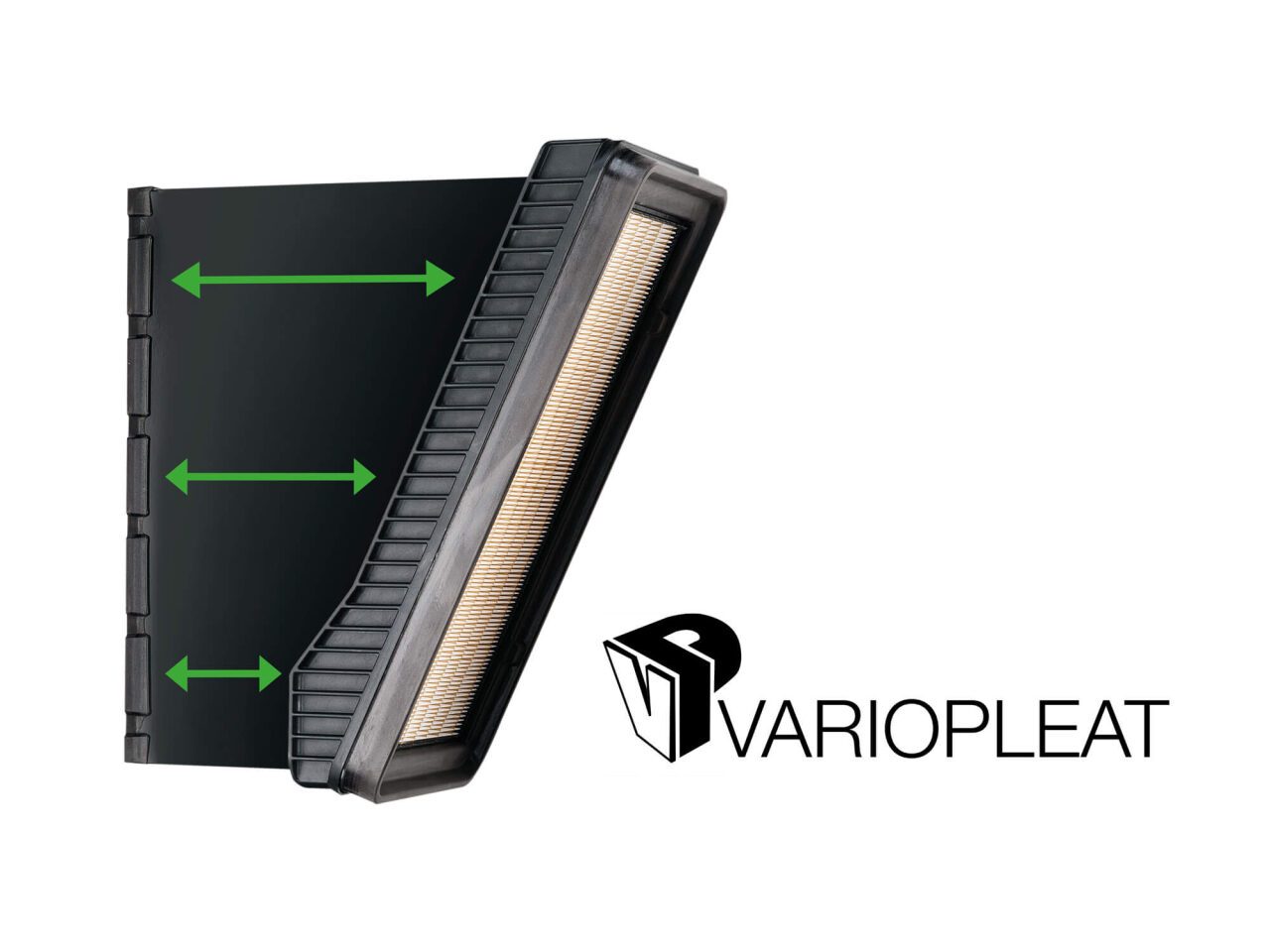 The innovative design of the VarioPleat filter element enables variable pleat heights.
Variable element geometry
The unique VarioPleat filter element concept enables a particularly high power density for filter systems with an axial flow. Individual pleats within the filter can be optimized to the space available utilizing steps or curves to allow conformance to the available space. Tight installation spaces can now be fully utilized with the geometrical design freedom of the VarioPleat. As a result, the air cleaner can find application even when the installation requirements are complex. Innovation of the element manufacturing technology yields a lower pressure drop when compared to other filter element technologies. Clogging of the pleats by large debris is minimized by the stabilized structure of the element.
The VarioPleat element technology is used as standard in the IQORON VP range and also in custom designed solutions.
Flexible compact design
The modular design of the compact IQORON VP two-stage air cleaner allows easy adaption to a single-stage air cleaner and can therefore be flexibly adapted to complex applications. The special characteristics of the air cleaner make it very suitable for tight installation spaces with further advantages:
Slim, compact design for installation in complex installation spaces

Threaded inserts offer numerous mounting possibilities and simplify installation of the air cleaner
In comparison to similar solutions available on the market, the unique concept of the IQORON VP air cleaner achieves an increase in service life of up to 70 percent without scavenging.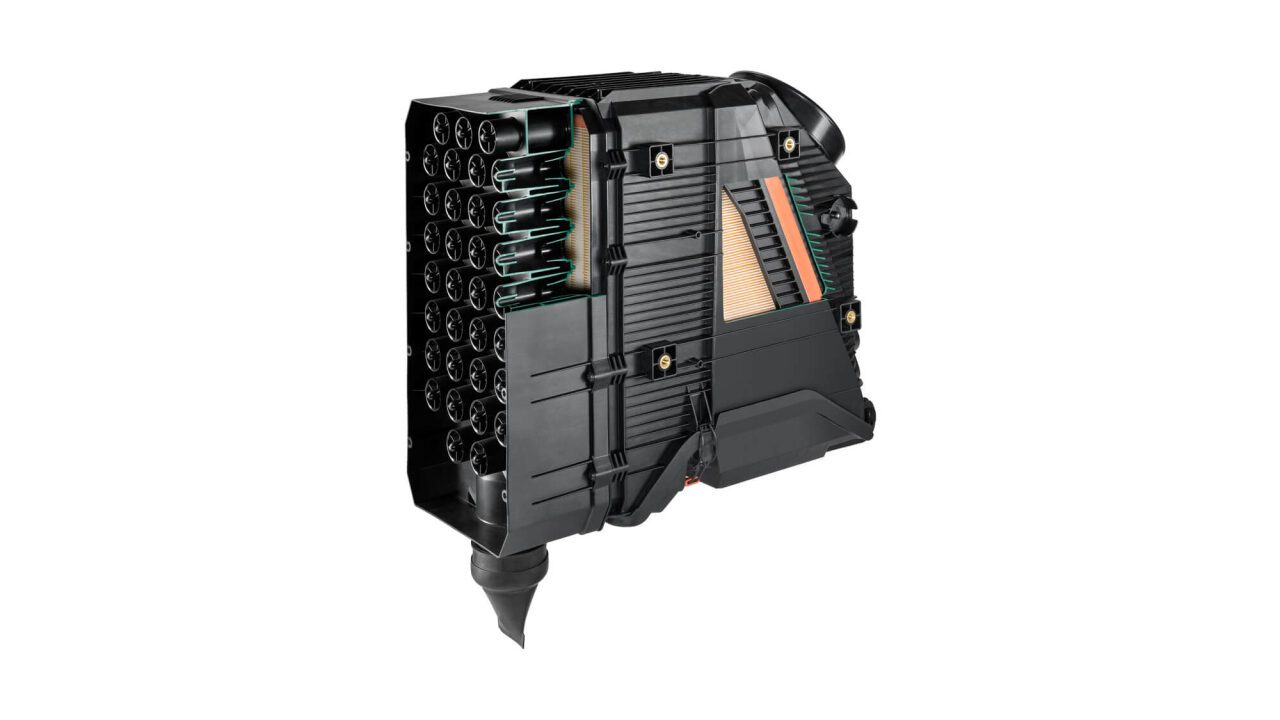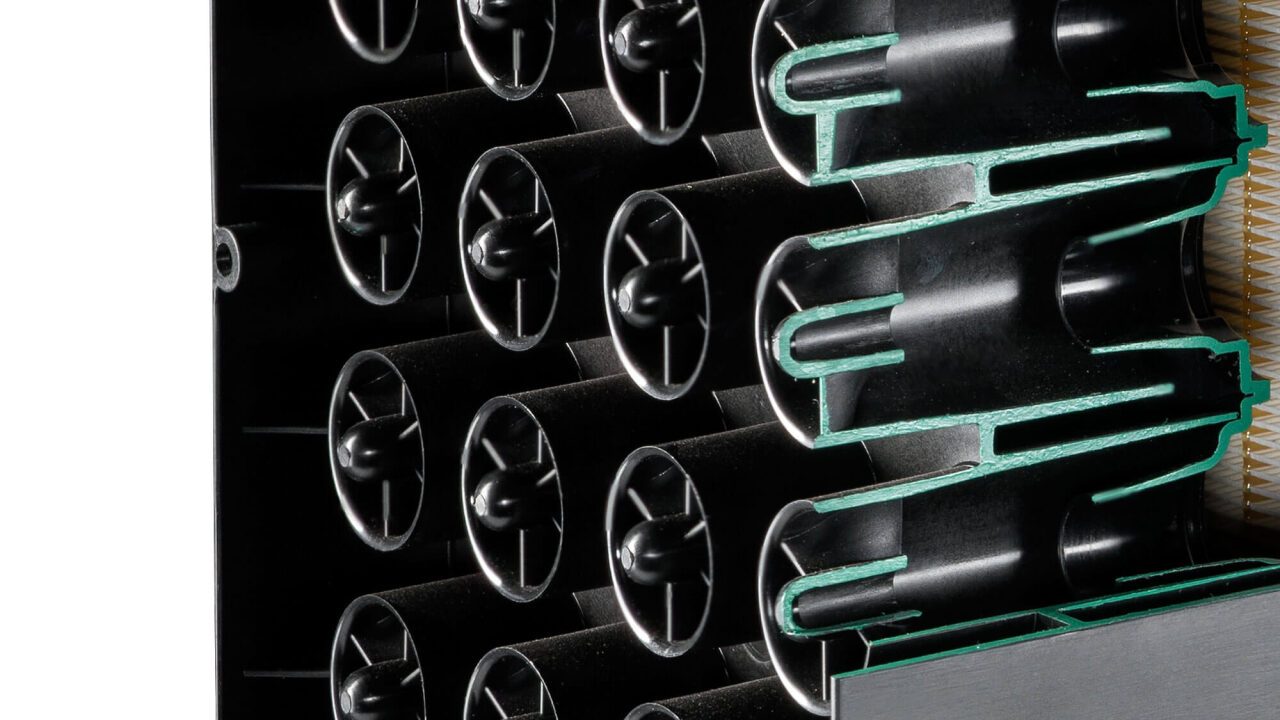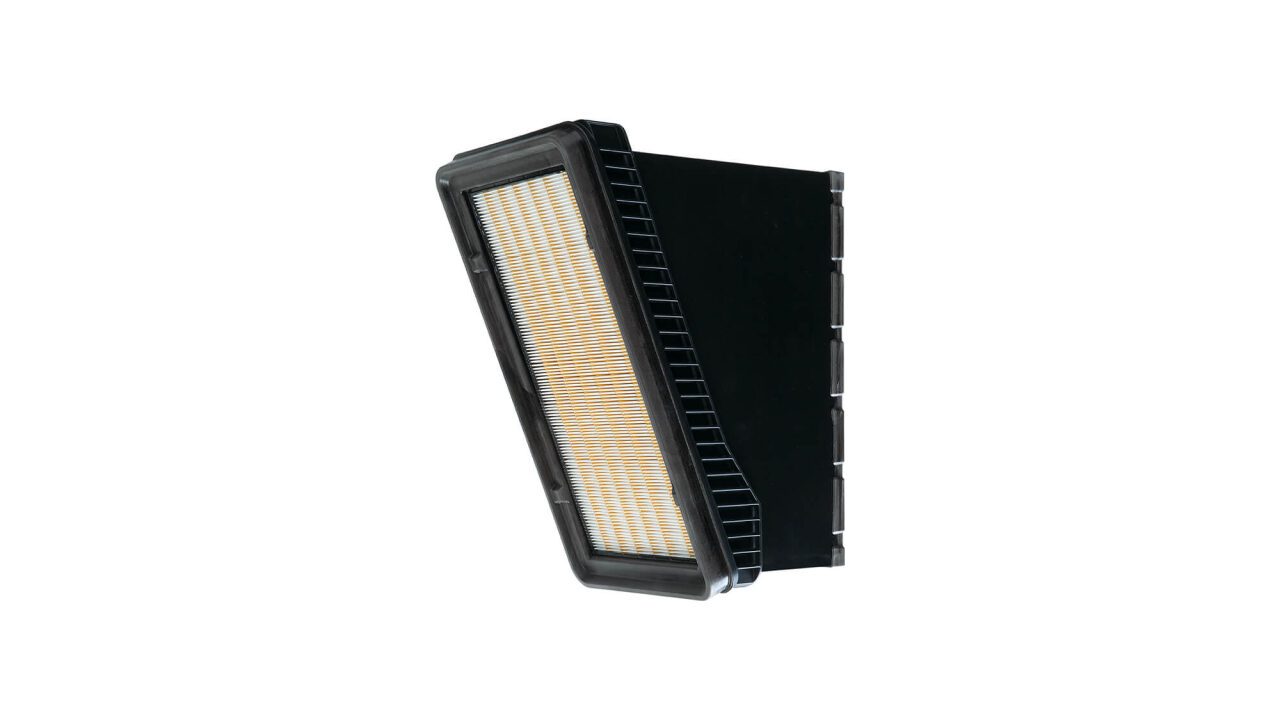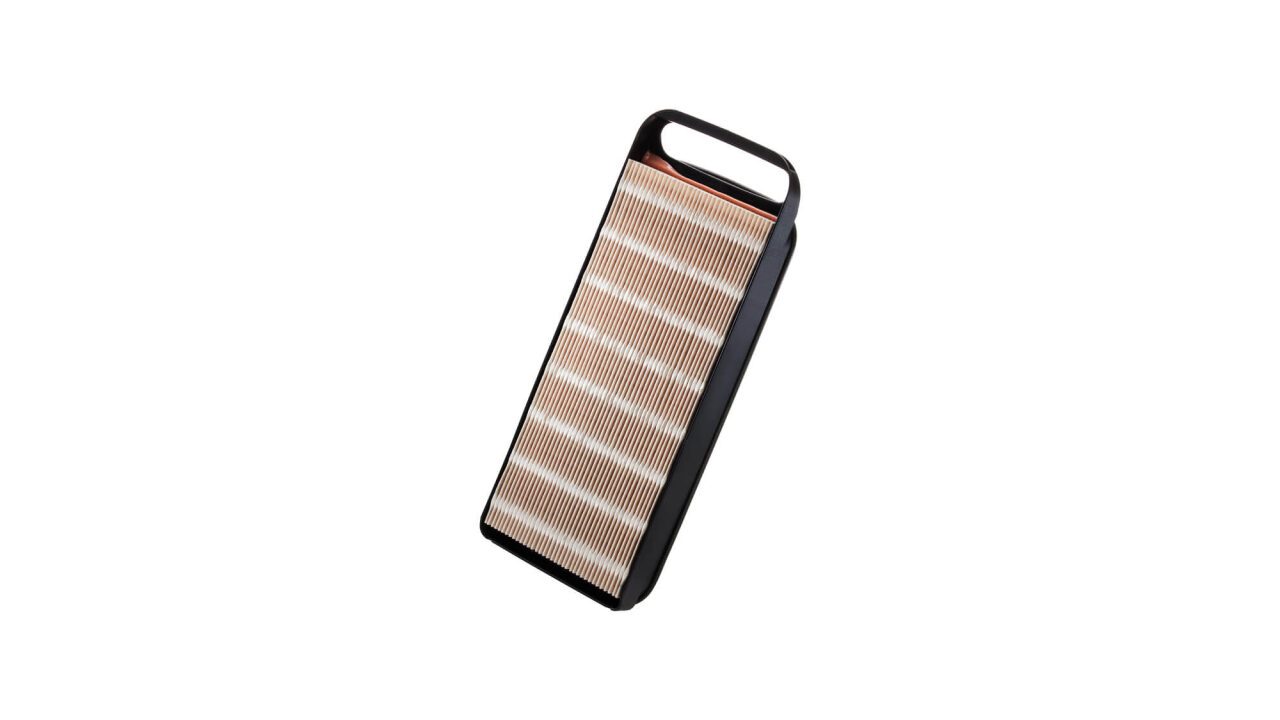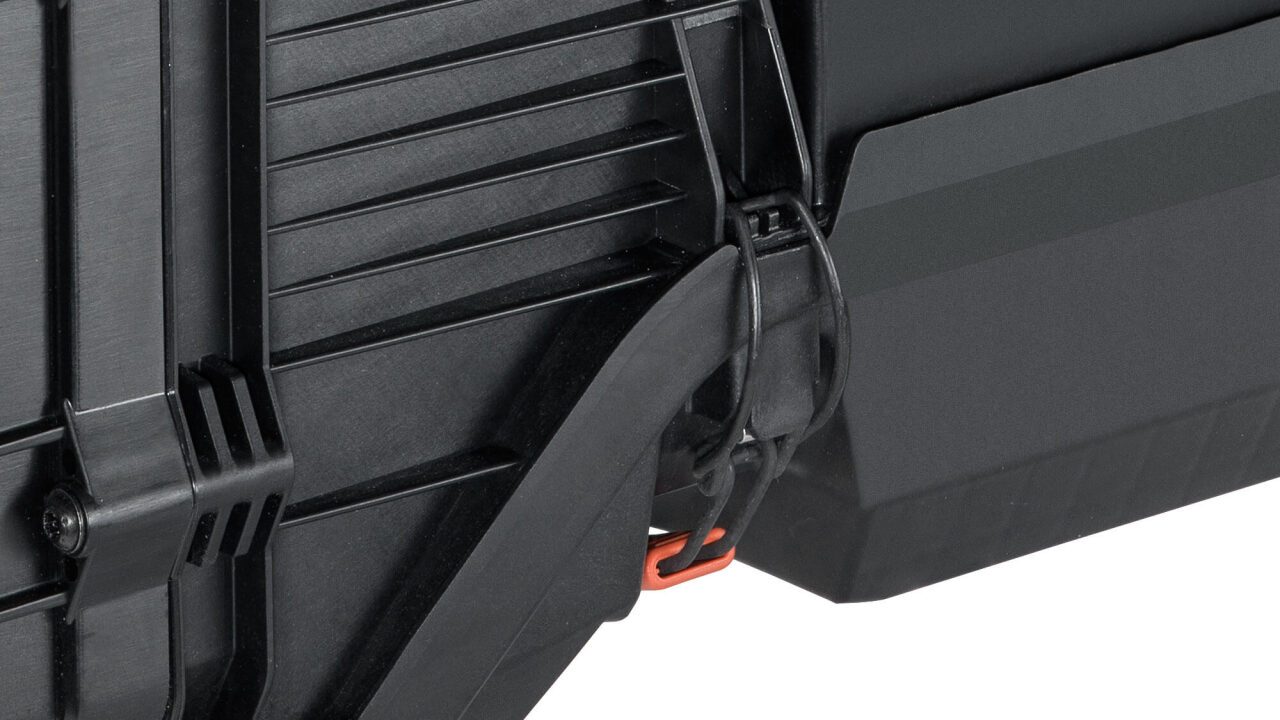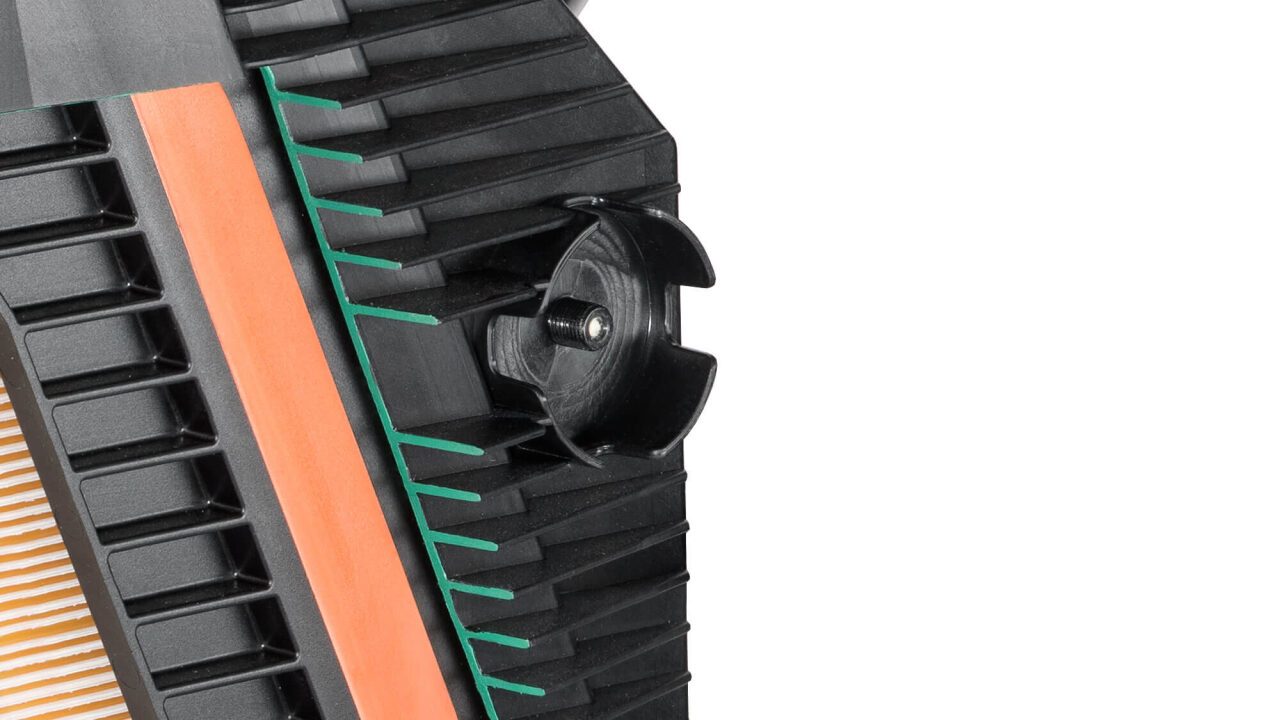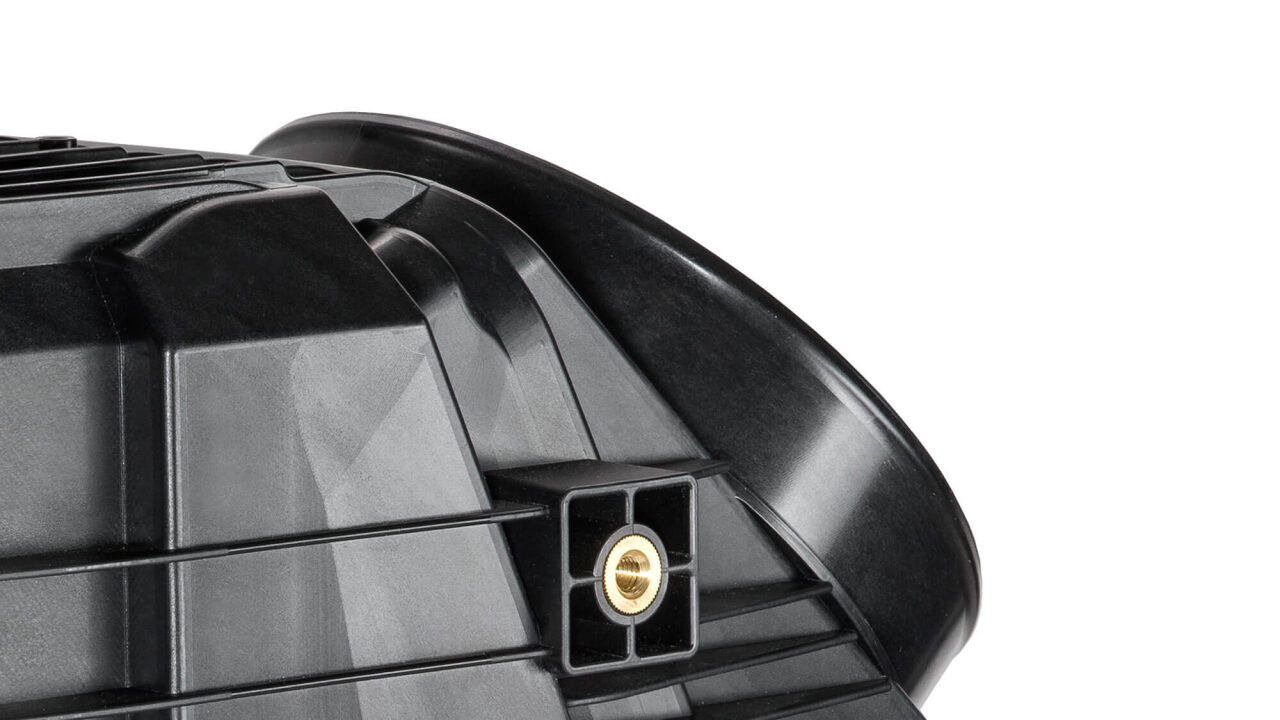 Housing
The housing of the IQORON VP can be installed in a vertical or horizontal position without the loss of performance. It is extremely robust and is made from plastic reinforced with glass fiber. Its slim design was especially designed for extremely tight installation spaces.
Multi-cyclone pre-seperator
Equipped with high-efficient multi-cyclone separation technology, operation is possible with or without scavenging in a vertical or horizontal installation position. With scavenging, the pre-separation efficiency can be significantly increased to more than 90 percent and thus ensures a further increase in performance.
VarioPleat filter element
The innovative VarioPleat filter element is a unique feature. The variable pleat heights offered by the element enable high filtration performance and simultaneously a low flow restriction.
Secondary element
The secondary element reinforced with its robust plastic frame offers additional security when changing the filter element.
Servicing
The IQORON VP has a special comfort fastening system which allows access without the need for tools. Handles on the main and secondary elements simplify handling and require little effort.
Service switch connection
Sensor connections with an external thread of M 10x1 are available on both sides in a protected position.
45 degree clean air outlet (option)
Configurable outlet orientations enable short air flow routing with minimum flow resistance. The integrated reinforcement ring enables a high tightening torque for a secure connection.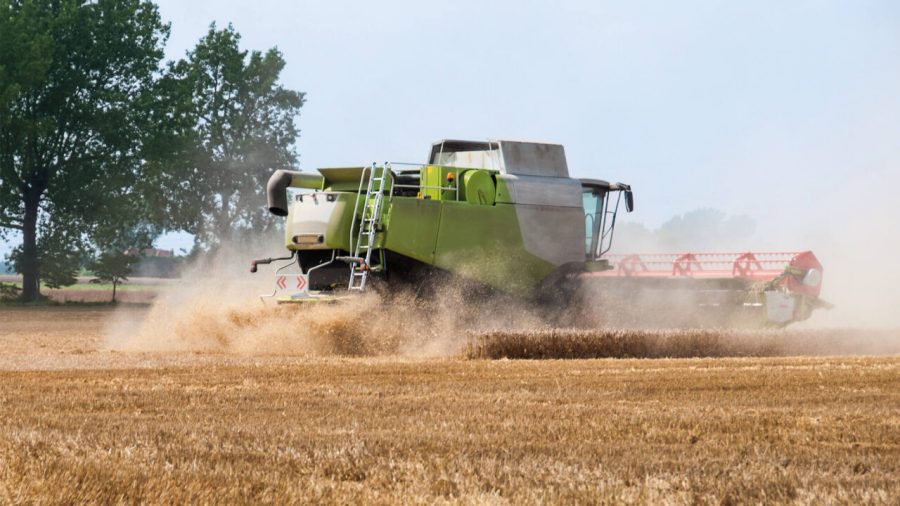 IQORON VP - the compact power pack
The IQORON VP range from MANN+HUMMEL offers a uniquely flexible filtration concept which shows its strengths especially in extremely dusty environments.