Cabin air filters by MANN+HUMMEL: Clean air in every vehicle
Early warning systems brake for us, airbags and seat belts protect us in accidents. But who protects us from pollutants and harmful gases in the vehicle?
Whether you're in a car or a commercial vehicle, pollen, particulate matter, exhaust fumes and other threats enter through the ventilation system or open windows and then multiply inside the vehicle.
MANN+HUMMEL separates the useful from the harmful. Our filters ensure clean air in the interiors of cars and trucks, construction and agricultural machinery, and numerous other commercial vehicles and industrial applications.
For 80 years, we have stood for leadership in filtration. At 80 locations worldwide we develop, among other things, high-performance cabin air filter elements and cabin air filter systems. We help customers and partners equip and retrofit vehicles with the most advanced filtration solutions on the market.
Our ideas and designs make vehicle interiors safe and set new standards in air quality management. With us, drivers and passengers, machine operators and motorists can breathe a sigh of relief.
Benefits of cabin air filter systems and elements at a glance:
Maximum protection for vehicle occupants against viruses, bacteria, fine dust, pollen, harmful gases and more
Economical and sustainable thanks to highest separation performance with low pressure drop
Standardized solutions and customer-specific development possible
Little to no maintenance required and very long filter service life
Broad portfolio of specialized solutions - from highly effective HEPA* filters against ultra-fine particles to high-performance activated carbon filters for effective odor reduction
Resistant to high and low temperatures
* High Efficiency Particulate Air Filter, individually tested according to ISO 29463 and DIN EN 1822
Would you like to rely on world-leading MANN+HUMMEL cabin air filters for vehicles? Then get in touch with us today!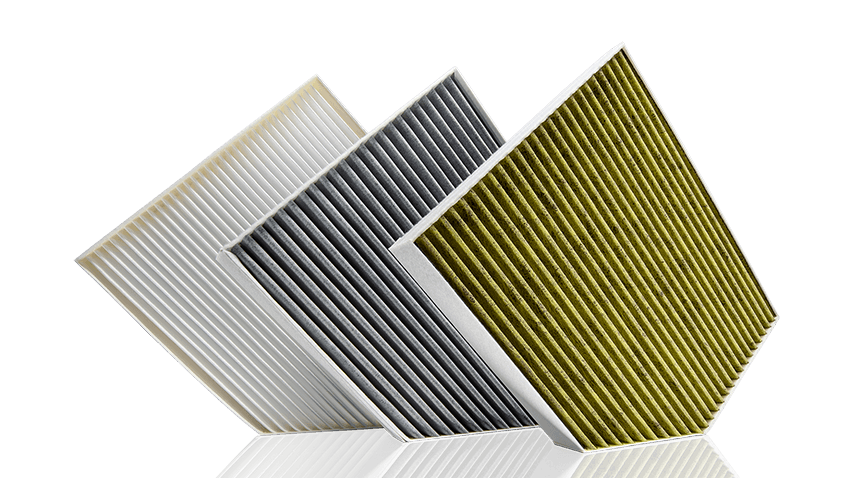 Particle filter, combi filter and bio-functional filter (from left to right)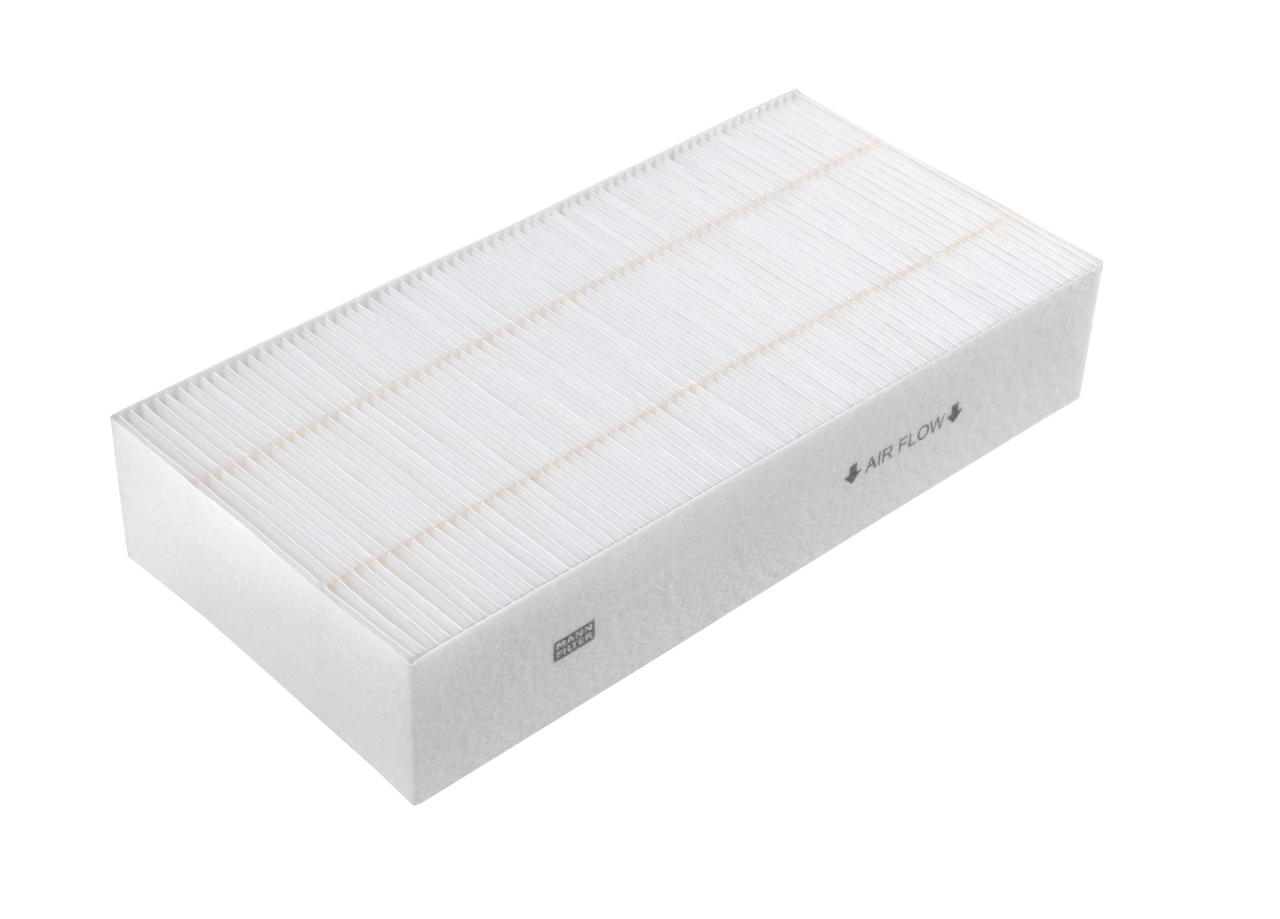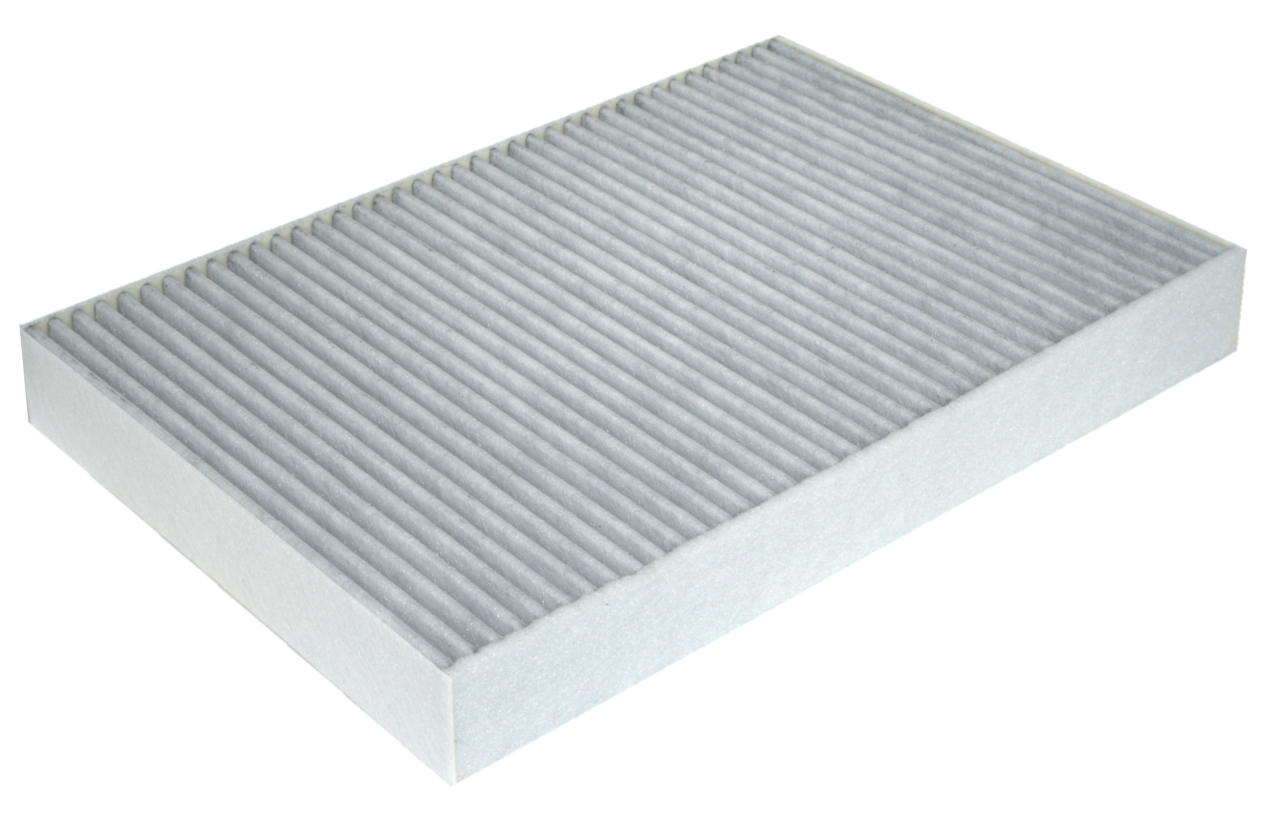 Cabin air filter with nanofibers
Interior cabin air filter elements for cars, trucks and other vehicles
Bad air in vehicle interiors is dangerous. MANN+HUMMEL filtration elements allow our customers to equip and retrofit any car interior with filters. Our cabin air filter elements - also known as "air conditioning filters" or "car ac filters" - cover all areas:
Our particulate filters serve as basic filtration in any vehicle cabin. They effectively remove PM10-sized particles from the air and are resistant to moisture and temperature. This makes them robust and reliable dust and pollen air filters for cars and vehicles.
Combi filters provide comprehensive protection for the vehicle interior by filtering dirt particles and removing odors and harmful gases from the air. We combine the benefits of our particulate filters with the properties of our highly effective pollutant gas and odor filters. Cabin air filters with activated carbon protect vehicle cabins from natural and chemical odors. In addition, activated carbon filters adsorb gases such as SO2, nitrogen oxides and hydrocarbons from the air before they can enter the vehicle.
Bio-functional cabin air filters remove particles and adsorb harmful gases and bad odors thanks to activated carbon. They can also bind allergens. An antimicrobial surface prevents the growth of bacteria and fungi on the filter medium.
Nanofiber filters are designed for use in adverse environments. Our latest innovation consists of a carrier medium and ultra-fine polymer fibers that provide high separation efficiency over the life of the filter, especially for fine particles.
High-performance filters remove ultra-fine particles from the air. Our HEPA H14 air filters separate more than 99.995% of viruses and bacteria, pollen, other allergens and fine dust.
Are you looking for reliable cabin air filters with activated carbon or pollen filters for your car? Or highly efficient nanofiber filters for trucks that surpass the average filter life? Or maybe you need protection against fine dust in construction and agricultural machinery? MANN+HUMMEL cabin air filter elements offer solutions for every challenge. Contact us - for cleanest air in vehicle cabins. 

Smart cabin air filter system for passenger cars
Cabin air filter systems for vehicles that are safe
Safe mobility is not possible without protective measures against bad and even dangerous air. Only effective interior protection makes trucks and industrial, agricultural or construction machinery a safe environment to work.
If you need holistic protection solutions, our cabin air filter systems are the best choice. 
Multi-stage filtration solutions for clean vehicle cabin air
Our three-stage filtration system consists of a prefilter, a HEPA filter and a cabin air filter. It allows our customers to tailor clean air filtration solutions, for example, we can combine activated carbon for pollutant gas adsorption with a bio-functional coating or an effective dust particle filter. The cabin air filter system is placed in a filter housing with a secure sealing solution directly in front of the air conditioning system. 
Intelligent cabin air filtration systems for smart air filtration
When it comes to separating pollutants such as ultra-fine particles (<0.1 μm) in cars, commercial vehicles or industrial equipment, it's all about smart systems that think for themselves.
Which is why we use sensors. The idea is to minimize the size of the system and extend the life of the valuable HEPA main filter by using the HEPA stage only when necessary. The sensors constantly measure the air quality in the car - at the same time as recording the outside air quality and controlling the cabin air filter system. The HEPA filter is only activated when air pollution levels require it. For best VIAQ (vehicle interior air quality) with optimized energy consumption.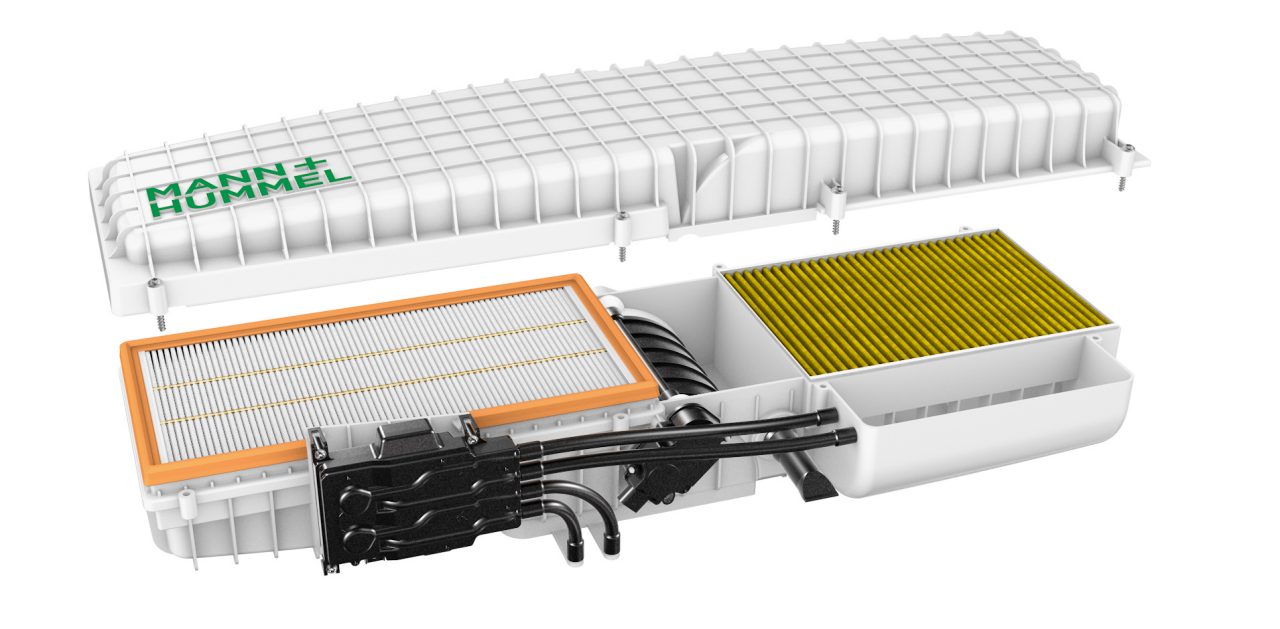 Smart cabin air filter system for trucks
Cabin air filters for off-road and industrial applications
We can do so much more than just removing dust and other pollutants from the air in cars and trucks. At MANN+HUMMEL you will find a wide range of special custom solutions for off-road applications, whether for agricultural machinery like tractors and combine harvesters, construction machinery such as excavators and dump trucks, or for industrial applications.
Are you interested in comprehensive cabin air filtration solutions for construction and agricultural machinery, industrial applications and other commercial vehicles? Contact us!
Cabin air filters for agricultural machinery
Drivers of agricultural tractors and self-propelled sprayers come into contact with potentially harmful substances on a daily basis. Pollutants like pesticides or fine dust are often imperceptible to the naked eye, making them all the more dangerous. 
The ENTARON CA cabin air filter for maximum protection
When it comes to protecting drivers in agriculture, category filters in accordance with DIN EN 15695-2 play a major role. Thanks to the combination of different filter media (cellulose nonwoven medium, glass fiber medium and activated carbon medium), the filter elements provide significant protection against dust, aerosols and vapors, depending on the category. As a standard solution, the ENTARON CA cabin air filter offers protection in accordance with DIN EN 15695-2 category 4, while its smart design makes it up to 30% smaller than other cabin air filters with comparable filter performance.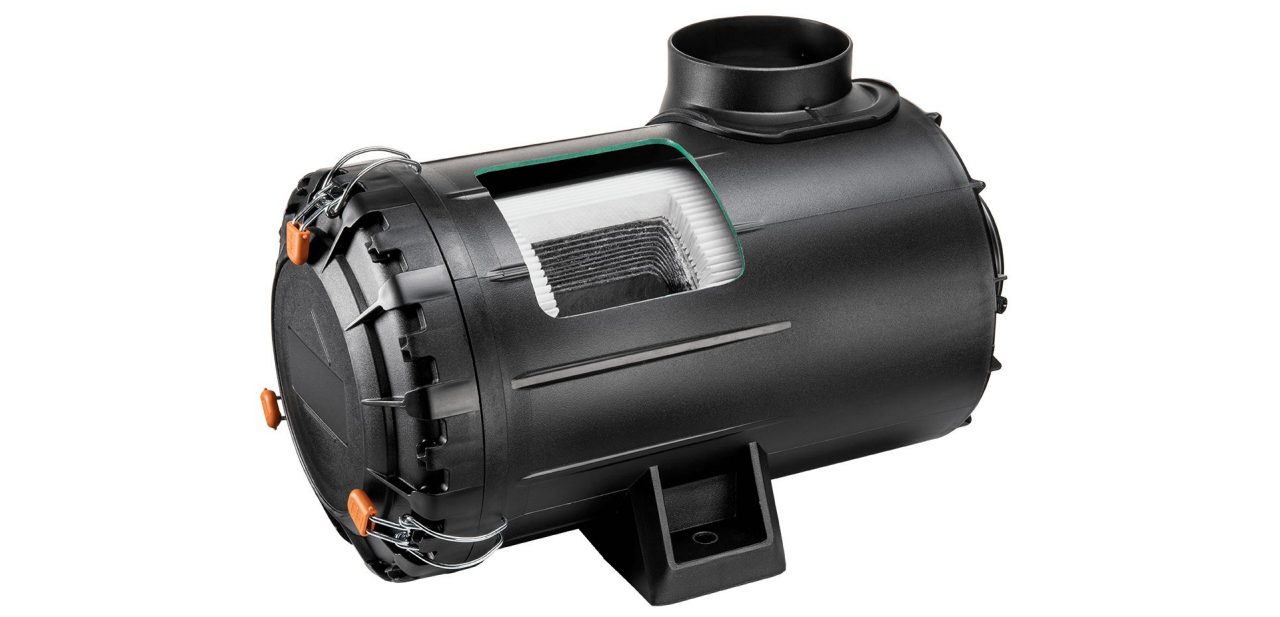 Cabin air cleaner ENTARON CA
Protection for all categories from MANN+HUMMEL
But we at MANN+HUMMEL don't only offer solutions in the agricultural sector for the highest filter class of category 4:
Category 2 must provide reliable protection against dust, for which MANN+HUMMEL uses effective, sustainable filter elements with cellulose or fleece media.
For category 3, aerosols must also be filtered effectively in addition to dust. Here, MANN+HUMMEL relies on filter elements that also have a glass fiber medium in addition to the cellulose or nonwoven medium.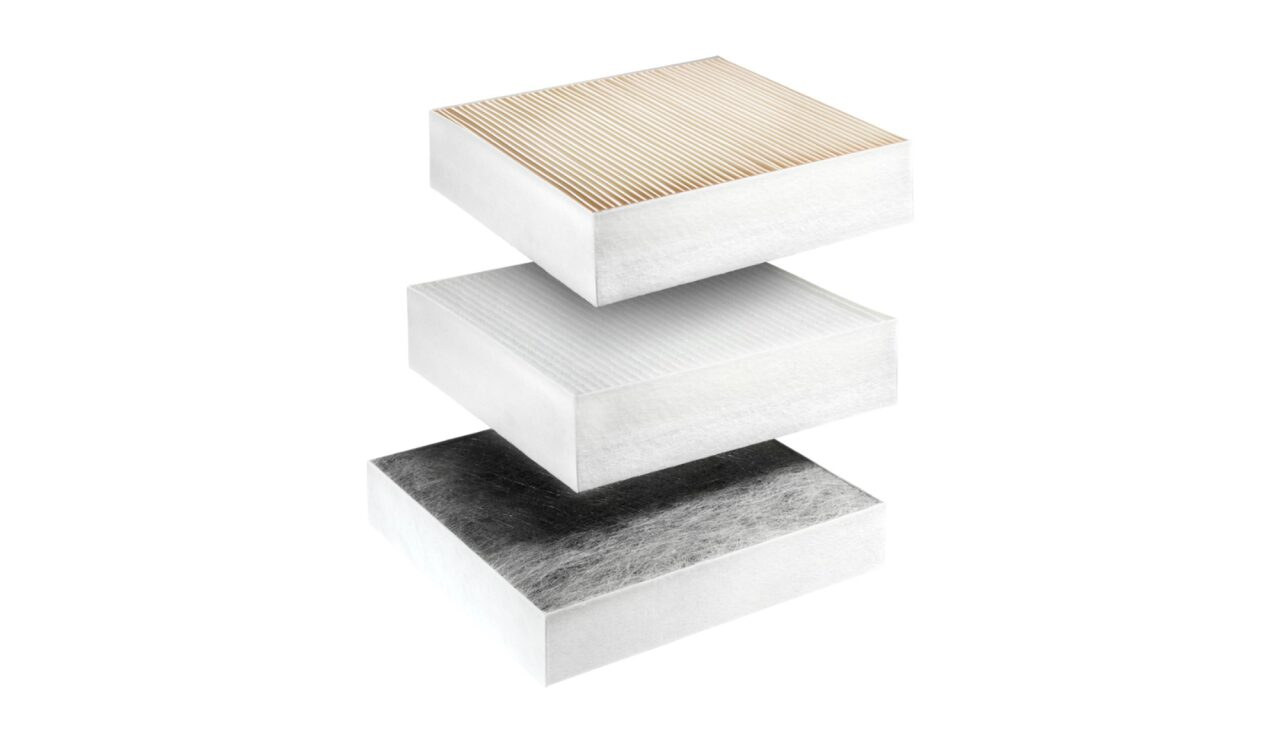 Cabin air filter for applications acc. to EN 15695-2
Honeycomb modules for agriculture
Our activated carbon honeycomb modules provide flexible protection against harmful substances in the air. Depending on the application and purpose, they can be specially impregnated - and then provide targeted protection against threats. They have the same function as the activated carbon in the category 4 filter, but with an improved pressure drop. They can also be used in a rectangular design.
Make the cabins of your agricultural vehicles safer. Protect yourself and your employees from pesticides and other hazards. Contact us for optimal cabin air filter solutions.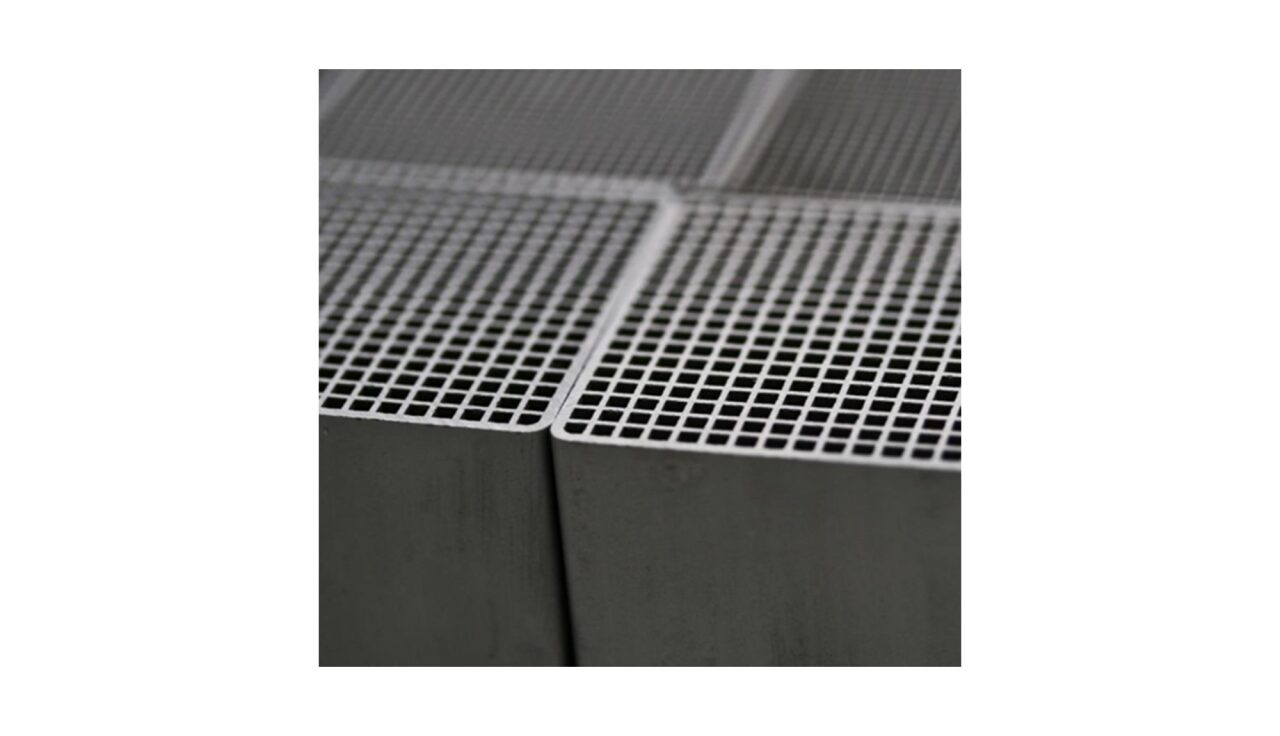 Honey comb filter
Cabin air filters for construction equipment
The concentration of fine dust on construction sites, in mines or tunnel construction is often extreme. Drivers of construction machinery and trucks in this sector are exposed to immense levels of pollution. Respirable silica dust is particularly dangerous, as it can penetrate deep into the lungs and cause serious damage.
In addition, there are toxic gases and vapors, allergens such as pollen, and of course bacteria and viruses that must be reliably filtered out of the air.
At MANN+HUMMEL we offer customized cabin air filters for construction machinery, trucks and other vehicles in the construction industry.
For example, our new filter medium, which also protects against extreme silica dust loads. The new cabin air filter meets the stringent specifications of filter class MERV 16, according to the U.S. ASHRAE 52.2 standard, as it has an efficiency of 95% for particles between 0.3 and 1 micrometer (μm) in size.
The ENTARON CA: Ideal also for construction equipment
Construction vehicles must be equipped with cabin air filters according to the ISO 29463 standard, which provide fresh air and optimal air circulation, while reducing particulate matter in the ambient air. What sounds complicated is quite simple with MANN+HUMMEL:
By combining the ENTARON CA as a cabin air filter with an IQORON V4.5 pre-stage, you get a three-stage air filtration system that effectively and efficiently removes even ultra-fine particles from the air, adsorbs pollutant gases and ensures fresh air in the cabin.
Contact us today - and put your trust in reliable filtration systems that greatly improve safety in the construction industry.
Watch our videos to learn more