Oil filters remove solid particles from the oil that accumulate in the lubrication circuit due to contamination and wear. With outstanding particle filtration and dirt holding capacity, oil filters from MANN+HUMMEL offer optimum protection and enable long service intervals even under tough operating conditions. Thus, they make a significant contribution to the durable and economical operation of engines in commercial vehicles and industrial applications.
Engine oil filter systems from MANN+HUMMEL are available as spin-on oil filters as well as filter modules. Our oil filters are proven for decades and depending on the requirements, various MULTIGRADE filter media with different filter grades, sizes and service intervals can be used in order to protect the engine from wear. Our wide product range allows a selection for the best suitable oil filter system. Additional functions such as oil cooling, oil pressure and oil temperature measurement as well as soot separation can be optionally integrated into customer specific oil filter modules for commercial vehicle and industrial engines. 
The innovative WAVELOCK bayonet interface for various liquid filter applications enables easy, quick and clean servicing. 
| Technical features | Oil filters |
| --- | --- |
| Volume flow range | 10 to 200 l / min |
| Separation efficiency | 50 % at 7 to 20 µm |
| Service interval | 2 years and up to 300.000 km |
| Operating temperature | -40 to 130 °C |
Maximum system efficiency thanks to high dirt holding capacity with minimal pressure loss
Available with a variety of environmentally-friendly high performance MULTIGRADE oil filter media
Fast, easy and clean service
WAVELOCK bayonet lock – evolution of the spin-on filter concept
Spin-on oil filters from MANN+HUMMEL have been proven for years and offer optimum protection. However, the filter change of conventional spin-on filters is power-consuming and only possible with a strap wrench or a comparable special tool. The bayonet lock developed by MANN+HUMMEL for the mounting of spin-on filters sets new standards for easy servicing and reduction of service costs.
Design
The main design of the WAVELOCK system is largely comparable to the conventional spin‑on filter. The fluid to be filtered flows through the filter head axially into the filter and flows through the filter element from the outside to the inside. The cleaned fluid flows out of the filter through its center. The sealing to the environment and between the dirty and clean side of the filter element is respectively made with a radial O-ring. Depending on the respective requirements, the modular design can be used to integrate additional functions such as a filter bypass valve or an anti-drain membrane. The WAVELOCK spin-on filter does not require additional space for fitting or removal.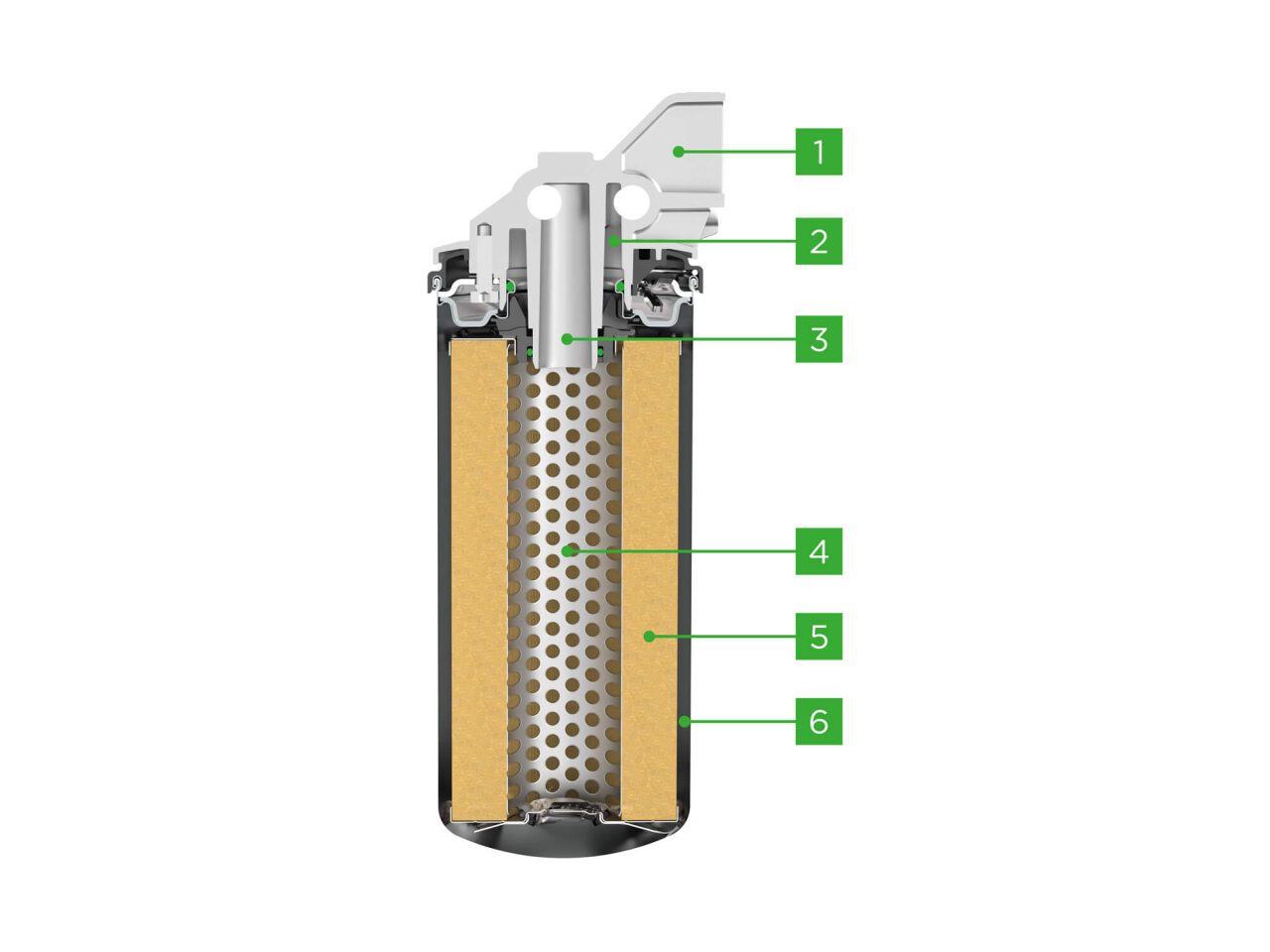 Cross-section of the WAVELOCK system
1 Filter head
2 Dirty side inlet
3 Clean side outlet
4 Flow direction
5 Filter element
6 WAVELOCK spin-on filter

Connection of the WAVELOCK spin-on filter to the flange
The key innovation of the WAVELOCK spin-on filter is the design of the connection to the flange on the filter head. A bayonet concept with three bayonet wings was designed to enable a quick and easy service with fitting or removal carried out simply by a 90° rotation. Filter service takes place without the use of special tools, making maintenance and assembly particularly simple and safe. Clearly defined loosening and tightening torques reduce assembly errors.
The sealing between the filter head and the WAVELOCK spin-on filter is made with two radial O-rings. This robust design with pressurized sealing also seals reliably at high pressures and can compensate relative movements in the application. As there is no thread present in the flow area of the fluid, the component cleanliness is considerably increased. Shavings or wear particles from the thread manufacture or fitting process cannot enter the fluid.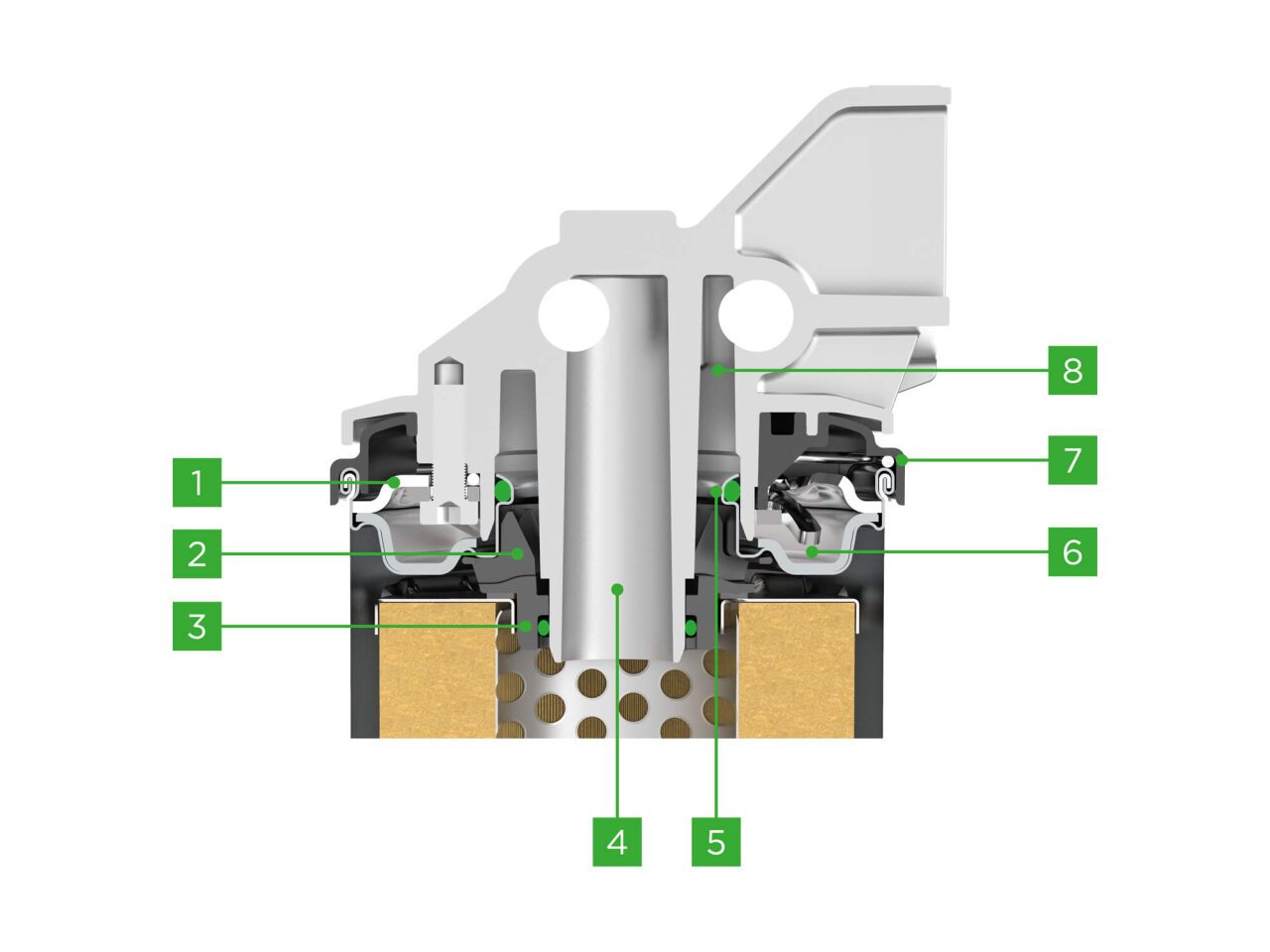 Layout and design of the WAVELOCK bayonet lock
1 Bayonet ring WAVELOCK spin-on filter
2 Spacer
3 Radial O-ring seal clean side
4 Clean side outlet
5 Radial O-ring seal dirty side
6 Bayonet ring filter head
7 Splash guard
8 Dirty side inlet
Modular filter system
In order to cover a wide range of applications in fuel, oil and hydraulic oil filtration, the integration of the WAVELOCK design into a modular system is currently being implemented. This enables different sizes, diverse filtration requirements and additional functions to be combined in a modular system. The first product family in which the WAVELOCK concept is being implemented is the modular fuel pre-filter portfolio. There are three different filter heads for the complete product range in this size, the standard version, a version with a hand-operated pump and another with an electric fuel pump. The WAVELOCK spin-on filter is available in two lengths. The WAVELOCK spin-on filters are also available with water separation and will be equipped with a variety of filter media. Finally, with the addition of components such as an electric heater or water sensor, the WAVELOCK fuel pre‑filter system is suitable for universal use.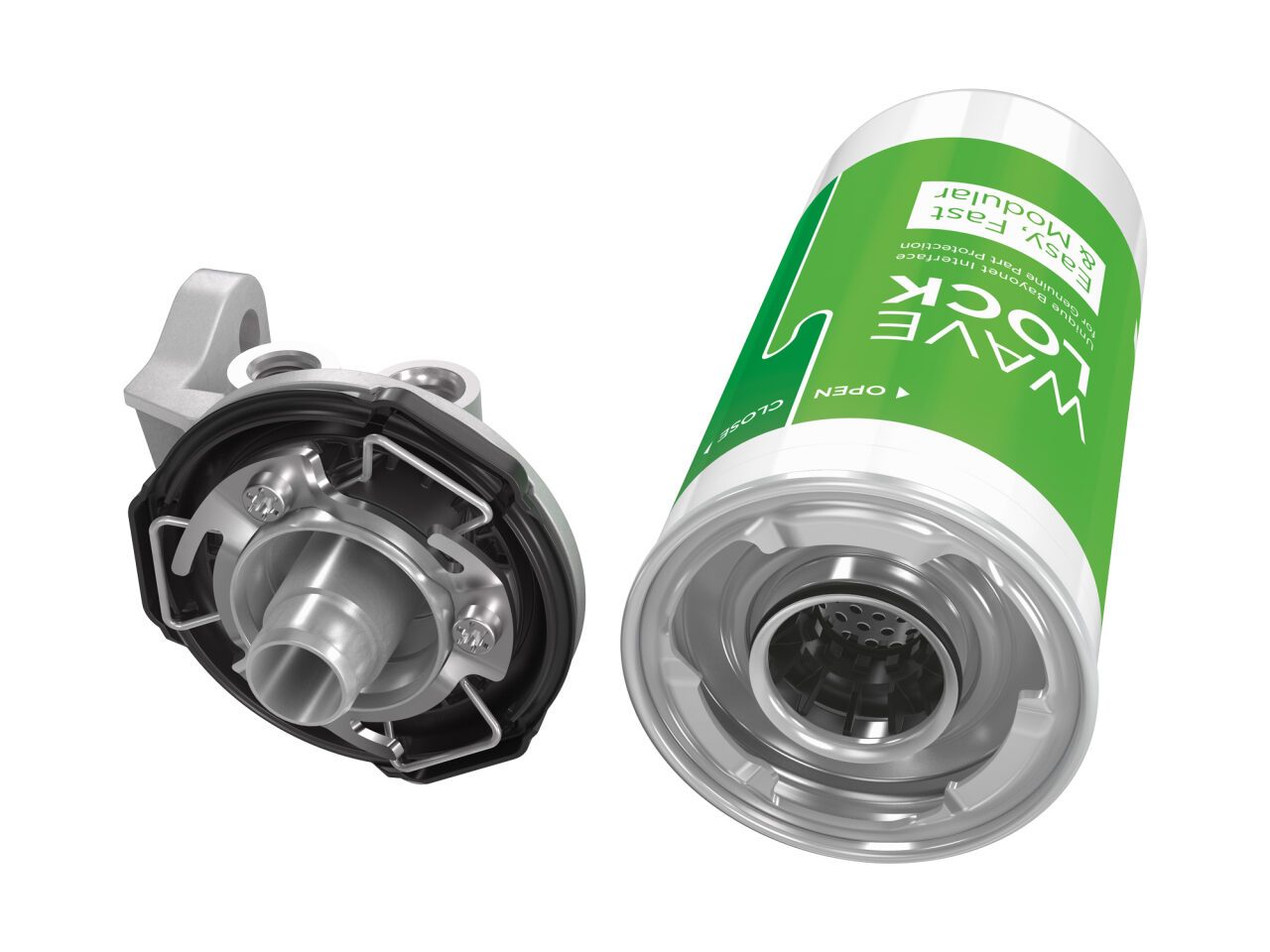 WAVELOCK bayonet interface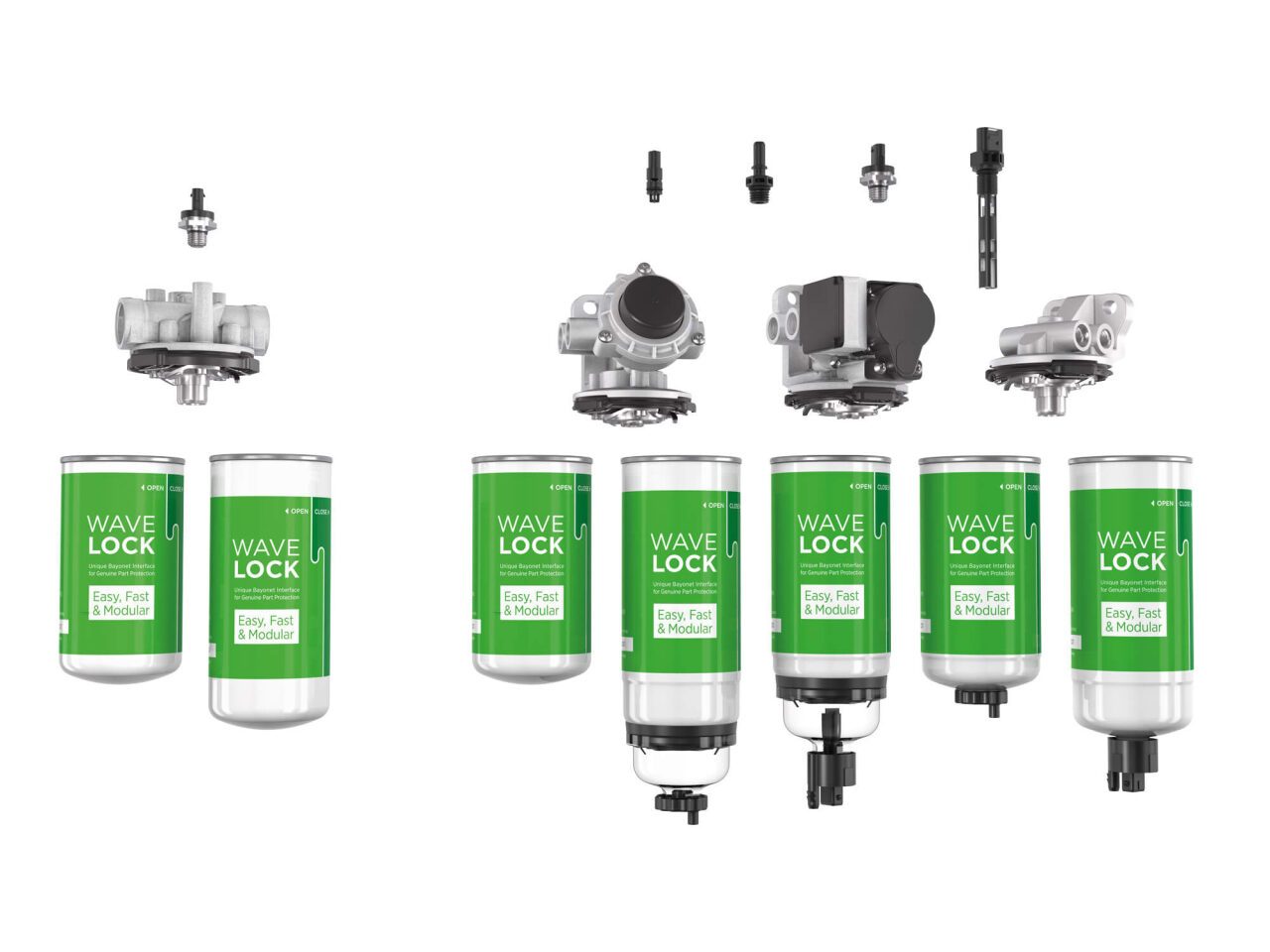 WAVELOCK portfolio overview
for oil, hydraulic oil, fuel and fuel pre-filter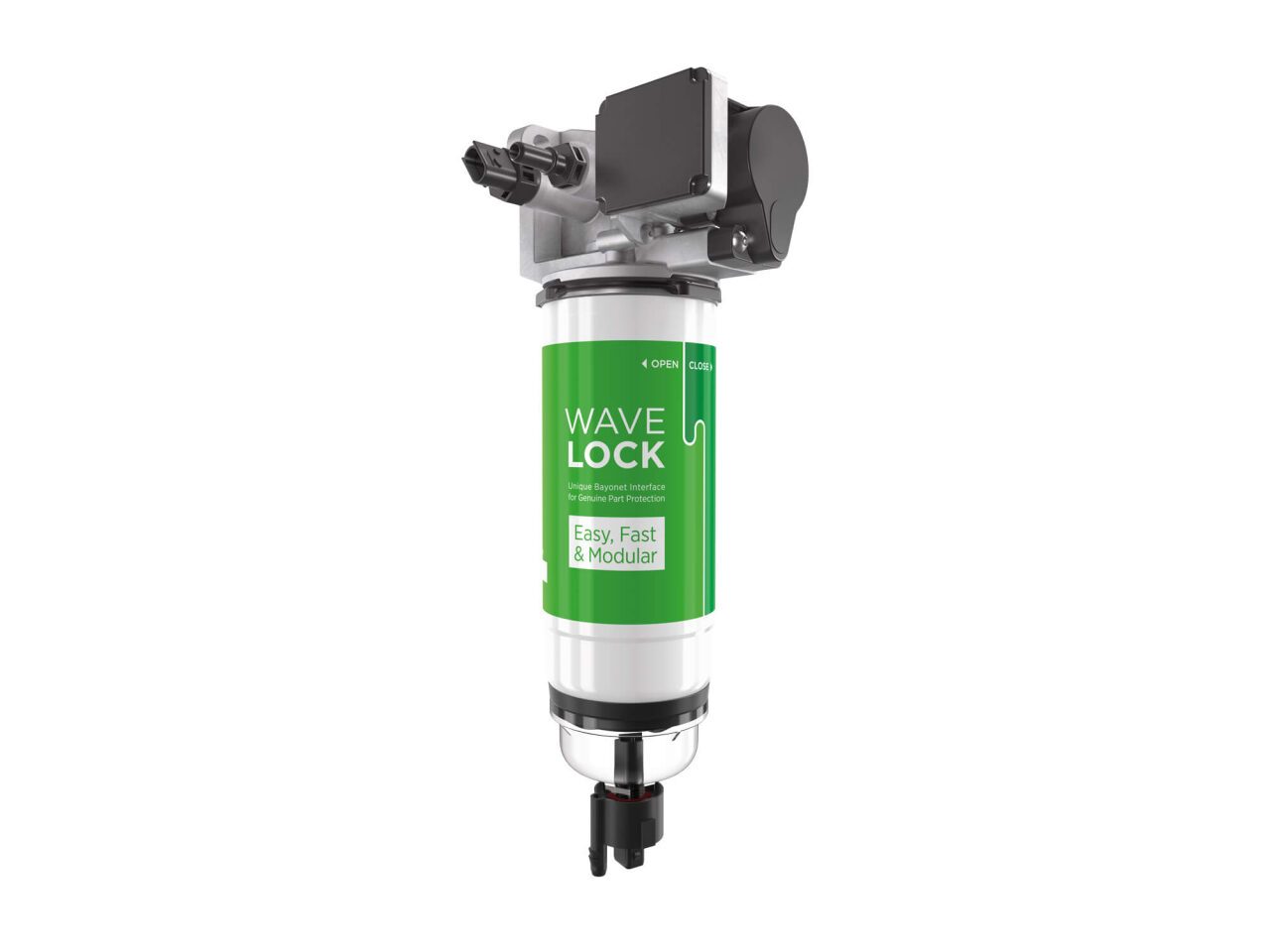 Fuel filter
long variant with electrical pump, heater, connectors, water bowl and WIF sensor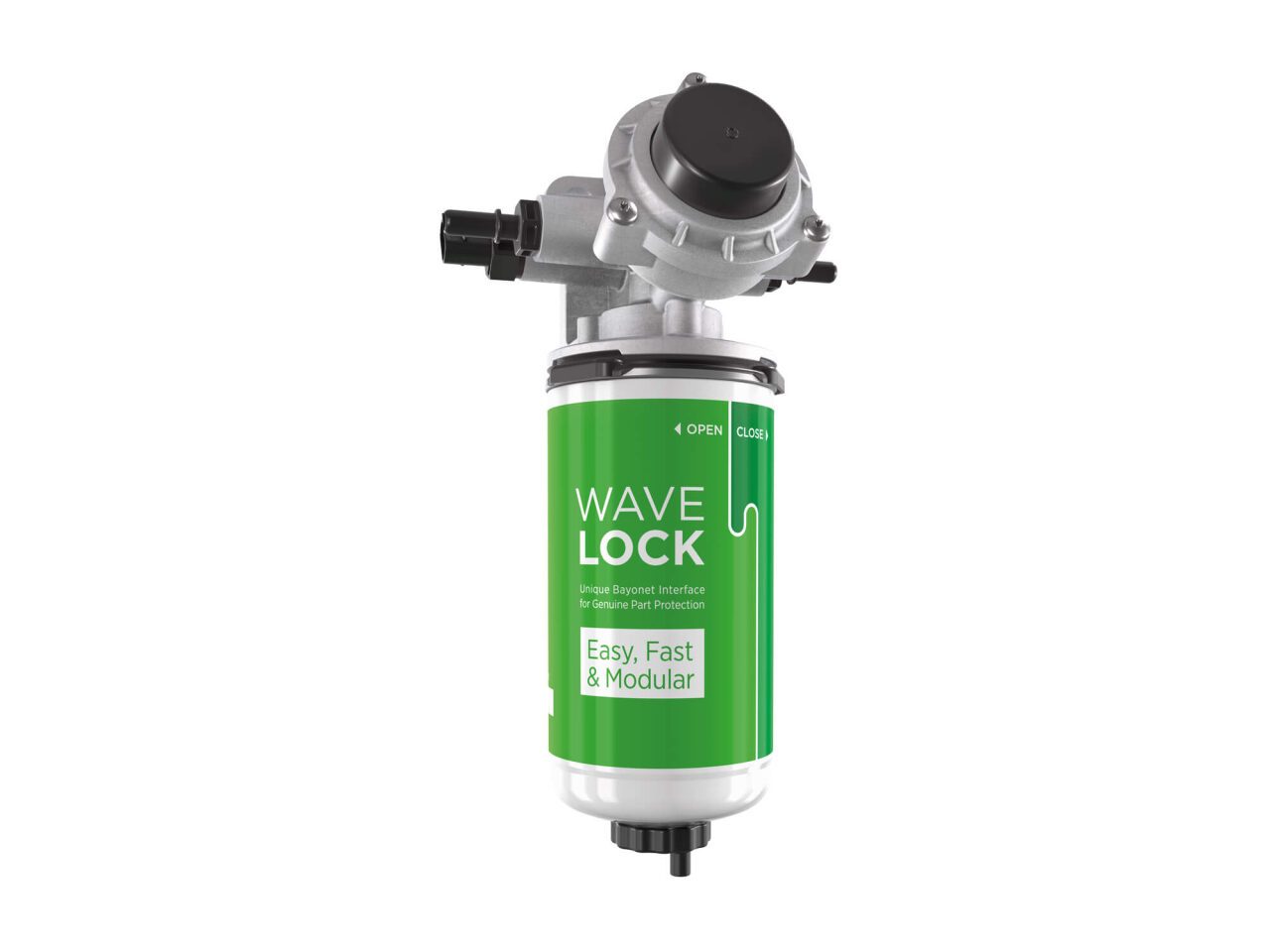 Fuel pre-filter
short variant with hand pump, heater, connectors and water drain screw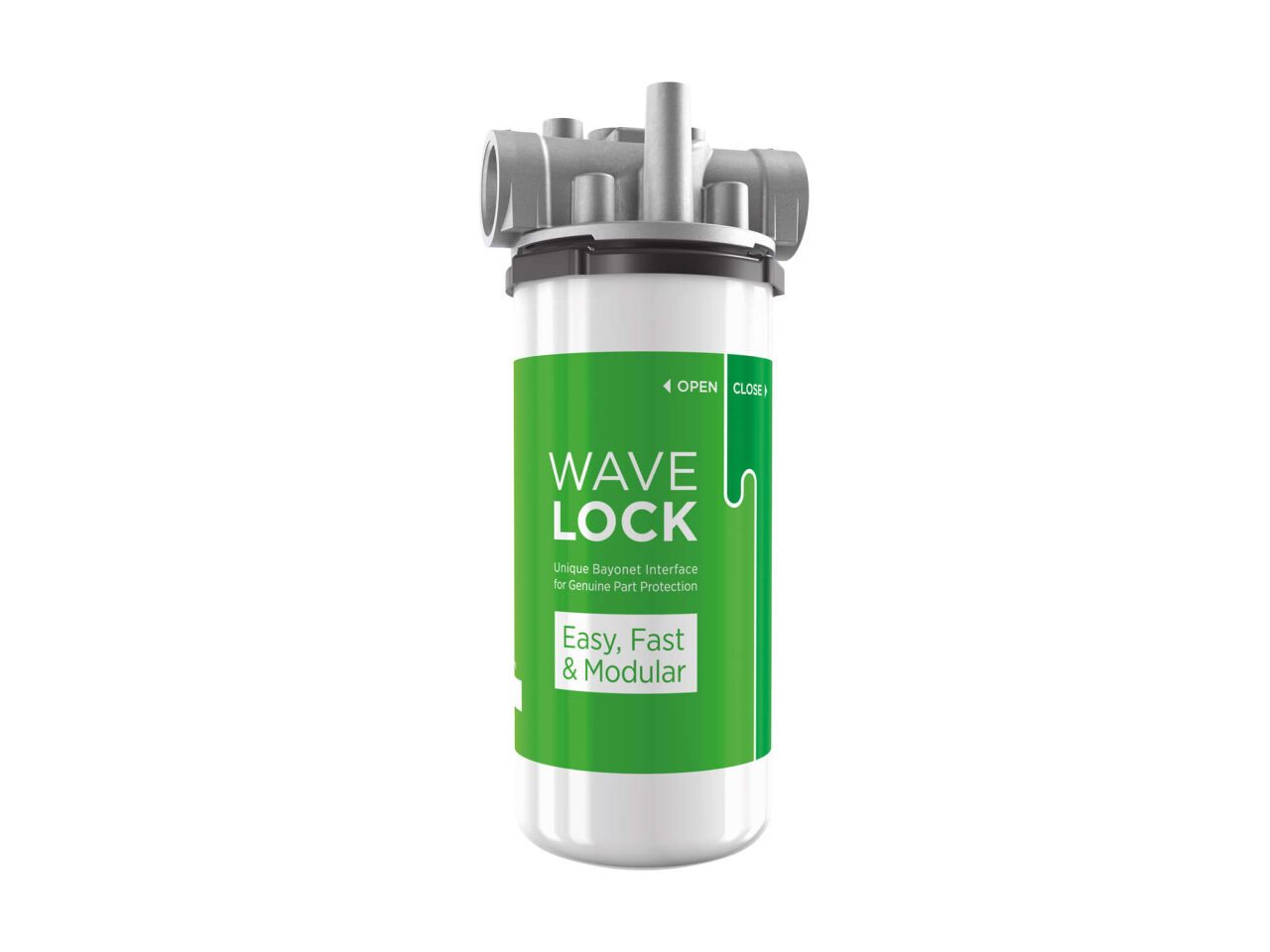 Advantages of the WAVELOCK system
Tool-free and thus fast filter service
Combines the simplicity and variability of a spin-on filter with the requirements of modern filter systems
Patented bayonet connection as interface between spin-on filter and filter head enables copy protection and prevents the use of inferior filters
Increased operational reliability due to radial seals to the environment and between the dirty and clean sides of the filter
Improved component cleanliness by eliminating threads to be machined in the fluid area
Robust design using established components from spin-on filter technology
Modular design covers different sizes and functions
Improved total cost of ownership