Clean oil for the electric motor
In order to ensure constantly high performance, modern transmissions require efficient oil filters. This also applies to alternative propulsion systems. MANN+HUMMEL therefore offers a compact oil filter system for eAxles and hybrid transmissions which integrates many functions.
Alternative propulsion systems are currently a hot topic and whether electric or hybrid, the most important thing is that they are environmentally friendly. But these drives also need clean oil to be able to operate for as long and efficiently as possible. MANN+HUMMEL as a technological leader has transferred its extensive expertise in the area of oil filtration for combustion engines over to these new drives and developed a product which impresses through its compact design while fulfilling many varied functions.
The plastic oil filter system for eAxles and hybrid transmissions includes an oil reservoir, an oil filter element on the suction side and pressure side as well as an oil dryer. In addition, the system has moisture, pressure and temperature sensors, a switchable electric pump and an oil cooler with optional thermostat control.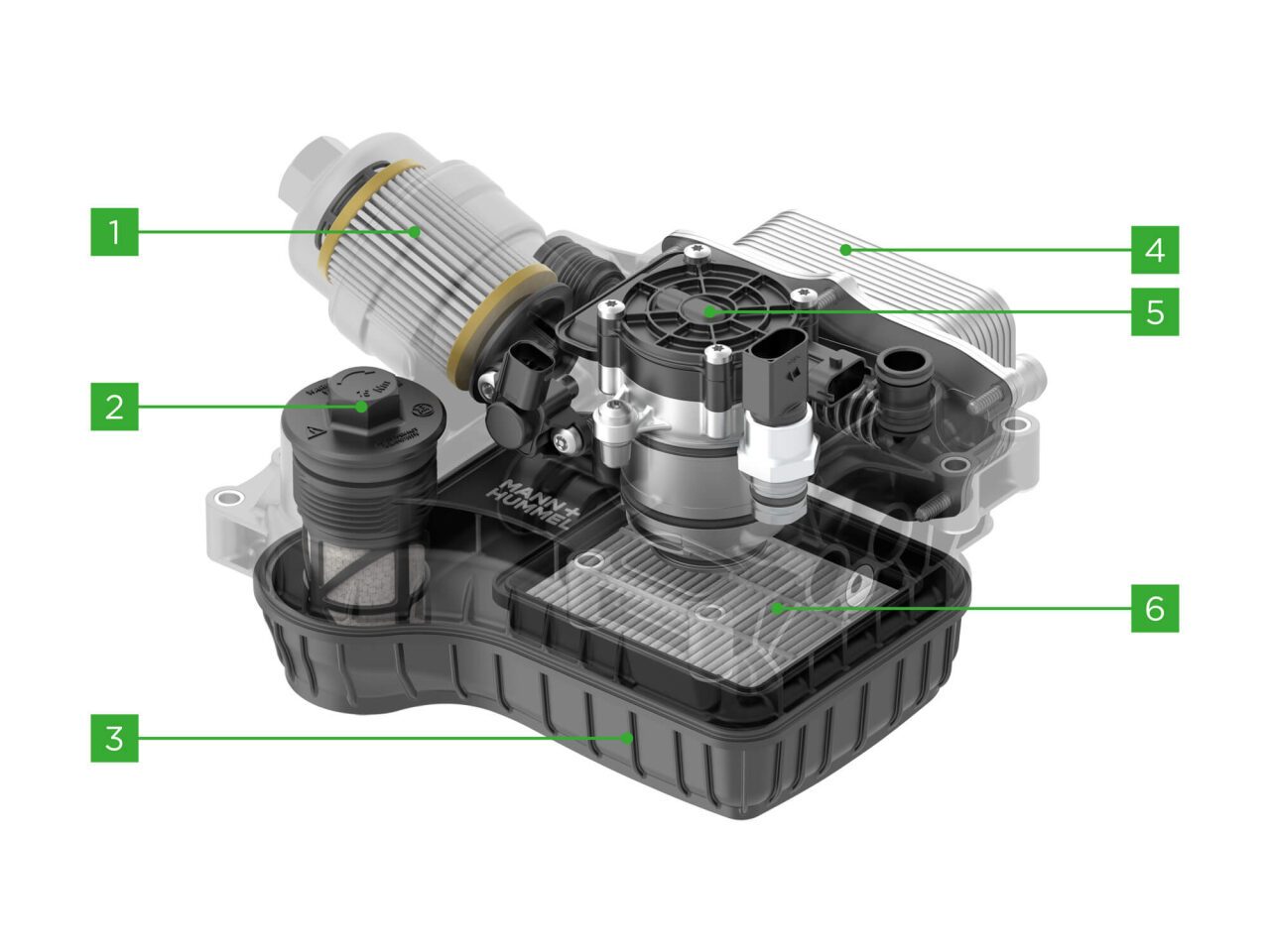 MANN+HUMMEL oil filter system for eAxles and hybrid transmissions
1 Pressure-side filter
2 Oil dryer
3 Oil pan
4 Oil cooler
5 Oil pump
6 Suction-side filter
Flat and efficient
The transmission oil filter on the suction side has a high chemical resistance. This is achieved using the fully synthetic filter media MULTIGRADE eM-CO which is characterized by an extremely low differential pressure. Here MANN+HUMMEL relies on proven pleat technology and accommodates the filter element in an installation space which has a height of just 20 millimeters. This means that the transmission oil filter on the suction side not only separates particles efficiently but is also particularly flat. In this way it is possible to save installation space without a reduction in the filter surface area. Depending on the customer requirements, for the same installation space it is possible to either increase the filter surface area or generate a lower differential pressure in order to reduce the pump drive power. This in turn enables the customer to reduce costs and energy consumption. The low differential pressure is ensured by a drainage grid on the clean side, which keeps the pleats of the filter media stable and maintains the ideal distance between the pleats. The oil filter on the suction side is permanently integrated in the system and remains fitted for the whole service life.
Using a MULTIGRADE O-G filter media, the filter element integrated on the pressure side achieves an oil purity level of 99.5 percent with a particle size of between five and twenty micrometers. This is particularly ideal for complex or sensitive transmissions. In this process, the filter used can be flat or round. The flexible design allows implementation of the oil filter on the pressure side as a single spin-on filter or as a system solution in combination with a filter on the suction side. A supporting grid on one or both sides increases the stability of the pleats of the filter media.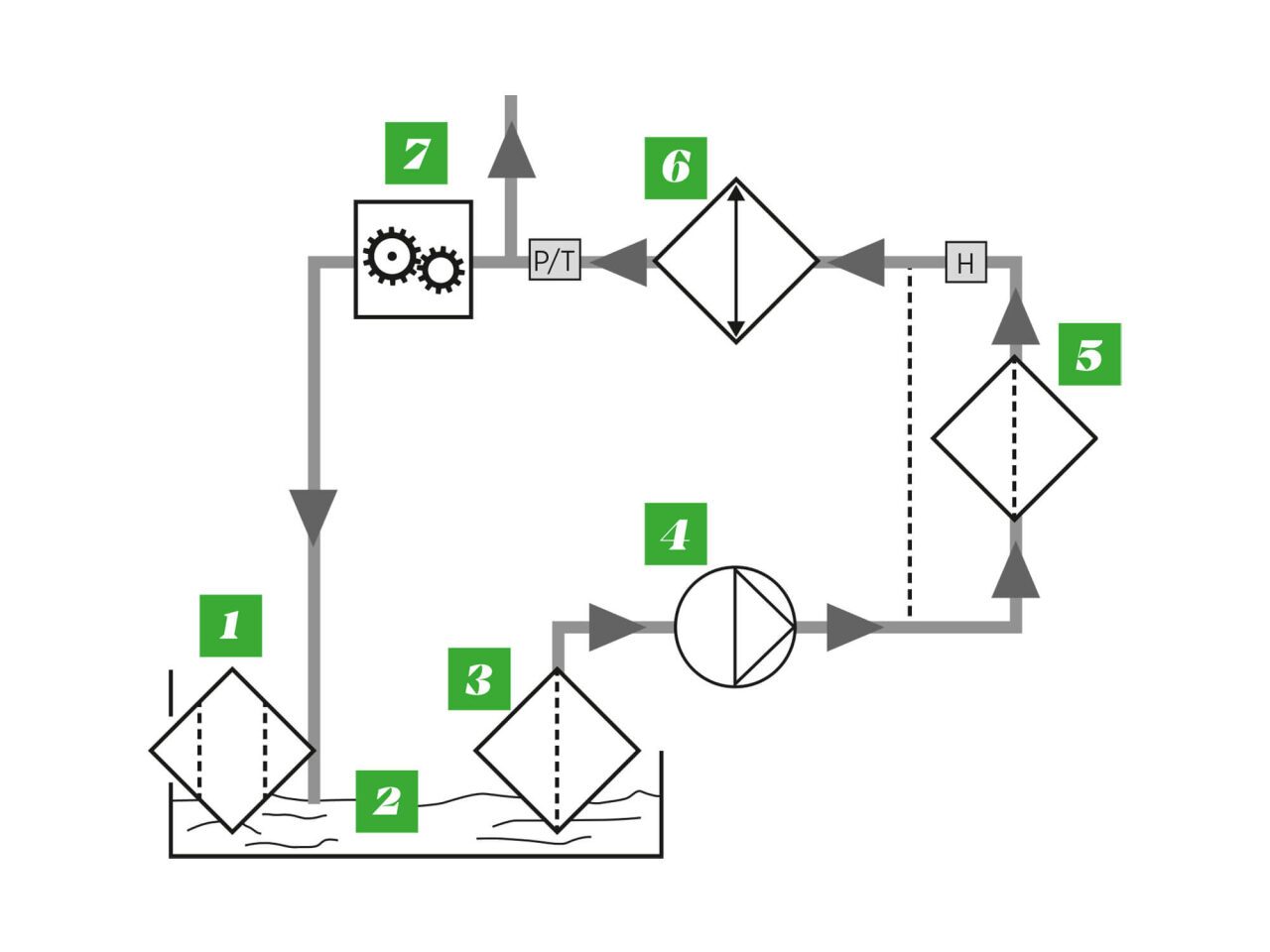 Schematische Darstellung des Getriebeölkreislaufs
1. Oil dryer
2. Oil pan
3. Suction-side transmission oil filter
4. Oil pump
5. Pressure-side transmission oil filter
5. Oil cooler
7. Transmission
No rust or ice due to oil dryer
An oil dryer is part of the oil filter system and constantly maintains the oil quality at a high level and efficiently separates any water which has dissolved in the cooling oil. The highly efficient adsorber material of the oil dryer removes even the smallest amount of water from the oil. This makes the adsorber and cartridge material resistant to coldness and aggressive oils. A screw-in unit enables easy changing and servicing of the oil dryer. In addition, a humidity sensor can be integrated in order to continuously monitor the water content of the oil.
The oil filter system from MANN+HUMMEL for eAxles and hybrid transmissions further strengthens clean mobility and offers customers a complete solution, which can easily be individually adapted to many varied requirements.
Transmission oil filter from MANN+HUMMEL