With its new spin-on oil filter with a plastic flange MANN+HUMMEL has put one and one together and instead of just two has ended up with many advantages.
The concept of a radial seal for a spin-on oil filter integrates two technologies. This is because MANN+HUMMEL developed the concept especially for applications which have a plastic flange and spin-on filters fitted with a radial seal. It therefore combines the advantages of plastic oil filter modules with the advantages of spin-on filters. In the design process, MANN+HUMMEL was able to draw on its extensive experience in the development and production of oil filter modules with plastic housings.
A plastic housing allows the integration of different functions and when placed in the right position also enables clean servicing. Furthermore, the use of plastic reduces weight and costs and makes a contribution towards the reduction of CO2 emissions. The spin-on filters from MANN+HUMMEL with radial seal combine the advantages of spin-on technology which are quick and easy service a proven design, a familiar operating principle and reduced cost of parts achieved through modularity and standard interfaces.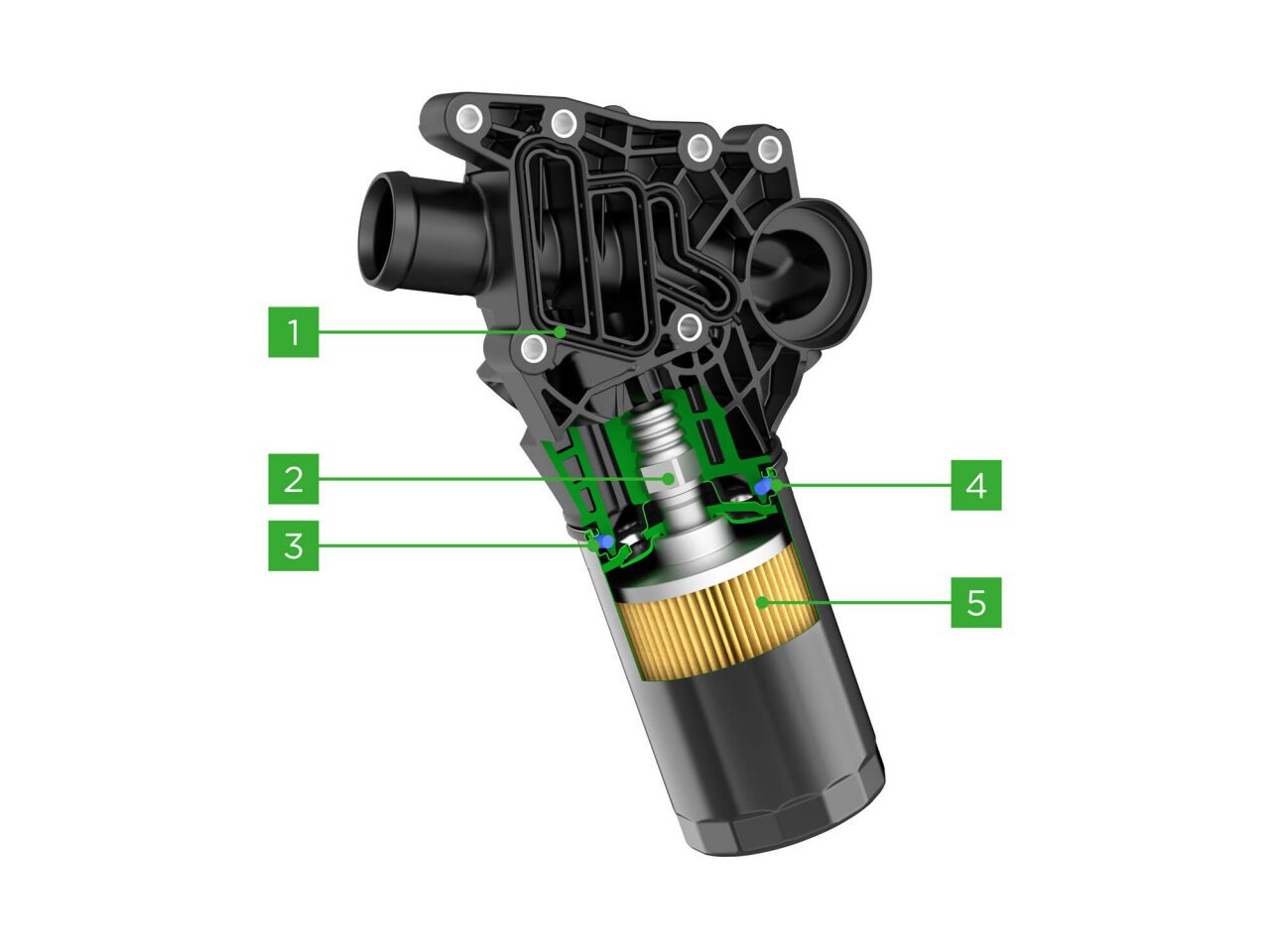 Spin-on oil filter with a plastic flange from MANN+HUMMEL with high use of standard components
1 Plastic flange enables easy function integration
2 Customized design of nipple/thread possible
3 Radial seal system for a robust & tight interface
4 New O-ring seal instead of flat axial seal
5 High separation filter element
Robust solution
In the new solution, the sealing of the interface between the filter and flange is not made with the usual axial seal, but instead with an O‑ring, i.e. a radial seal. In comparison to a conventional axial design the radial solution may be more complex, but it has one decisive advantage in that the component as a whole is more robust.
Plastic which over time is exposed to changing temperatures and high pressures can lose its tension and strength. It can also soften. Interfaces with a plastic flange and spin-on filter with axial seal are therefore exposed to the risk that in the course of use a gap will form between flange and filter. At first the axial seal will compensate for the gap, but at some point the gap will become too big. This essentially means that the risk of leakage with an axial sealing system with a plastic flange connection is high.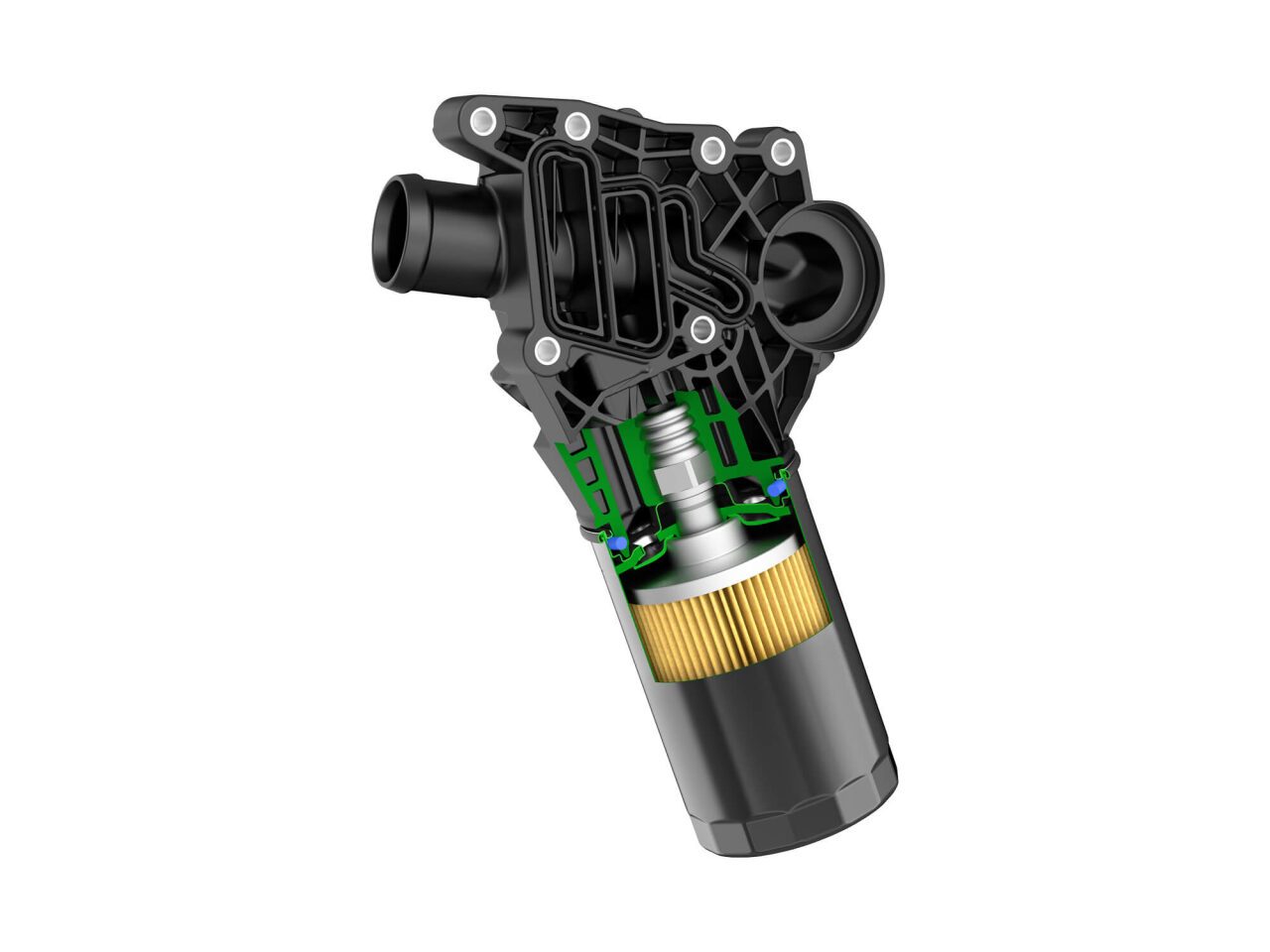 Radial seal for a spin-on oil filter with plastic flange
Radial seal
The opposite is true for the new radial seal. During the low temperatures experienced, for example, at cold start, it compensates for the movement of the plastic flange. In addition, it is extremely resilient regarding other important requirements such as burst pressure strength and vibration resistance. This has been shown in simulations and also in a series of tests which MANN+HUMMEL has conducted successfully with prototypes. The O-ring seal can withstand pressures up to 25 bar and temperatures from minus 30 to plus 150 degrees Celsius and in the vibration test does not show any significant changes resulting from the vibrations. The new spin-on oil filter module has a long lifetime and also increases the service life of the engine as the special interface design removes the possibility of using inferior quality spare parts with an axial seal.  
The connecting technology is therefore a robust solution able to withstand strong temperature fluctuations, high pressure pulsations and vibration. In comparison to spin-on filters with a die-cast aluminum adapter, the new variant in plastic has lower costs, extends the possibilities for functional integration and through the lower requirements regarding rigidity of the plastic flange offers increased flexibility in critical installation areas. The exchange of the spin-on filter, when necessary, is easy and quick. In addition, the solution of the spin-on filter also offers the same advantages for fuel filter systems.