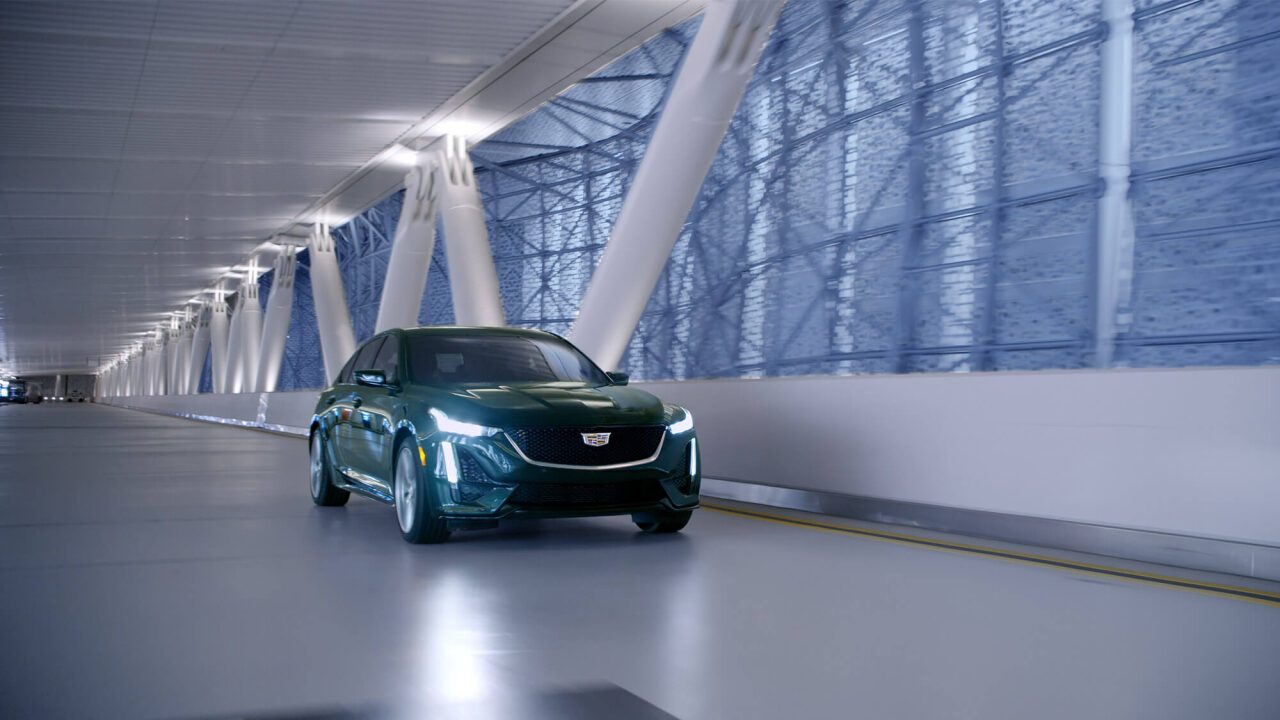 Two filters – one housing – highest performance
MANN+HUMMEL has developed an air cleaner system for the V6 twin turbo gasoline engine in the new Cadillac CT5 which combines two filter elements in one housing. Two integrated broadband silencers and numerous other functions make the system twice as efficient.
When the proud owner of a new Cadillac CT5 opens the hood, he will immediately see the Mondrian logo on the upper side of the air cleaner cover. Underneath this design element the concentrated know-how of MANN+HUMMEL's air filter and acoustics experts can be found. They have equipped the 335 horse power, 3.0 liter V6 engine with twin turbocharging in the upper class sedan with a high performance dual flow air cleaner system.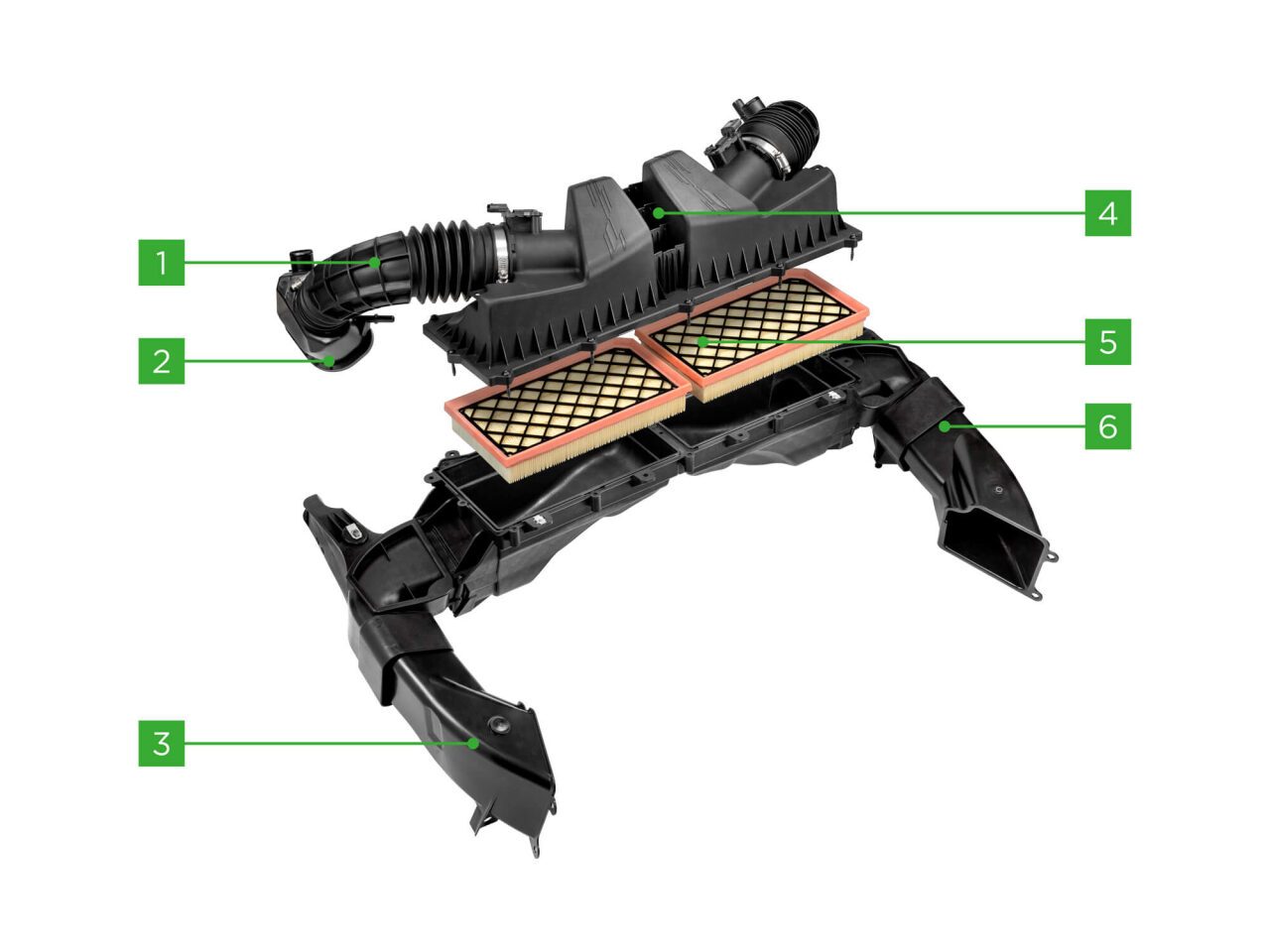 Air cleaner system with two separate filter elements
1 Clean side duct
2 Broad band silencer
3 Dirty side duct
4 Cover
5 Air filter elements
6 Santoprene sealing concept
One filter for each turbocharger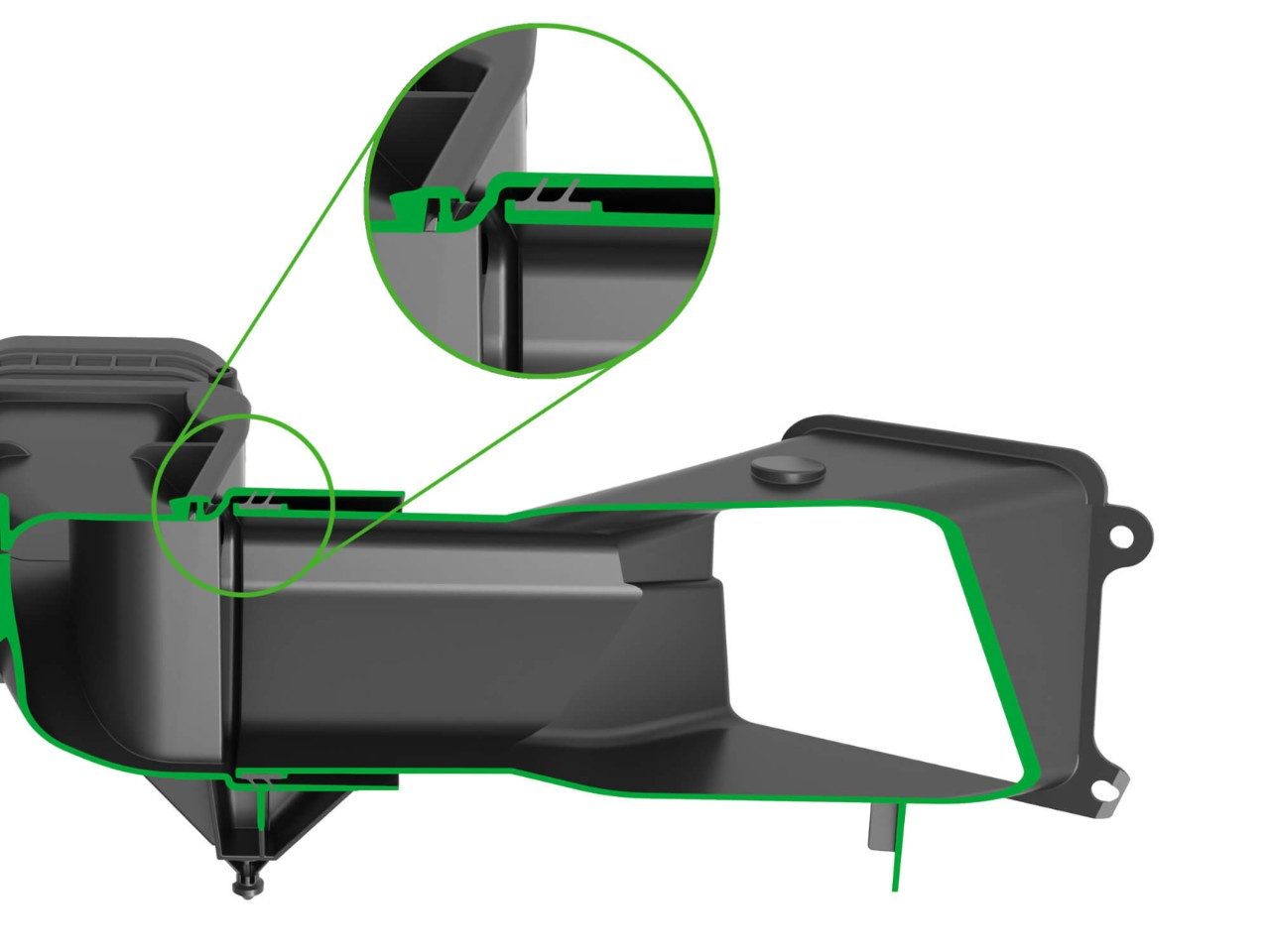 Santoprene sealing concept
In order to achieve a balanced air flow for each turbocharger, the air cleaner system consists of two separate air filter elements in a common housing. Two separate dirty side ducts supply the engine with ambient air. They respectively consist of two plastic parts which are joined to each other using the Santoprene sealing concept. The concept enables an easy assembly of the two parts without the need for welding or a fastening device. Airflow ribs in both dirty side ducts ensure a constant air flow and therefore improve the signal of the MAF sensor.
The stability of the air cleaner is increased through ribs on the housing. Two hydrocarbon adsorbers integrated in the cover prevent gases flowing from the combustion chamber back into the environment, when the engine is idling. The cellulose media MICROGRADE A-C 2 F1 used in the air cleaner has a particle separation efficiency of over 99 percent. The filter elements are fitted with a supporting grid and additional glue thread reinforcements to increase pleat stability. As both filter elements are integrated in one single housing only one cover has to be opened for the service.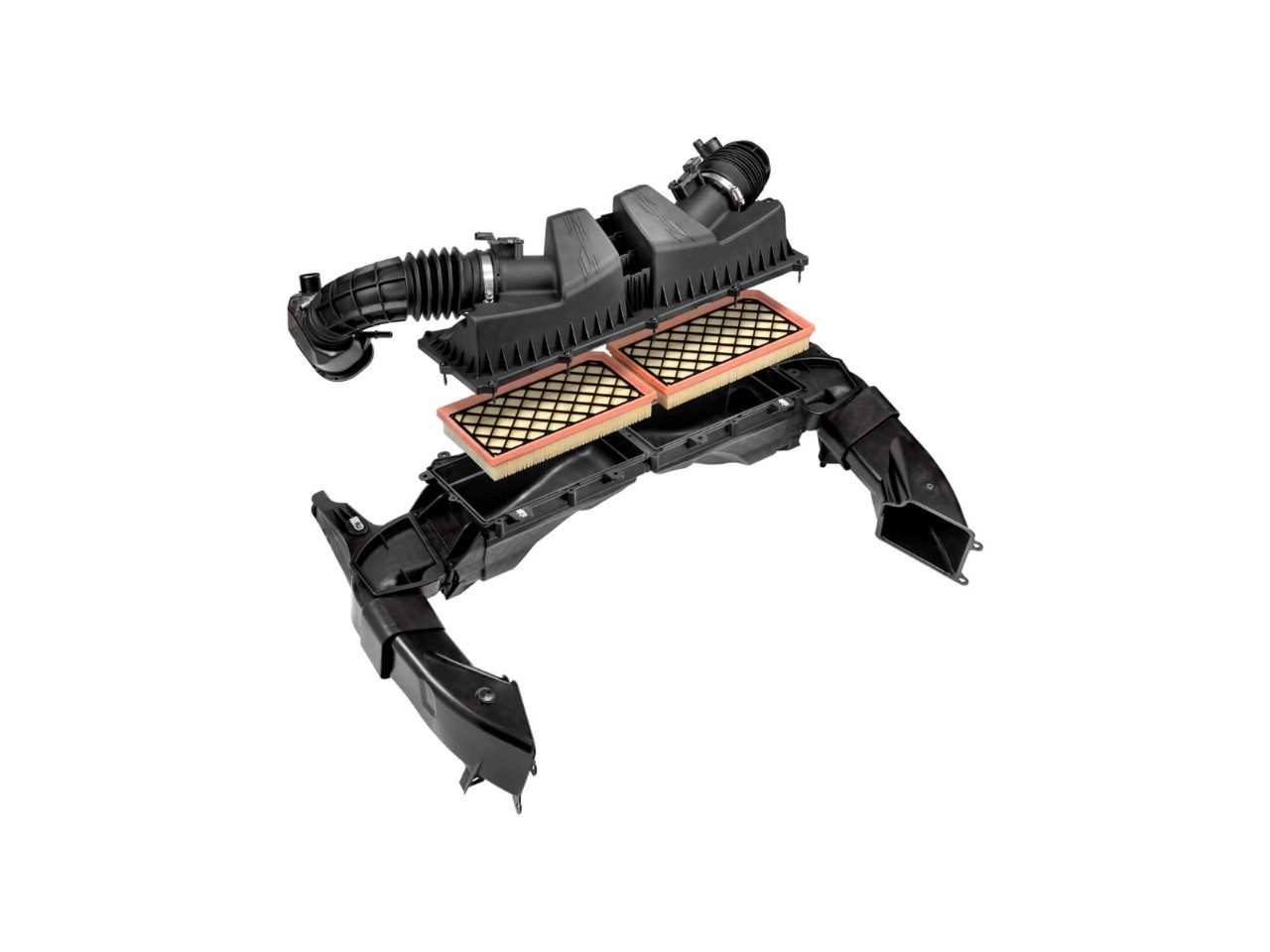 Air filter system with two separate filter elements
Broadband silencer for an excellent sound
Each turbocharger is supplied by its own clean side duct with clean air. As the clean side duct is an elastomer part it can withstand high temperatures and pressures. A bellows enables the necessary compensation for movement. Two vibration-welded broadband silencers are used to reduce undesired noise from the turbocharger. The inlet for the crankcase ventilation is integrated in one of the silencers.
The new air cleaner system for the Cadillac CT5 combines the distinctive filtration and acoustic expertise of MANN+HUMMEL in one compact system and enables a perfect supply of air to the engine.