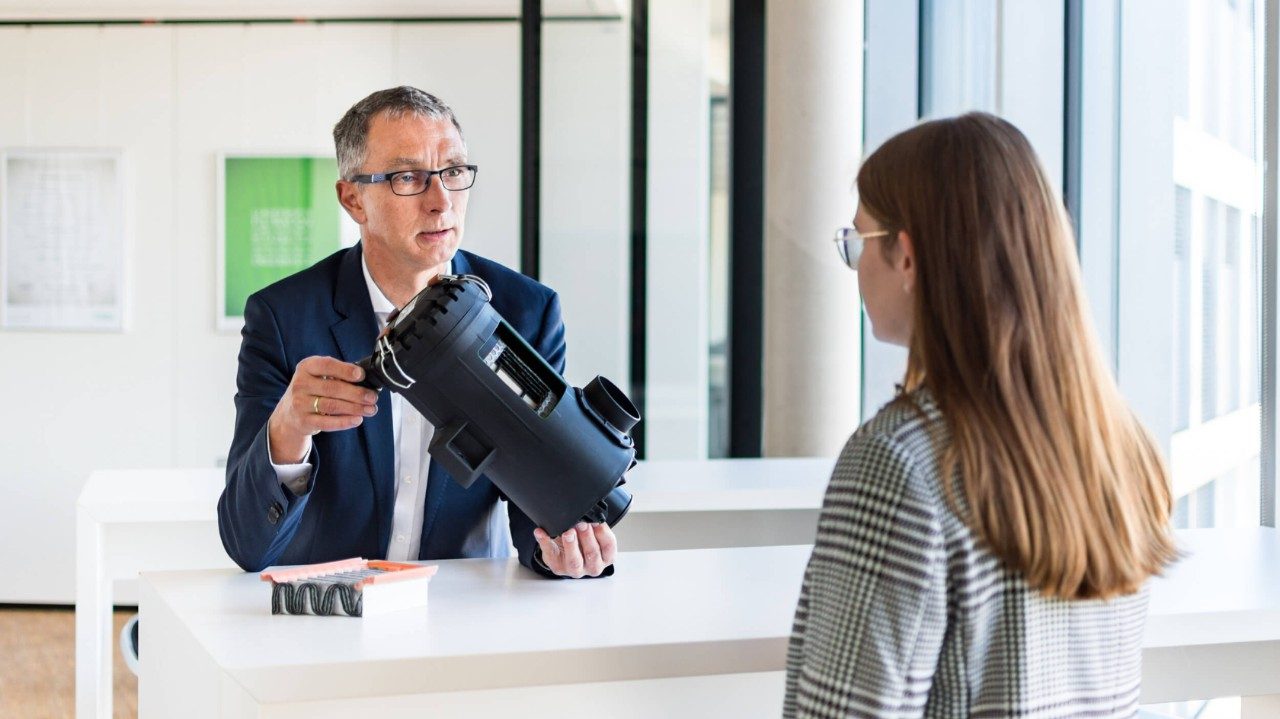 The path to zero CO₂ mobility
Interview with Heinz Bühl
In order to reduce CO2 emissions, alternative drives represent one of the solutions for the turnaround towards alternative energy and achievement of the objectives of the Paris climate agreement. In this interview, Heinz Bühl, Vice President New Product Entry, explains why clean mobility is closely connected to a future overall concept for energy management and how the MANN+HUMMEL product range is already making a contribution.
Mr. Bühl, you worked for a long time in the area of engine development. What motivates you in your new position as Vice President New Product Entry?
In addition to my interest in engine development, the subject of energy management motivated me to study mechanical engineering. In the meantime, we now know that the reduction of CO2 emissions does not primarily depend on the development of new engines, but rather to efficiently exploit new forms of energy. In this respect, we have to think beyond transport. The target is to make our complete industry free of CO2 emissions. As about 70 percent of our energy is consumed by industry, commercial and domestic purposes and only 30 percent is consumed by road traffic, the drive solution of the future will only be one component of an overall concept for energy management. Our range of products shows that already today we are contributing towards this holistic approach: We offer solutions for all types of drive. In addition, we have also developed numerous products, which reduce CO2 emissions and the air pollution caused by particulate matter. It will be exciting to further develop this wide range of products.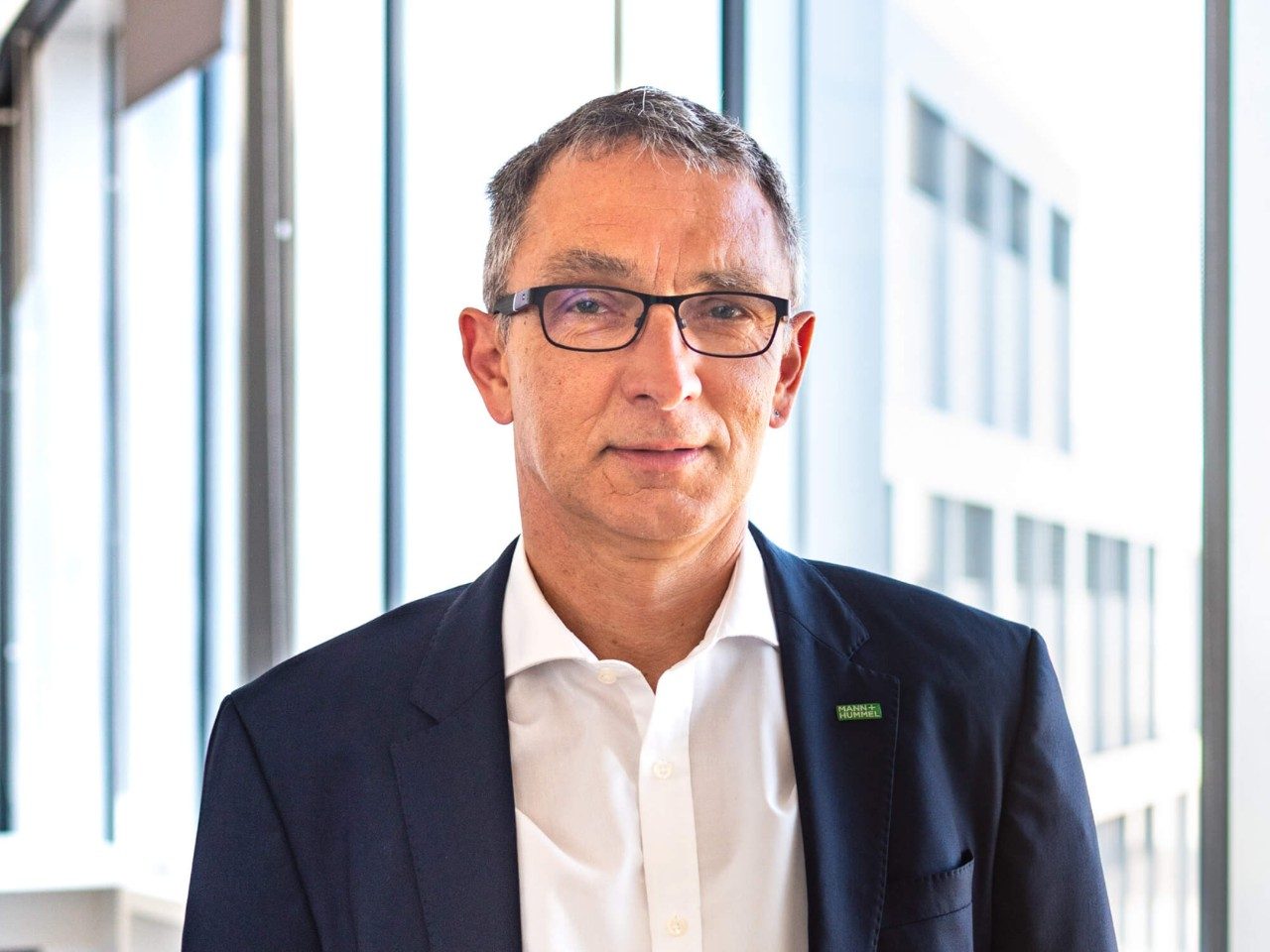 Professional profile
Heinz Bühl studied mechanical engineering and then worked in engine development for twelve years. He started his employment with MANN+HUMMEL in 2001. After several positions in R&D and the technical and commercial responsibility for the product segment intake manifolds, he took over responsibility for the introduction of new products as Vice President New Product Entry at the beginning of 2019.
How does MANN+HUMMEL remain up-to-date with its new developments?
Since the beginning of the year, we have been a member of the 'Hydrogen Council', a global initiative of more than 80 leading companies from the energy, transport and industrial sectors. In cooperation with political decision-makers, international authorities and the public, we aim to promote hydrogen as one of several key solutions to enable the turnaround towards alternative energy.
In general, we continue to work very closely together with our customers in all areas. Initially we work together to develop solutions in smaller projects and then try to implement these in series projects. In this process, it is important for us to be involved right from the start in developments with battery manufacturers and producers of fuel cell stacks. This early involvement is important for us to fully understand the system and is essential in order to develop good products.
In your opinion, does one of the alternative drives have a competitive advantage?
The transformation of industry to be free of CO2 emissions will only work with the use of regenerative energy, which is plentiful on earth, i.e. wind power, hydropower and solar energy. Hydrogen is an ideal storage medium for energy generated in this way. A fuel cell is able to convert hydrogen and oxygen into electrical energy. If this works for industry, there is no reason why a fuel cell drive solution should not be the preferred choice for road vehicles. This has been recognized by countries, which up to now have been strongly in favor of battery drives. China, for example, last year canceled government funding for battery drives while funding for fuel cell technology remains in place. The situation is similar in the US. Fuel cell technology has a number of advantages, which cannot be denied. The refueling of vehicles is considerably quicker than charging a battery from a socket, the range is greater and in particular with large vehicles the fuel cell is a solution which has a relatively low weight.
If you prefer the fuel cell, why is MANN+HUMMEL also pushing the development of solutions for other types of drive?
In Germany there are roughly 45 million vehicles on the road and every year customers purchase 3.5 million new vehicles. These figures alone clearly indicate it will take a long time for the whole fleet to change over to a single type of drive. In the meantime, we will certainly need all the existing types of drive to ensure a secure and with time also a more sustainable form of mobility. I believe that in addition to battery and fuel cell powered vehicles, the combustion engine will also have an important role to play in the drive mix for a long time to come. MANN+HUMMEL is pursuing a strategy to have a broad range of products and offer solutions for all requirements. A decisive advantage in this respect is the expertise accumulated by us over decades in the fields of filtration and combustion engines.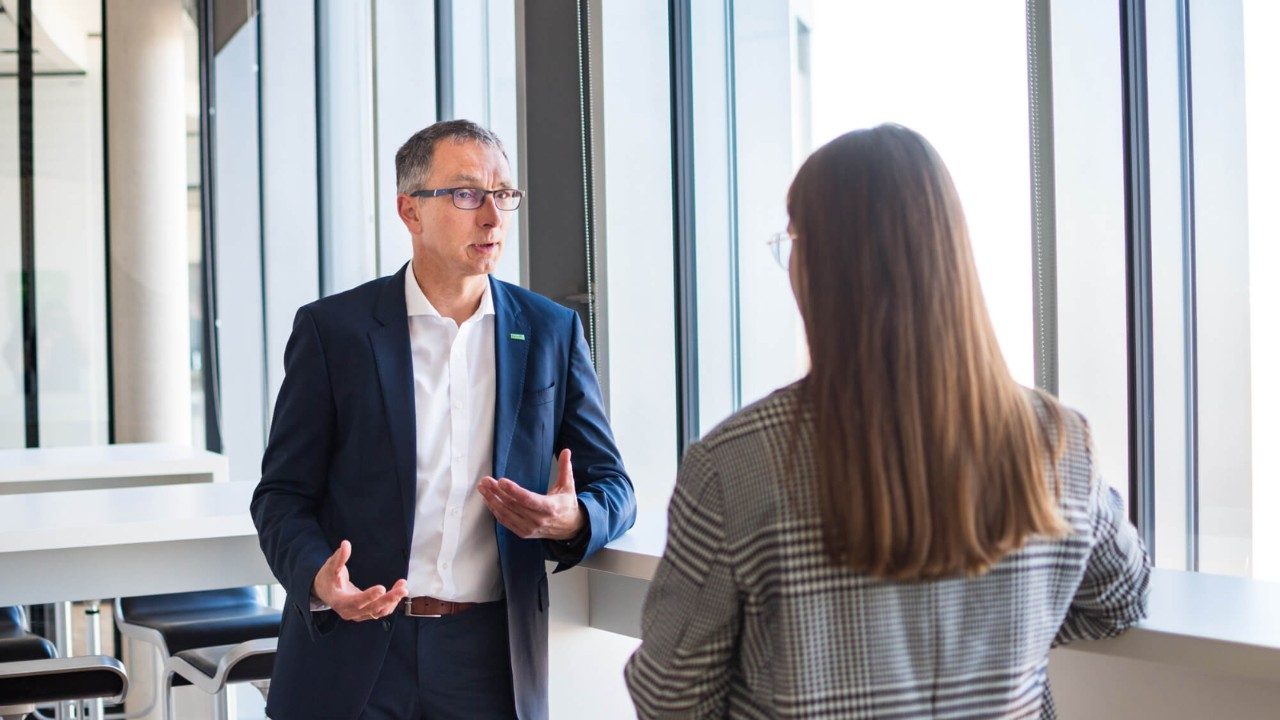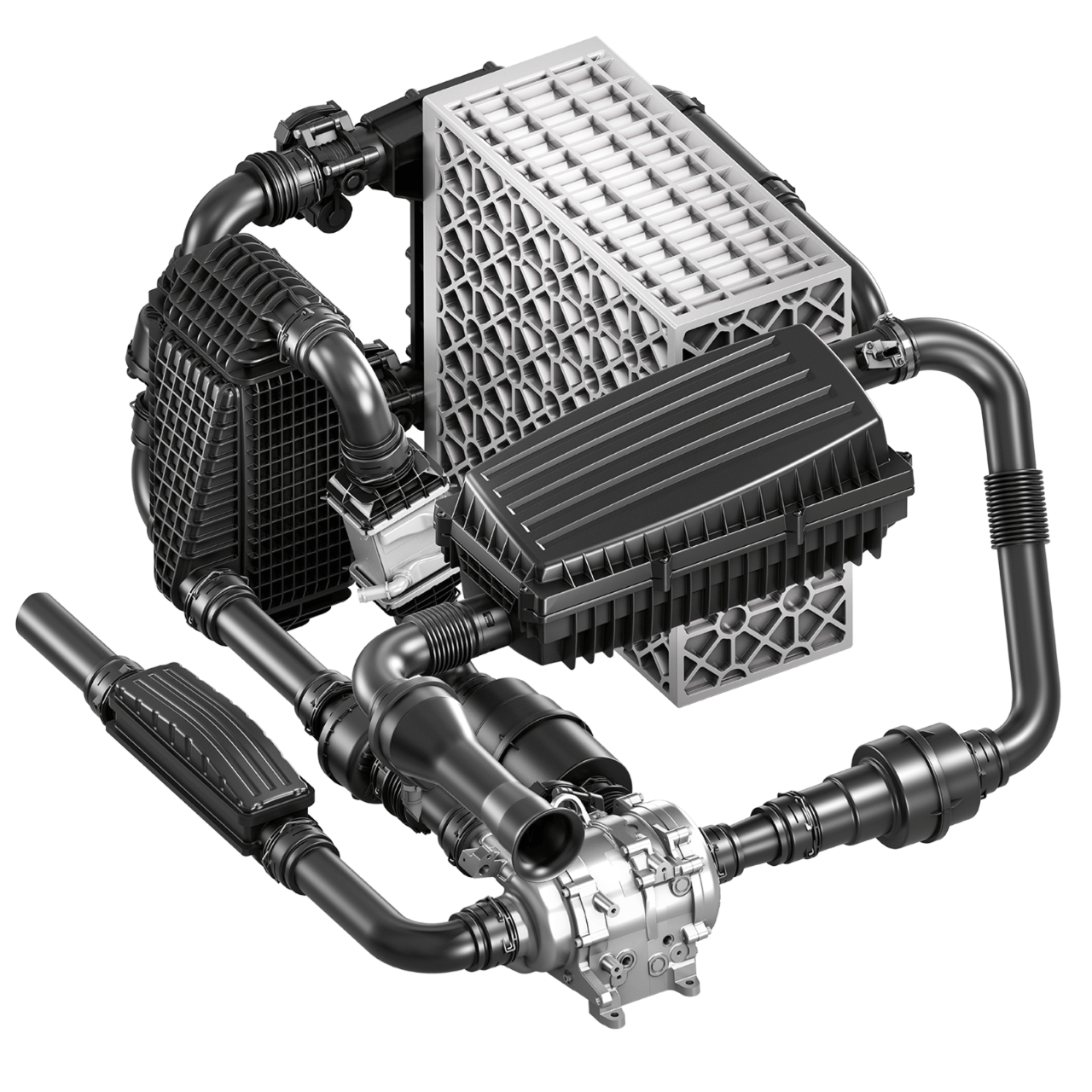 Comprehensive system efficiently protects the fuel cell
Can you name an example?
In a fuel cell, just as with a combustion engine, particles have to be separated from the intake air. In addition, the filtration of harmful gases such as sulfur dioxide (SO2), nitrogen oxides (NOX) and ammonia (NH3) is important to protect the catalytic converter and achieve excellent air quality. Many concepts, which find application in combustion engines can be transferred to a fuel cell. As a result, our expertise in the areas of cabin filtration, compressors, air cooling, water separation, and noise reduction is very useful. Using this expertise, we have developed an air induction system for the cathode path in fuel cell vehicles and in the process consistently pursued our strategy 'from the component to the system'. The result is an integrated system, which will become more important in future as platinum is gradually reduced from the catalytic converter of the fuel cell. This is because the cost of a fuel cell goes down as the use of platinum is reduced. But the condition for this reduction is intake air which is even cleaner. The air guidance system is already able to meet this requirement and our filtration specialists are already working to make further improvements.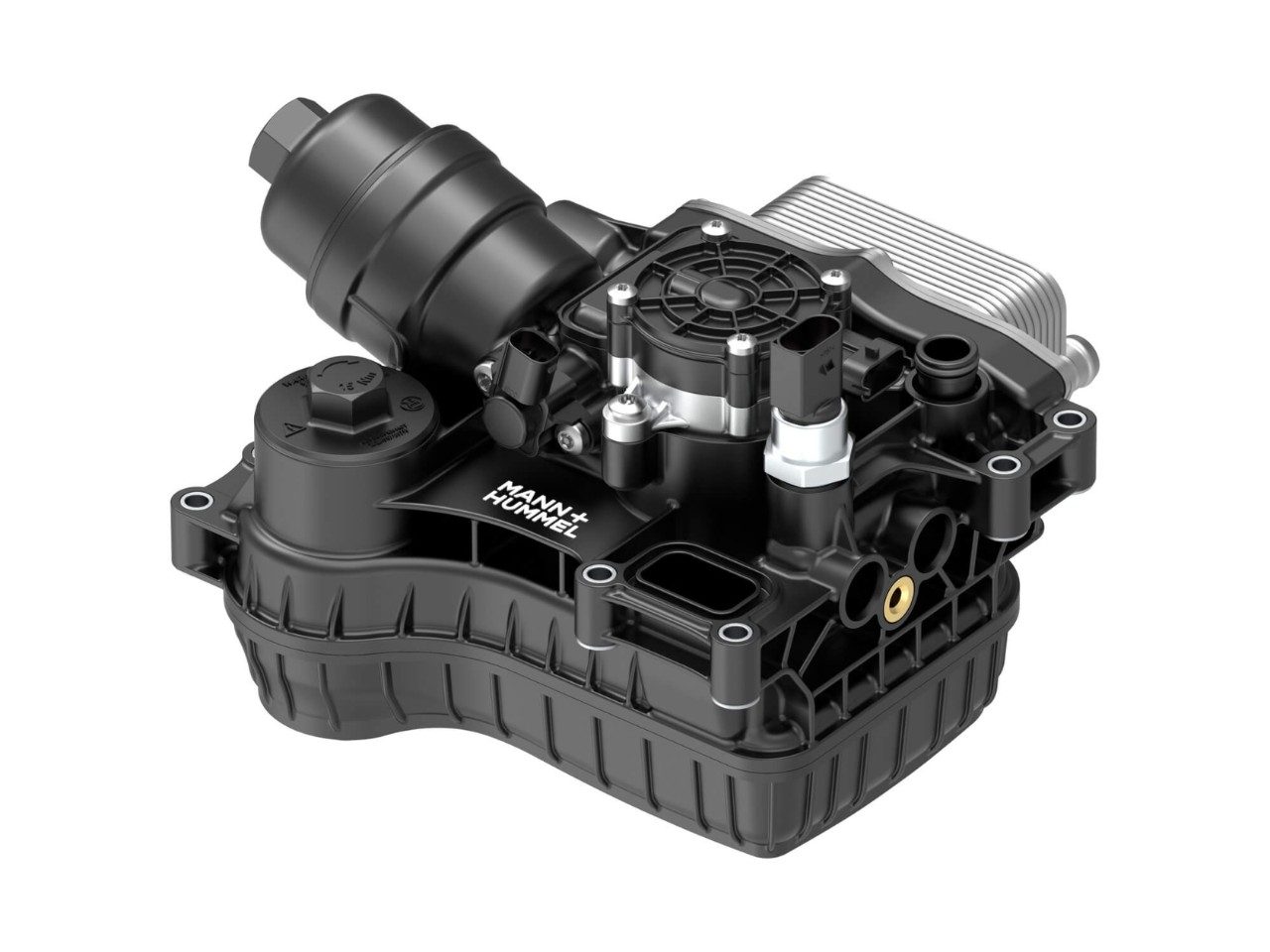 Oil filter system for e-axles and hybrid transmissions
But you also offer solutions for battery-powered drives?
We have also developed a number of products for battery applications. Here I would particularly like to highlight two solutions. The first is an oil filter system for eAxles and hybrid transmissions. Each vehicle which has a front or rear axle with an electric motor needs an eAxle, which therefore includes fuel cell vehicles and plug-in vehicles. The eAxle drive system combines the electric motor, the power electronics and the transmission in a compact unit integrated directly in the drive axle. There is a common oil circuit to lubricate and cool all components. The tasks of the oil circuit, however, are very complex. MANN+HUMMEL has developed a highly efficient oil filter system especially for this application.
The second important development is our intelligent cabin filter system FreciousSmart. The system uses sensors to continuously monitor the changing quality of the cabin air and the ambient air outside the vehicle and automatically adjusts the filtration performance to the prevailing conditions. This ensures that the vehicle occupants always breathe in the best air regardless of whether they are driving through the countryside or standing still in an urban traffic jam. While it was originally designed for battery-powered vehicles, FreciousSmart also has an intelligent control system that reduces the consumption of energy.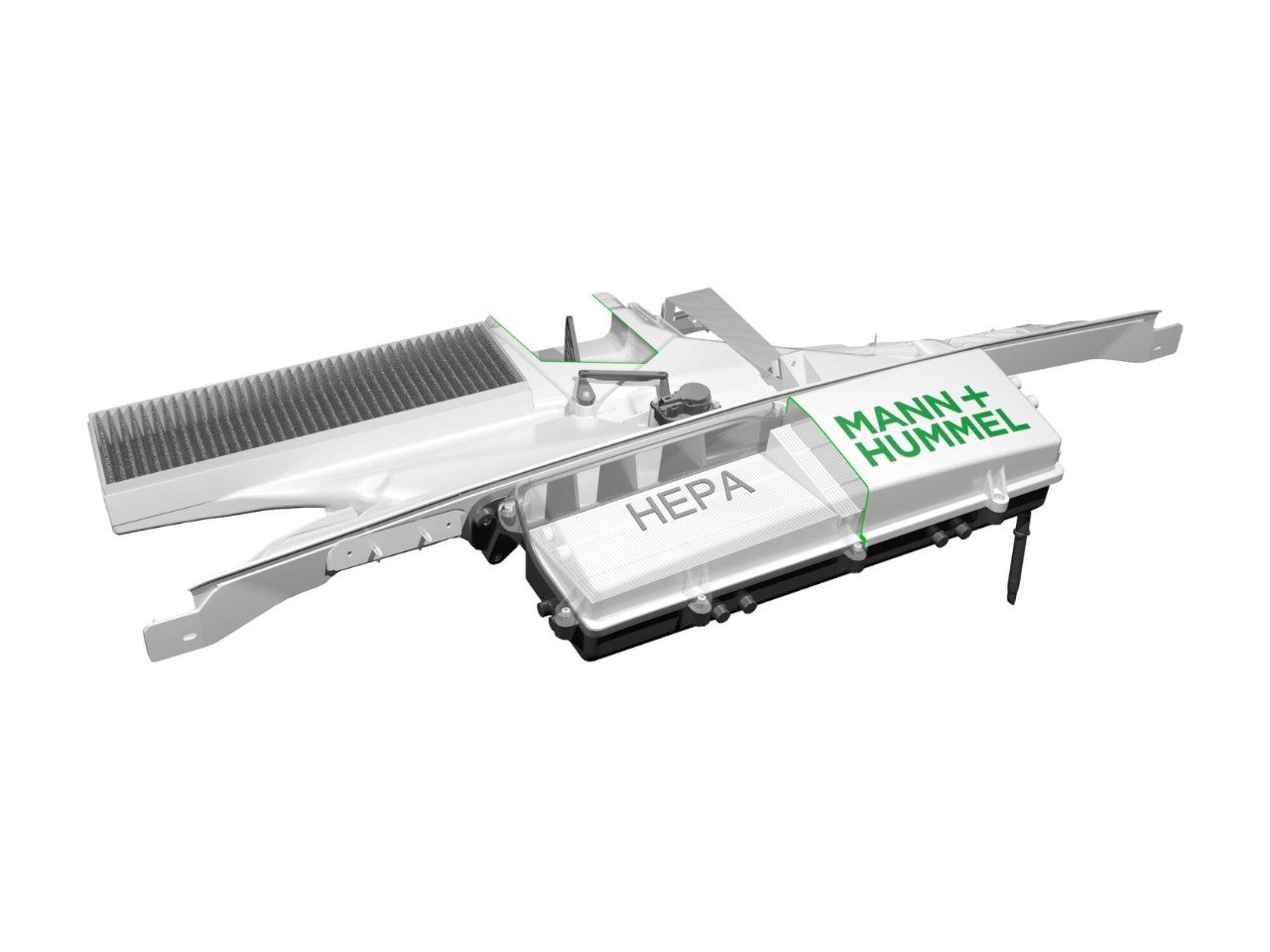 FreciousSmart cabin air filter system
What do you mean by 'originally designed for battery-powered vehicles'?
The occupants of vehicles with other types of drive would also like to enjoy clean air inside the vehicle. This is increasingly a sales argument for our customers. Therefore, more and more manufacturers are considering integrating cabin air filter systems in their vehicles. Just as with the example of the oil filter system, this filtration concept also shows how most of our developments can be used across different types of drive. Apart from that, our solutions are easily scalable. That means they can be used in motor cars as well as in commercial vehicles.
Is it right that MANN+HUMMEL is concerned with more than only providing clean air in vehicles?
Yes, that's right. Cleaner air is a general theme for us. One example is our brake dust particle filter, which is designed to reduce particulate matter emissions directly at the source. And our fine dust particle filter integrated in the frontend actively and passively collects dirt from the ambient air during driving, which makes the vehicle an air purifier. Both concepts are suitable for all vehicle categories, regardless of the drive type. For trucks and other vehicles used in industry we also offer a fine dust particle filter as a roof box or underbody solution as a standard product which functions in a way similar to the filter integrated in the frontend.
A further example are the fine dust columns, which we already have in operation in a number of cities around the world and plan to further expand through ongoing projects. We see further potential to reduce particulate matter, e.g. through the efficient filtration of tire abrasion which is responsible for the greater part of the microplastics in our oceans. Our filtration expertise has helped to achieve all of these solutions. It is this ability to transfer expertise, which our customers appreciate and which they trust in.
Then are you optimistic for the future?
Yes, very. There are good reasons why we are rated as a tier 1 supplier and that is how we also plan to position ourselves in future. In the coming years we will be occupied just as much with clean drives and new solutions to reduce CO2 emissions as with the challenges posed by digitalization. But developers are curious by nature and everything new promises exciting new possibilities for solutions. Therefore, the potential offered by the future outweighs the possible risks.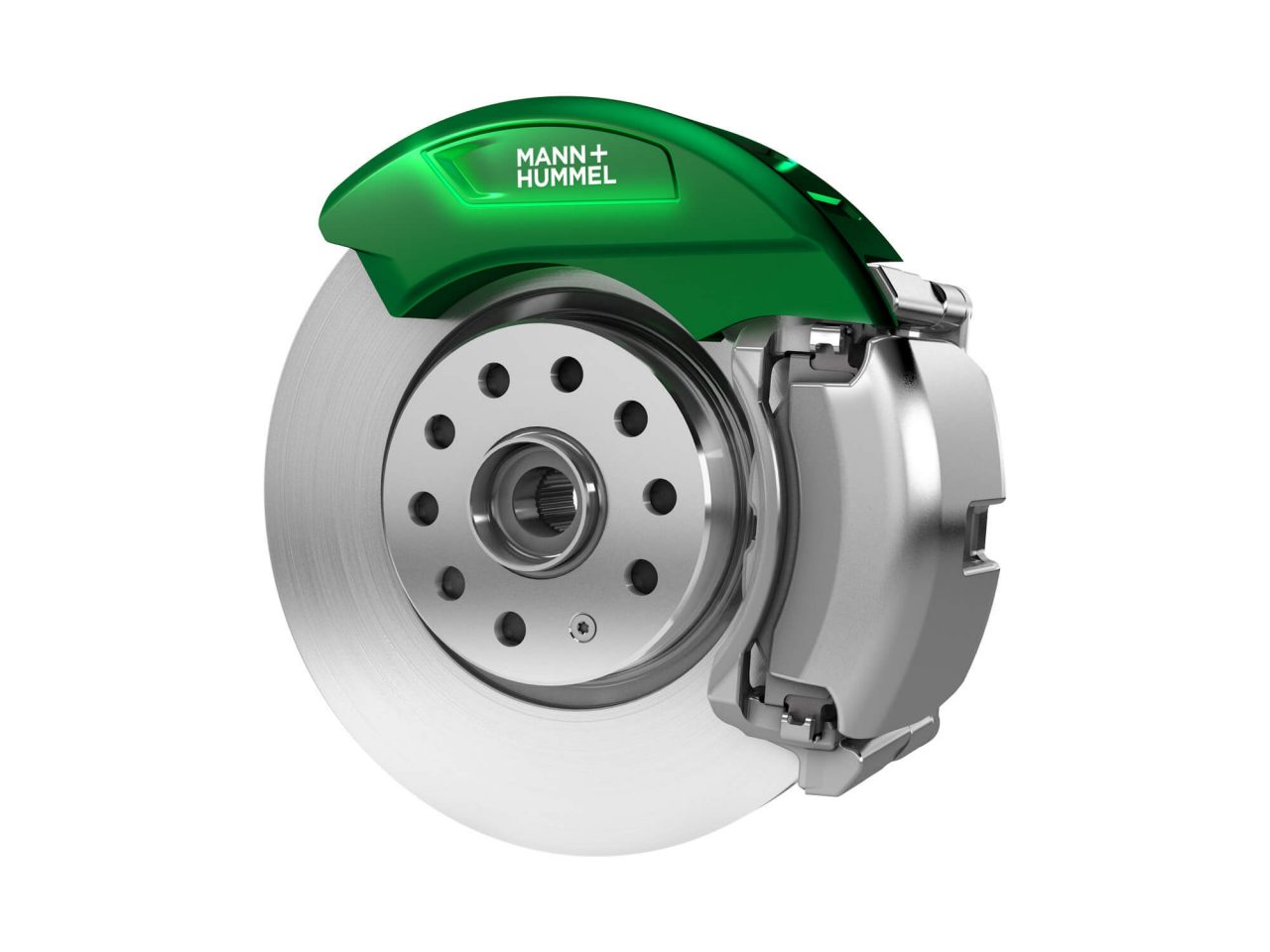 Brake dust particle filter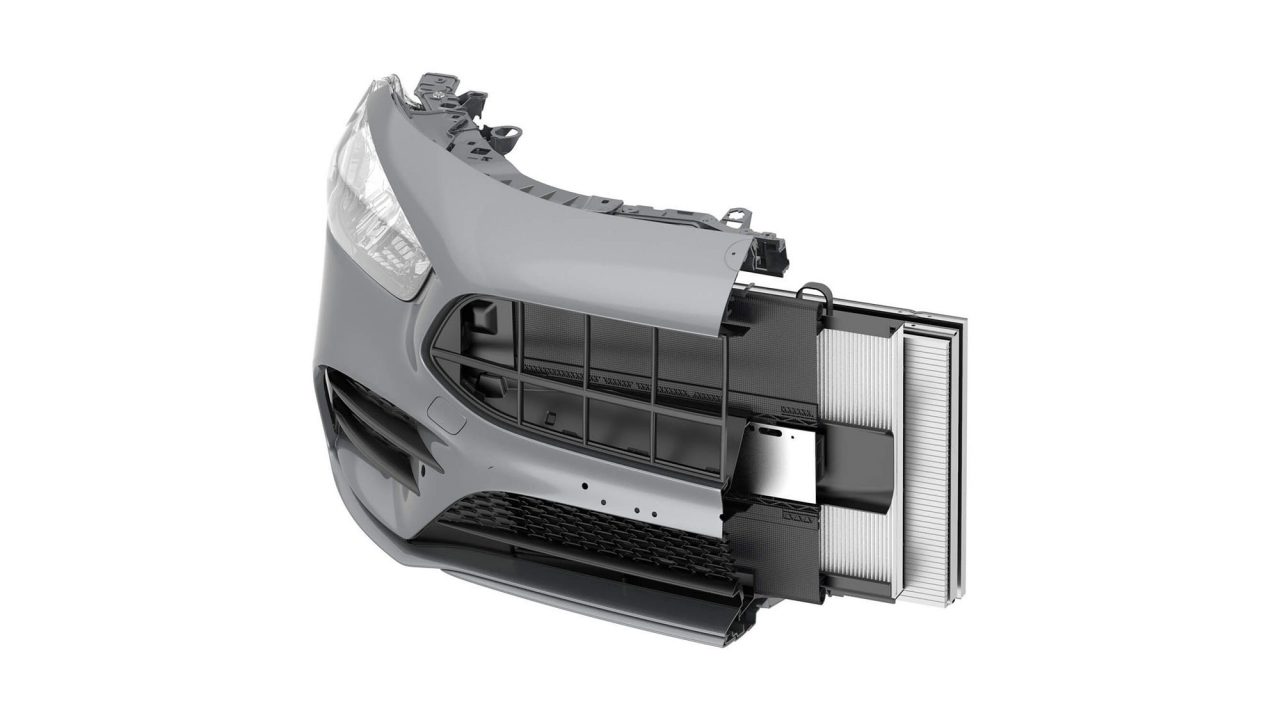 Integrated fine dust particle filter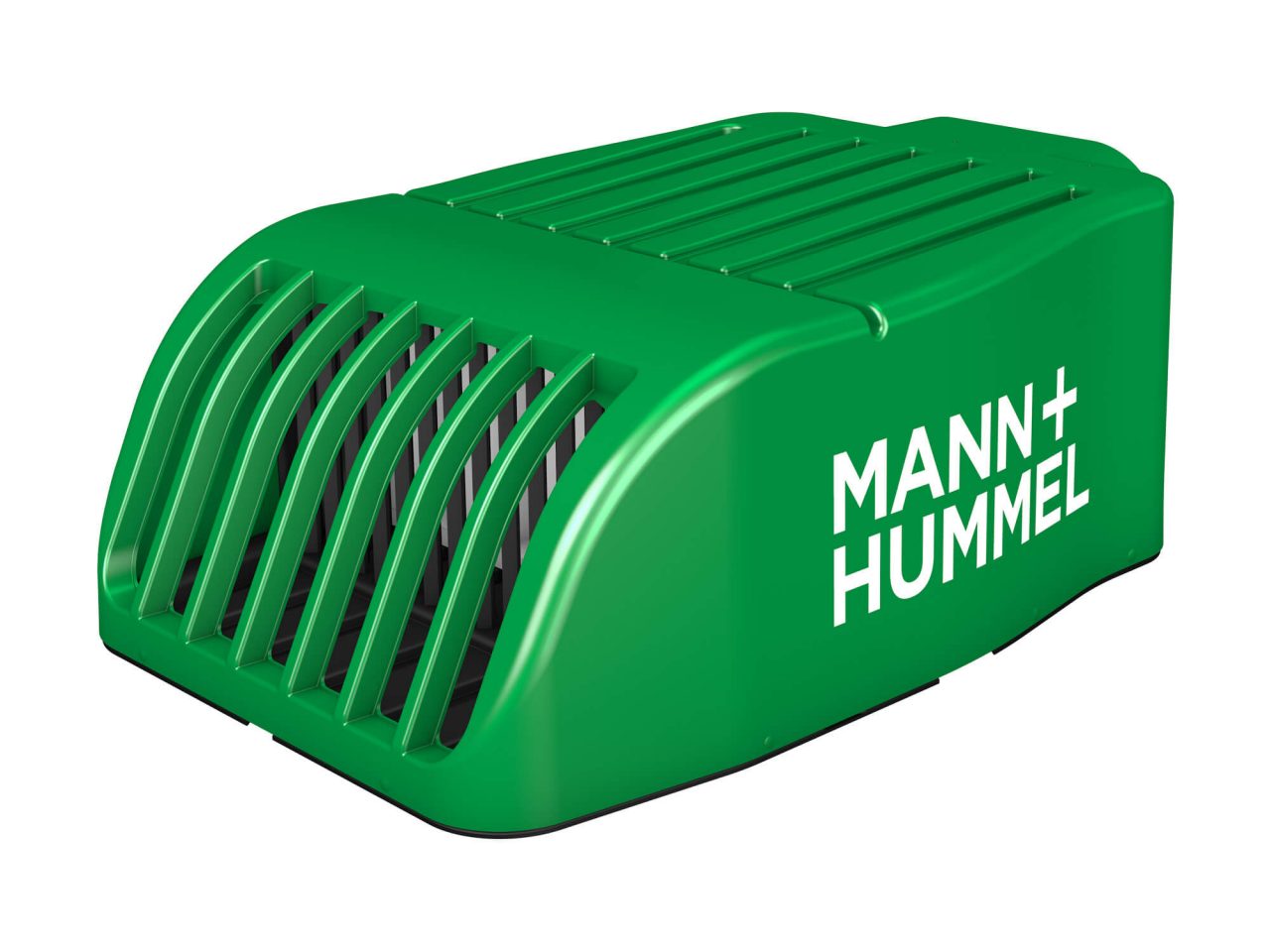 Fine dust particle filter as roof box