ENTARON HD – round air cleaner for excellent flexibility
MANN+HUMMEL further expands its successful air cleaner range for agricultural and construction machines with the ENTARON HD 13. This enables the two-stage air cleaners to now cover a nominal flow rate range from two to 13 cubic meters per minute.
The air cleaners of the ENTARON HD range impress with their award-winning styling (Red Dot Award) and also with their internal values such as a high separation efficiency and long service life which are critical for applications with high dust loads. This is where the two‑stage air cleaners highlights that design and performance can be a powerful combination for construction and agricultural machines, compressors and gensets.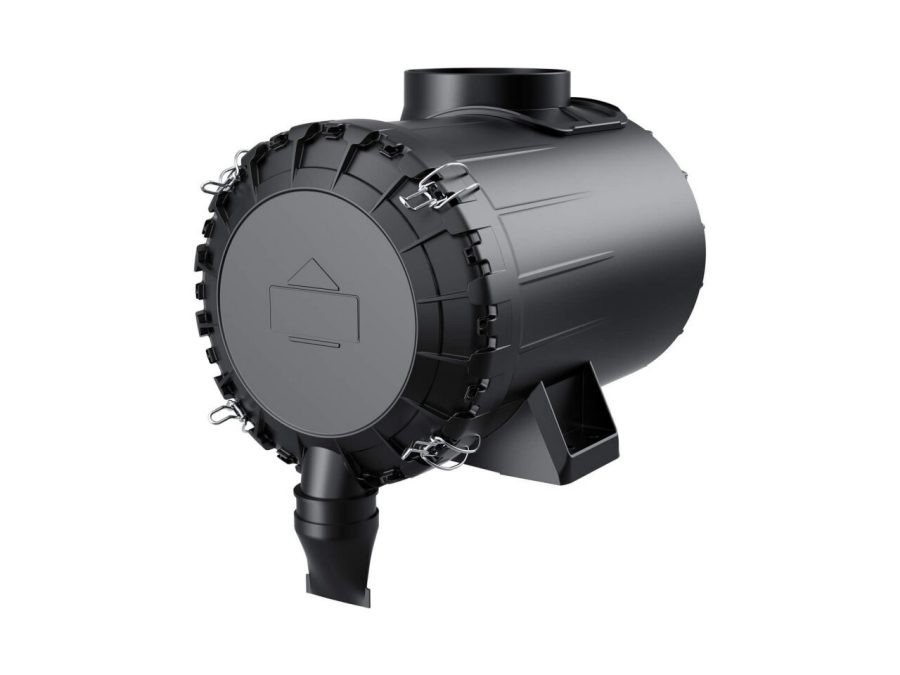 ENTARON HD 13
Small muscleman
The two-stage air cleaners of the ENTARON HD range are among the most compact solutions in their class. The air cleaners are up to 30 percent smaller than other air cleaners with a comparable filtration performance. But its real strength lies in its performance. The tangential flow enables it to achieve a pre-separation efficiency above 86 percent. Using high performance filter media, the overall separation efficiency is above 99.99 percent.
The plastic air cleaner has a housing made from three parts. A special welding process reliably joins the casing to the connections. A sealing ring is fitted as standard to ensure operational reliability which protects against ingress of water and reduces the entry of hot intake air into the engine compartment. Installation flexibility is essential. The filters impress during installation: the housing concept allows practically any positioning of the raw air inlet relative to the integrated brackets. The filter housing is mounted using through-holes or optional threaded inserts and therefore a separate bracket is not required. Flexibility is provided by the optional mirrored version of the raw air inlet and the choice of an optional welded clean air outlet. Depending on the configuration, a 90 degree elbow, MAF connection as well as inch and metric connections are available on request.
Environmentally-friendly and economical
The ENTARON HD is optimized for the installation of a MAF sensor. A key-lock function on the secondary element enables optimal signal quality, defines the installation position and ensures the ideal air flow. This control is important because the correct relation between the air flow rate and amount of fuel are of critical importance if the combustion process in the engine is to be environmentally-friendly and economical.